Ashton Kutcher Passionately Rejects The Muslim Ban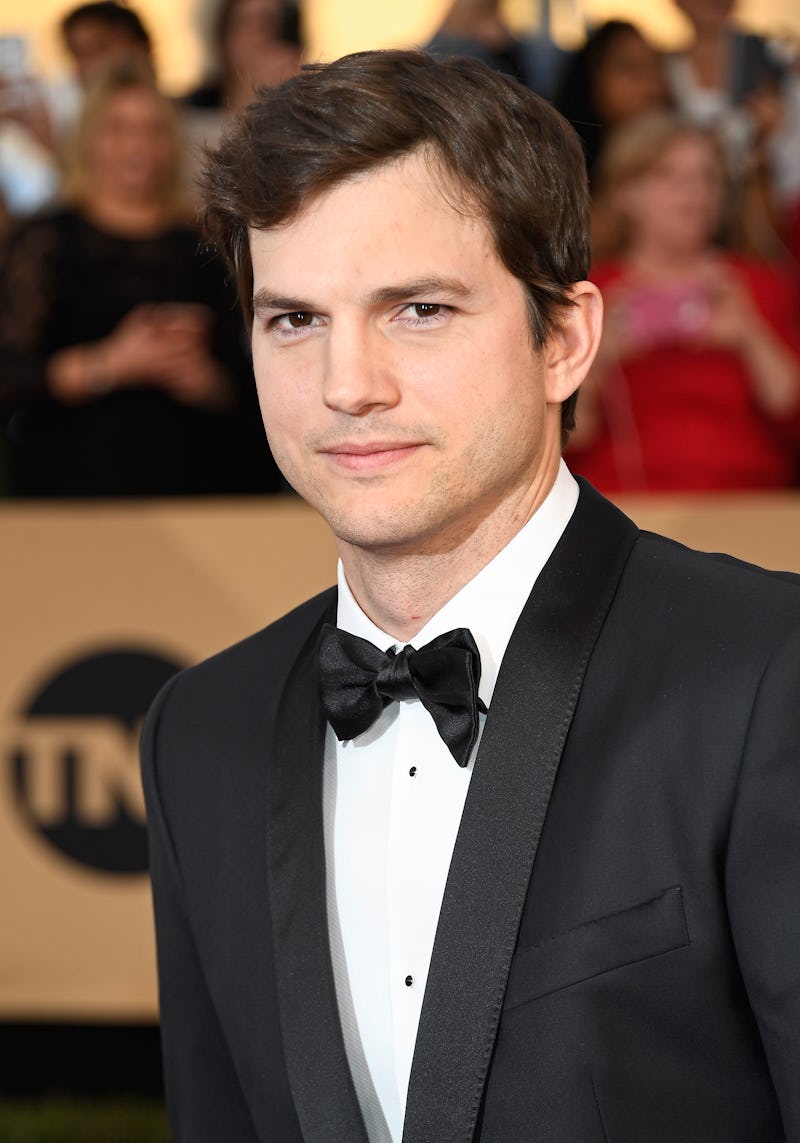 Frazer Harrison/Getty Images Entertainment/Getty Images
Donald Trump has only been President of the United States for nine days, but Hollywood is already standing up against him. With the Screen Actors Guild Awards falling on Sunday, Jan. 29, just two days after President Trump ordered a temporary ban on refugees and visitors from seven Muslim-majority countries, it was clear that the Muslim ban would be a major focus of the show. From the moment the show started, celebrities voiced their opposition to the executive order, with Ashton Kutcher speaking out against the Muslim ban in a particularly rousing speech at the top of the SAG Awards.
The only major awards show without a host, the SAGs always start with actors talking about their experiences as an actor or what inspired them to join the industry. Kerry Washington spoke first and delivered a strong message about why it's important for artists to speak out about issues they care about. Kutcher ended the segment and then took the stage to officially open the show. But before he got to the traditional opening remarks, he referenced the Muslim ban with an enraged passion that showed how truly upset he is.
"Good evening, fellow SAG-AFTRA members and everyone at home and everyone in airports that belong in my America," Kutcher said, pausing for a round of thunderous applause at his last statement. He then continued, "you are a part of the fabric of who we are and we love you and we welcome you."
From there, Kutcher moved on to the traditional introduction of the show, leaning into the microphone as he delivered the usual, "We also welcome you to the 23rd Annual Screen Actors Guild Awards…" speech. But thankfully, the awards show never fully shifted focus.
Once Kutcher's time on stage came to an end, he was replaced by a rotation of celebrities who voiced their own outrage at the ban, supported anyone affected by it, and called for action. These actors are doing as much as they can to raise awareness about the ban and in the cases of some, like winner Sarah Paulson, direct viewers to different ways of helping, such as donating to the ACLU. Hopefully, if enough people share messages like these, there will soon be a change to protect the rights of the people in airports that Kutcher mentioned, and anyone else seeking safety in the U.S.