Here's Every Single Item You Can Buy Right Now From The New ASOS Activewear Collection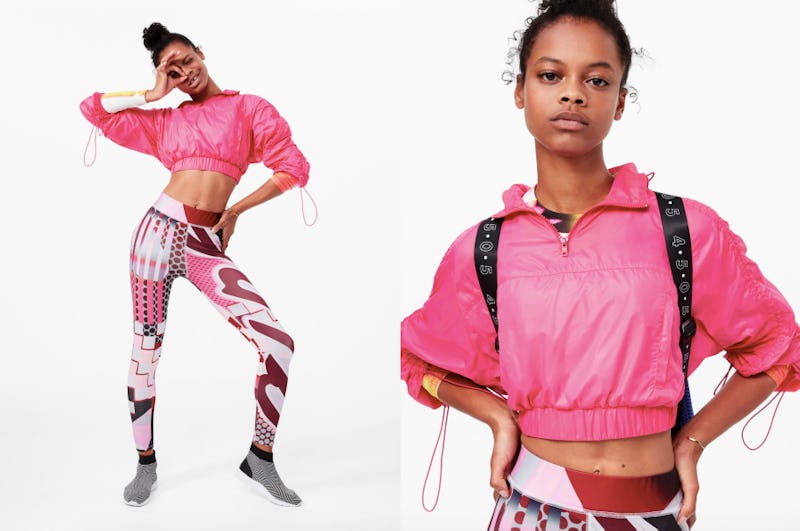 At this point, it's safe to say that the activewear trend is in full effect. Wearing cute stuff to the gym is one thing, but leggings, sweats, trainers, jackets, and hoodies have become more of a lifestyle aesthetic than a dedicated gym look. Perhaps that's why UK-based online retailer ASOS ventured into the realm of activewear. Launching Feb. 15, ASOS 4505 activewear plans to offer over 100 styles for both men in women, and is available across the brand's core sizing, plus sizing, and tall sizing. Prices range from $16 to $80 (there are a selection of ski styles that go up to $222), and everything in the collection feels wearable both inside and out of the gym.
"With more than 100 styles across menswear and womenswear, the first collection from ASOS 4505 fuses athleticism with day-to-day style," the brand writes in a statement. "The design team has taken dynamic prints and colors from key fashion trends and merged them with seasonless technology, ensuring your playtime has personality while allowing you to get the best results."
That last part is particularly compelling — after all, it's one thing for athleticwear to actually be cute: It actually has to work, too. Here are some tech notes from the brand about the product design:
Reflective technology features within a selection of running styles, reflective geometric prints and empowering slogans provide functional, fashion activewear for night runners.
Seamless leggings and bra tops are included in the collection, aiming to increase comfort and reduce irritation caused by seams during a workout.
Compression prints are also thoughtfully placed onto styles to give additional support to muscles during higher impact activities
Jackets and Skiwear are all waterproof and feature practical pockets and inserts for tech devices.
Sweat wicking treatments have been applied to the vast majority of the collection, ensuring breathability and comfort for a multitude of sports.
At first glance, the collection seems wholly inclusive across all size ranges — but as usual, the options are a bit different across women's and men's straight and plus sizes. The broadest options will be available within the straight size range, and special sizes like plus and petites will be more limited. It's not an ideal selection for consumers who don't fit sizes 2-16 (especially as a plus size editor who longs for athleisure and gym gear that's actually cute). With that in mind, here's everything available to shop now in the ASOS 4505 women's collection.
ASOS 4505 Core Range (Sizes 0 - 14)
ASOS 4505 Core Range, $16-$158, Asos
The main range offers a wide variety of colorful activewear pieces, includeing sportsbras, graphic print shirts, and jackets.
ASOS 4505 Core Range, $16-$158, Asos
Some of the best pieces in the collection are the statement workout pants and '80s-inspired windbreaker jackets.
ASOS 4505 Core Range, $16-$158, Asos
Though the collection plays with color, there are also options for people who prefer to keep their activewear on the edgier side.
ASOS 4505 Core Range, $16-$158, Asos
There are even neutrals included in some of the garments, which is a surprising and refreshing color story for activewear.
ASOS 4505 Core Range, $16-$158, Asos
Many of the tops and bottoms in the collection are actually part of coordinated sets — just in case matching is your thing.
ASOS 4505 Core Range, $16-$158, Asos
Some of the pieces don't look like activewear at all, but instead pass for statement fashion you could easily wear to the movies, on a night out, or (depending on your work environment) to the job.
ASOS 4505 Core Range, $16-$158, Asos
ASOS 4505 includes a sampling of more hardcore winter sporting items, like ski jackets and snow pants.
ASOS 4505 Core Range, $16-$158, Asos
This has Olympian written all over it, perfect for channeling your inner Chloe Kim.
ASOS 4505 Core Range, $16-$158, Asos
Again, a lot of these athleticwear pieces actually double as clothing you can wear outside the gym — and when it comes to stacking your wardrobe, versatility is always key.
ASOS Curve (Sizes 14-26)
ASOS 4505 Curve, $16-$45, Asos
There's a very limited supply of plus size activewear on the site right now, but there are a few pieces of sleek black gear that will appeal to the more minimal plus size customer. ASOS 4505 Womenswear launched with over 80 pieces, and will drop new products each week. At full launch, 35 percent of the collection will be available across all categories, including ASOS Curve, ASOS Maternity, ASOS Tall, and ASOS Petite. Menswear is a bit more limited, offering a 15 percent inclusive mix across all size categories.