'The Simpsons' x ASOS Collab Has A Second Drop & The Looks Are '90s Heaven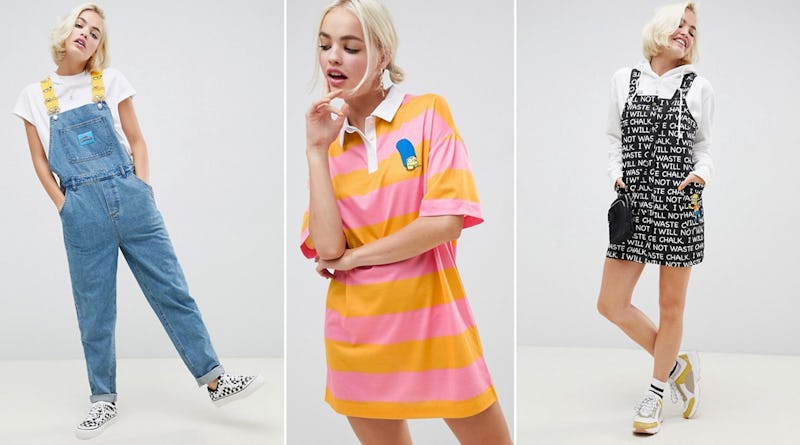 ASOS
Last month, ASOS released a truly mega collaboration featuring some of your favourite yellow cartoon characters. And now, ASOS x The Simpsons is back with a second (and maybe even better) collection to get your hands on. Seriously, just a heads up, it's time to get excited.
The first drop featured more than 30 stand-out designs including denim prints with the title sequence's famous clouds, as well as a bright yellow swimsuit bearing The Simpsons' eyes. What more could you want?
Well, it turns out, people do want more as ASOS (offers sizes 4 - 30, petite/plus-size options) has just released another round of items featuring my favourite yellow cartoon characters. You may have missed out on those Lisa Simpson earrings, but now, you can get hold of the ultimate pair of dungarees. Featuring the TV show's logo and sunny yellow straps, this £50 denim design (pic above) will take you through autumn, winter, spring, and summer with ease.
Another eye-catching denim piece comes in the form of a black and white pinafore dress (pic above) depicting the lovable Bart Simpson writing "I will not waste chalk" on the board. It's definitely a conversation-starter, that's for sure, and at just £38, you won't blow your entire clothing budget in one go.
If monochrome isn't your thing, perhaps a pink and yellow striped rugby shirt dress (pic above), which costs £35, will entice you. It includes a small-scale print of Marge Simpson's head so no one can forget what inspired your brand new look.
Other than that, there's two more denim jackets set to release next week. One features sassy siblings Patty and Selma and costs £55 while the other depicts the same Simpsons clouds in a more faded look and is a teeny bit more expensive at £60.
Two denim short styles will also drop soon: the first shorter than short pair are £35 and show off the aforementioned sisters, and the second — costing £40 — are a lot longer with the same burnout cloud pattern.
As with the first release, ASOS has designed a number of unisex pieces and has pleased the plus-size community by stocking some items in its Curve range, meaning that anyone from a UK size 4 to a UK size 30 can get in on The Simpsons act. Note that not everything is available in all sizes; something that ASOS has said its design team "are looking into."
There's still no word on whether any items from the initial release will be restocking. ASOS originally said it had no plans to restock any of the sold out pieces but a call for more on Twitter could potentially sway the brand's mind.
ASOS appears to be teasing customers by slowly releasing the second collection. Fans are already asking when they can buy one of the new denim jackets with the brand giving a rather mysterious response and advising to check the site daily. D'oh.
And there's been plenty of excitement from those who managed to secure something in August. Not to rub it in your face or anything.
A few pieces from the original release are still available online. Both swimsuit designs are in stock in select sizes and there's pretty limited stock of the the pink cloud-printed denim skirt (and matching tee), mom jeans, and a Kwik-E-Mart tote bag to further prove your loyalty to the fandom.
My ASOS tab is open and I am poised and ready to hit refresh approximately every five minutes for the next week. I expect you'll be doing the same.