Kesha's New Single Is About Something Bigger Than Herself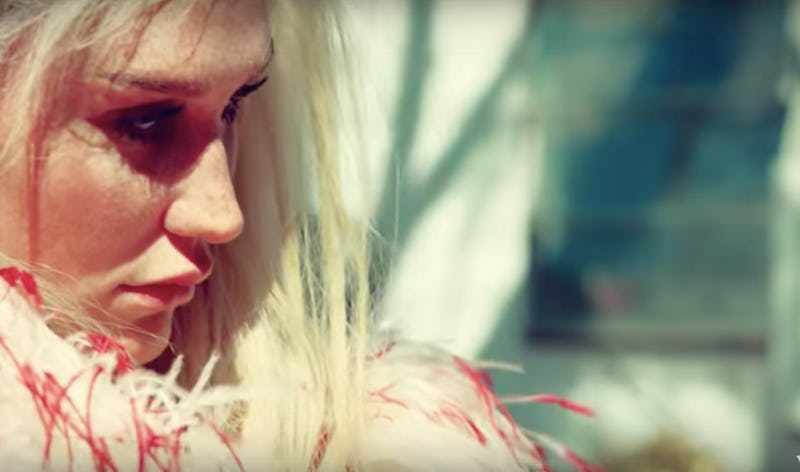 KeshaVevo/YouTube
It will probably be hard for fans to not assume that Kesha's new song "Praying" is about Dr. Luke. But to make that assumption undermines the singer's overreaching message. Kesha's first solo single in four years is about finding strength in one's darkest moments, no matter what those moments are. Instead of being directed at any one person, it's dedicated to all of those like Kesha who have chosen happiness over despair and who want to encourage others to do the same.
As a refresher, the legal case involves Kesha asking to be released from her recording contract after accusing Dr. Luke (real name Lukasz Gottwald) of sexual assault and other abuse. Gottwald repeatedly denied the allegations and filed a defamation lawsuit, which recently was dismissed. (Kesha's mother, Pebe Sebert, and Gottwald released a joint statement about the dismissal.) The California lawsuit alleging sexual assault has also been dropped, but Kesha's New York case to break her contract remains ongoing. But look at what Kesha wrote about "Praying" for Lenny Letter, and you'll notice that she never mentions his name.
The singer instead makes the meaning behind the song, which is inspired by her own struggles with depression and self-image, universal. "I hope this song reaches people who are in the midst of struggles, to let them know that no matter how bad it seems now, you can get through it," she wrote. "If you have love and truth on your side, you will never be defeated. Don't give up on yourself."
As her essay revealed, "Praying" is about pulling yourself out of the darkness and finding the strength to forgive whatever and whoever has harmed you. It isn't easy, that's for sure, but you must find a way. And, when you do, you'll be better for it.
"Well, you almost had me fooled/Told me that I was nothing without you," she sang to start off the new track. "Oh, but after everything you've done/I can thank you for how strong I have become." According to these lyrics, Kesha is now strong enough to say goodbye to everything that tried to break her, because she won't be broken. "You brought the flames and you put me through hell/I had to learn how to fight for myself," she continued. "And we both know all the truth I could tell/I'll just say this is: I wish you farewell."
In exploring these issues, Kesha made a song that tells a survivor's story and that shows every survivor that they can move forward. That it doesn't matter who has hurt you. That you can find the strength inside yourself to come back stronger than before. "Being angry and resentful will do nothing but increase your own stress and anxiety — and hate is the fuel that grows the viruses," she wrote in Lenny. "Don't let anyone steal your happiness!"
These impactful messages are the reason why simply saying Kesha's "Praying" is about Dr. Luke takes away from all the progress she's made in her struggle to become who she is now, the person that she is showing to her fans with this track. This is her journey, and she deserves all the credit for getting herself to this point.
As she wrote in Lenny Letter, "This song is about coming to feel empathy for someone else even if they hurt you or scare you. It's a song about learning to be proud of the person you are even during low moments when you feel alone. It's also about hoping everyone, even someone who hurt you, can heal." Kesha's looking to raise others up by showing that she isn't a victim and that they don't have to be either. She is showing that she isn't defined by her past struggles or by any one person. She is showing that she a survivor, that we are all survivors, and, most importantly, that we're stronger now because of that.