How Women Of Color Are Dismantling White Supremacy One March At A Time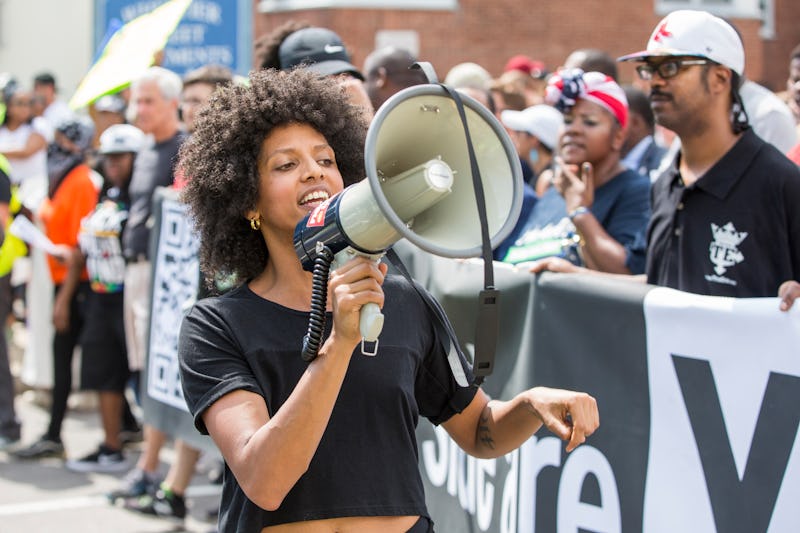 Scott Eisen/Getty Images News/Getty Images
On Saturday morning, Natalie Sanchez arrived at the Reggie Lewis Center in Boston well before counter-protesters started trickling in. The morning fog dissipated as Sanchez readied herself, eagerly setting up two cardboard boxes filled with t-shirts commemorating the Fight Supremacy march she volunteered for. Sanchez distributed branded shirts to organizers and activists as they arrived who — overwhelmingly — were women of color, like her. To be in Boston, as an estimated 40,000 counter-protesters marched against white supremacy, was to bear witness to the fact that the leadership of the resistance in the U.S. is female and Black and Brown.
The protesters aimed to silence the alt-right "Free Speech Rally" that saw various planned speakers pull out — including anti-semitic Senate candidate Agustus Invictus, "Proud Boys" leader Gavin McInnes, and Russian state-funded newscaster Cassandra Fairbanks. In the end, only Kyle Chapman (a white supremacist agitator who was recently charged with a felony for allegedly beating counter-protesters with a stick) and Dr. Shiva Ayadurai (a right-wing Senate candidate who claims to have invented email) spoke for less than an hour before the chants of the counter-protesters who were already at Boston Common drowned them out.
Save for a handful of scattered Nazis, the speakers didn't have a chance to see the faces of the tens of thousands of people who marched from the Reggie Lewis Center to greet them. By the time the marchers arrived, most of the white supremacists were long gone, avoiding the women who had led tens of thousands of counter-protesters across the city.
Janaya Khan, co-founder of Black Lives Matter Canada, came from Toronto to help. "They call me Future because that's exactly what we are fighting for here today," they told the cheering crowd from the back of the pickup truck outfitted with a speaker system and various banners. "In 2009 after the election of our first black president, a lot of white nationalists got online and organized because they couldn't stand the idea of someone like me running the country," they continued. Monica Cannon, founder of Violence in Boston, and the event's central organizer, reminded the crowd who convened them there, "I'm a black woman, first and foremost."
Khan and Cannon led the massive gathering down Tremont toward Boston Common, trading off between leading chants and letting music from the pickup truck elevate the crowd's mood. When Kendrick Lamar's "Alright" came on, Khan's elated skip led the crowd in a deafening rendition of the anthem, with people dancing and singing in solidarity.
"It's not just what you stand for, it's who you sit with."
Monica Riehl flew to Boston from El Paso, Texas, battling a high fever and lacerated finger (from a sporting accident) to join in the march against white supremacy. "The minority is sitting in Boston Common right now wearing fascist uniforms … everyone here is showing that THIS is the majority," Riehl told me as we marched along the route. But the women leading the march want more than people walking behind them. They need people doing the work beside them.
"We allowed a very patriarchal idea of leadership to surface for a very long time, and it wasn't working. Patriarchy is one of the fundamental aspects of white supremacy and white nationalism. Our job is to resist simultaneously," Khan says. "This iteration of freedom fighters are women, are queer and trans people. [They're] the disabled." Marching across the city doesn't prove one is an ally to the people most in danger under a fascist government. Being an ally is something that's earned. "It's not just what you stand for, it's who you sit with," Khan told me.
In Boston, dismantling white supremacy is more than marching across the city. For Cannon, it also means fighting against state budget cuts in HIV programs and drug treatment centers that disproportionately affect Black communities. For Sanchez, president of the board of directors at March Forward Massachusetts, it's about taking action at a policy level. Organizers hope those who marched on Saturday will show up to reform state and local law enforcement, which incarcerate Black residents in Massachusetts at a much higher rate than their white counterparts.
As the marchers slowly made their way past a Quick Pick convenience store on Tremont in sweltering heat, a counter-protest volunteer buying cases of water was one of the few people lucky enough to slide in before the owner of the convenience store locked the door, afraid of the massive crowd. "They'll steal everything," he said dismissively as he stared at a crowd of mostly black faces. A white woman who was buying Gatorade at the store paid for the volunteer's cases of water.
All along the route, supporters handed out water and snacks to the thousands of marchers. Even among those who didn't march but supported in other ways, it was women who shone. A woman put a poppyseed donut in my hand and said, "Glad to help however I can" when I thanked her. A mother sitting on a row-house porch lovingly explained to her toddler, "this is why you have to love everyone." Shops, restaurants, and even private apartments along the route had various signs of support for the counter-protests. One restaurant's sign read, "Hope you Nazis packed a lunch, cuz you're not welcome here."
The counter protesters were mostly peaceful, albeit vocal about their contempt for all things Nazi. When counter-protesters spotted a white supremacist in the crowd of thousands, people wearing ANTIFA emblems quickly surrounded him and chanted that he wasn't wanted in Boston. A woman yelled "Don't hurt him", reminding the crowd that no violence would be shown. The counter-protesters marched the man out of the park safely, though expressing their disdain through loud chants.
Police arrested 27 people during the rally and counter protest, stemming from minor clashes with officers. As The Washington Post's Wesley Lowery pointed out, that's 10 fewer than when the Red Sox won the World Series in '07. Boston Mayor Marty Walsh expressed gratitude for the peaceful manner in which the city came together, and praised the crowds for their benevolence. "I want to thank all the people that came out today," Walsh said. "I want to thank all the people that came out to share ... that message of love not hate; to fight back on racism; to fight back on anti-Semitism; to fight back on the white supremacists that are coming to our city."
But as Cannon and the other women of color who led the march attest, there is much work left in Boston to dismantle a system that has preyed on Black and Brown families for centuries.
Powerful people like Cannon, Khan, and Sanchez are paving the way, but Cannon believes marches are only one avenue for change. "Black organizers fight against white supremacy everyday, and we need folks to contribute to that work and support Black organizers consistently."