Why 'Atlanta' Deserved So Much More Than It Got At The Golden Globes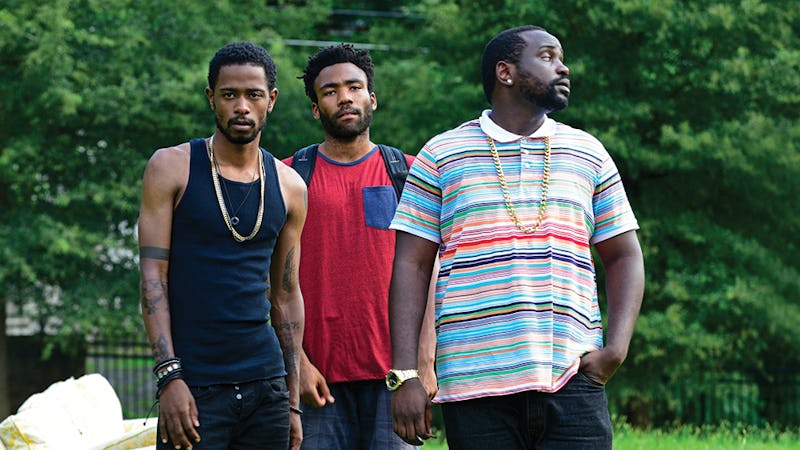 Courtesy of FX
More like Atlanta Robbed Season. Atlanta wasn't nominated for Best Comedy Series at the Golden Globes, though Donald Glover got a nod for Best Actor, and fans are upset. The FX series was majorly snubbed and it's honestly pretty confusing.
Glover received his nomination for Best Performance by an Actor in a Television Series, Musical, or Comedy and that's it for Atlanta. There aren't additional writing or technical nominations that we're waiting to hear about. The Hollywood Foreign Press Association may have announced a new Lifetime Achievement in Television statue akin to the Cecil B. DeMille award, but there are no Creative Arts Golden Globes.
This is extra surprising considering the first season of Atlanta won the Golden Globe for Best Comedy Series; Glover won for his performance as well. Atlanta Season 2, dubbed Atlanta Robbin' Season, received critical acclaim, particularly for the affecting, utterly bizarre episode "Teddy Perkins." The show has continued to rake in awards, winning Primetime Emmys for Directing and Comedy Performance, NAACP Image Awards, AFI awards, the Producer's Guild Award, the Writer's Guild Award, and an array of other accolades. What gives, Golden Globes?
The nominees in Atlanta's would-be category are Barry, The Good Place, Kidding, The Kominsky Method, and The Marvelous Mrs. Maisel. With the exception of The Good Place for the most part, these are primarily white shows with white casts from white creators. While other categories at the Golden Globes are more diverse than this one in particular, this is not great. Representation has to be both widespread and continuous.
Twitter is, understandably, aware of and talking about this snub. Here's what fans and critics (and critics who are fans) have to say:
These two express a similar sentiment:
You want to not care, and snubs like this make it so hard.
The HFPA sure seems to love debut shows, huh? Maybe that's why the first season of Atlanta took home the highest honor and the second season was just left out to dry.
Remember when Teddy Perkins showed up at the 2018 Primetime Emmy Awards? At first, it looked like Donald Glover was dressed up as the bizarre character. Then Glover appeared back in the room, so that couldn't be the case. We never found out who was Teddy Perkins that night. In a recent interview on Late Night With Seth Meyers promoting Steve McQueen's film Widows, another Golden Globe shutout nomination-wise, Atlanta star Bryan Tyree Henry confessed that he was just as freaked out by the random Perkins appearance as any of us.
"I have no idea," Henry told Meyers when asked who was Teddy. "It was the craziest thing because I was sitting there, and I was sitting next to Zazie [Beetz], and I looked at her and I was like 'is that Teddy Perkins? So Donald... where's Donald?! Donald's right there... she was like 'so it's gotta be [Lakeith Stanfield],' I was like 'Keith is behind you!' We all started a group thread, like, who is Teddy Perkins?"
Please reprise this bit anyway, Atlanta crew. Don't let the snub stop you!