Why An 'Atomic Blonde' Sequel Would Be Every '90s Kid's Dream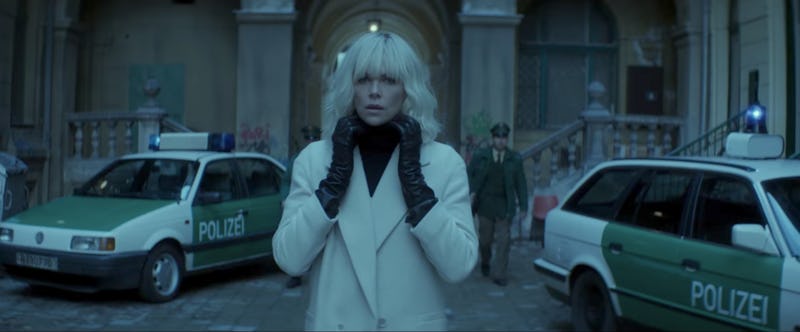 Universal
Just a month after the thriller was released in July, there were already talks of an Atomic Blonde sequel. It's no wonder why. The film, which takes place in 1989 Berlin, is beautifully shot with a chilling blue tint and mostly lit with radiant neon lights. The kickass action follows Lorraine Broughton (Charlize Theron), a no-holds-barred MI6 agent on a life-threatening, undercover mission to reveal a mole and learn why a fellow agent was taken out in the city. The heroine and her action scenes are impossible to ignore, as are the film's retro, '80s-themed look and soundtrack. Seeing as how director David Leitch (John Wick) says Atomic Blonde 2 could be in the '90s, every movie and nostalgia lover has something to look forward to.
Prior to the Blu-ray release on Nov. 14, Leitch and stunt coordinator Sam Hargrave sat down with Bustle and not only recognized the sequel buzz, but hinted at what they're envisioning for the possible installment. "I think we take [Lorraine] into the '90s," Leitch says. "That's what I think." No one would be opposed to this concept, because, well, it's the '90s. Not to mention, the soundtrack and the action would certainly be amped up a notch — even if Lorraine doesn't sport neon windbreakers while she kills.
While nothing has been confirmed amidst the moving pieces, the director is optimistic about Lorraine's on-screen return. "Oh, I think that there's fertile ground," he says. "And there's a lot of people that are already buzzing about, 'Hey, we should do it, we want to see the character again.'" He's ready to continue delivering this on-screen icon — one who simply transcends decades. "Lorraine Broughton is a really compelling, fun character. There's a lot of wish fulfillment in her, for both men and women," he says.
In August, Theron hinted at Atomic Blonde 2 discussions without giving too much away. "We're starting that conversation right now. We're definitely talking," she told The Hollywood Reporter. "That's going to take a while to figure out." Meanwhile, writer Kurt Johnstad told the publication he was ready to dive in for a sequel and then some. "I'm prepared for a sequel," Johnstad said. "I see it as three movies. It might be more."
What would a '90s-themed sequel entail? A dope soundtrack, for starters. Atomic Blonde's soundtrack includes classics from David Bowie, George Michael, Marilyn Manson, The Clash, and A Flock of Seagulls. One can only imagine which '90s hits would help bring the sequel to life.
According to Feitch and Hargrave, there's also room for a potential new sidekick — a fellow, fierce woman to help Lorraine conquer. James Bond always gets the new lady, and Lorraine should too (as independent as she is).
"[Depends on] where we head up," Leitch says when asked who Lorraine's next on-screen counterpart could be. In the film, James McAvoy played her team member Berlin station chief David Percival and Sofia Boutella played a fellow female spy. But like most action franchises, there's always room for a new face to get in on the craziness.
"There are so many possibilities and that's part of the fun, the development process for these guys and the next step," Hargrave says. "What's the pairing that's most intriguing for this character to make it interesting for the audience?"
If one thing is certain, it's that Theron will bring her A-game. "If one piece was off, she would do it all again," the stunt coordinator recalls. "She would push us, [when we would] take a second, she was like, 'No, let's go again.'" He says they took 19 takes of the epic stairwell fight scene because Theron was so adamant about getting it right.
And after spending time with the stunt coordinator and his crew to learn some of the choreography (video above), I have a newfound respect for Theron and her work. I was winded after three takes, never mind 19. (And that was without simultaneously acting.) Props to her and this team.
Not only did Theron push the crew while they shot, she gave the stunt men a run for their money. "I never knew her to cry, I knew her to make fun of the stunt guys for crying," Hargrave jokes. "She would make fun of them... 'cause the guys are going hard, but she'd go, 'Harder! You gotta hit me harder!'" he recalls. Even McAvoy didn't deny that Theron kicked his butt.
What's promising about the potential sequel is that Theron's stamina and enthusiasm is unmatched, not to mention she still gets completely giddy when she nails a scene. "She's such a seasoned veteran at acting, it's pretty funny," Leitch says. "Like, when you tell, 'Cut,' and she runs back up into the camera like, 'How did I do?!'" That was, of course, until she watched it over and insisted they shot until it was perfect.
Atomic Blonde's possible '90s sequel is already shaping up for so many reasons. Plus, kicking butt is a lot more fun when Nirvana's playing in the background.