This 'Handmaid's Tale' Spoiler About Aunt Lydia Could Change Everything In Season 3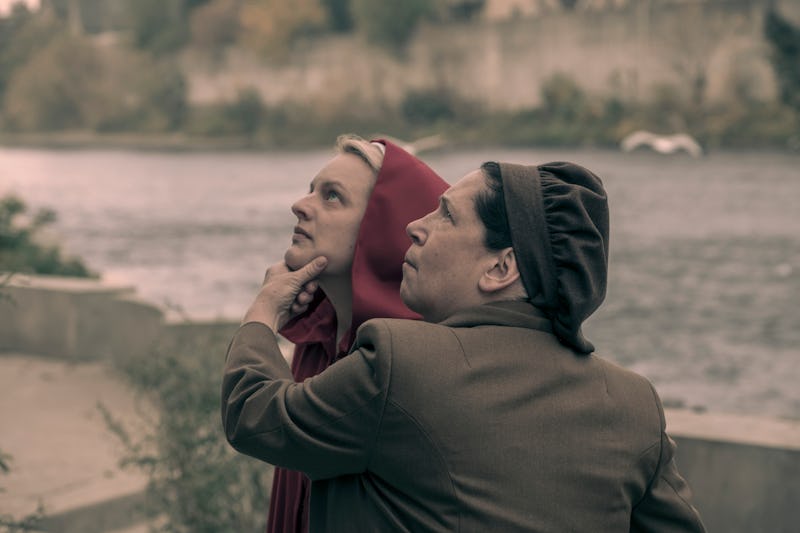 George Kraychyk / Hulu
The Season 2 finale of Handmaid's Tale — spoiler alert — saw Emily putting a knife into the back of her oppressor Aunt Lydia and pushing her down the stairs. While things appeared to be pretty bleak for the character, the show's executive producer offered a huge spoiler for Aunt Lydia's fate in Handmaid's Tale Season 3. It seems that the terror inflicted by Aunt Lydia may not be over just yet, according to Entertainment Weekly.
The character, which is played by Ann Dowd, seemingly met her fate at the bottom of those stairs after Emily (Alexis Bledel) rose up against the opposition in the closing scene. The moment left many feeling that Lydia, the woman responsible for overseeing the Handmaids and their duties, had met her end, meaning that Dowd would be exiting the series after the brutal Season 2 ending. However, according to a recent interview from executive producer Warren Littlefield, it seems that fans may be in for a huge surprise.
During a chat with EW Radio, SXM 105, Littlefield recounted a past discussion he had with Dowd about her role on the show. And while he didn't give away exactly what happens with her character going forward, his recollection of the conversation does drop a major hint that Aunt Lydia may still be alive. He explained,
"The first thing we said [to Ann] is, 'You're not dead, but it's going to be a pretty brutal scene.' She was completely up for it."
After realizing that he may have spilled some serious details about the forthcoming season, Littlefield explained, "Maybe that's an enormous spoiler I just gave you."
Despite the shocking revelation, the former television executive says that he believes her survival is a conclusion that viewers may have most likely surmised due to the way her last scene was filmed. In his EW conversation, he shared:
"There were different choices of how we shot that, that could have indicated that there was absolutely nothing, no signs of life. But you do see it at the foot of the stairs, that there are signs of life. Is there great risk? Absolutely."
He went on to joke, "But yeah, again, I think I may have done a big spoiler here" and later appeared to attempt to walk back his assurances about Lydia's life. "Aunt Lydia is such a powerful and important part of this world and this show," he said. "But we fear for her life, and it is absolutely life-threatening. And that's where we leave her, in a life-threatening situation."
The season two finale, "The Word," certainly built a lot of hype for the series' third season. In addition to Emily's fight to escape, June, who is played by Elisabeth Moss, also nearly frees herself from the Waterford household. June, ultimately opts to stay behind to search for her oldest daughter Hannah (Jordana Blake) who remains captive in the dystopian society, leaving her infant daughter in Emily's care.
In a separate interview with The Hollywood Reporter, Littlefield gave some insight on what fans can expect when the streaming series returns to Hulu next year. Season 3, according to the producer, will be all about the resistance. "I think we'll get to go to another place for year three, which is the resistance, the fight." Per THR, showrunner and creator Bruce Miller described his thoughts on the third season as: "blessed be the fight."
With the excitement of Season 3 already mounting, it's unclear what Aunt Lydia's survival will mean for the women who have begun to fight back. Their joint resistance will, without a doubt, be something fans won't want to miss.