Auntie Anne's Just Dropped Cozy Merch That Will Soothe Your '90s Baby Soul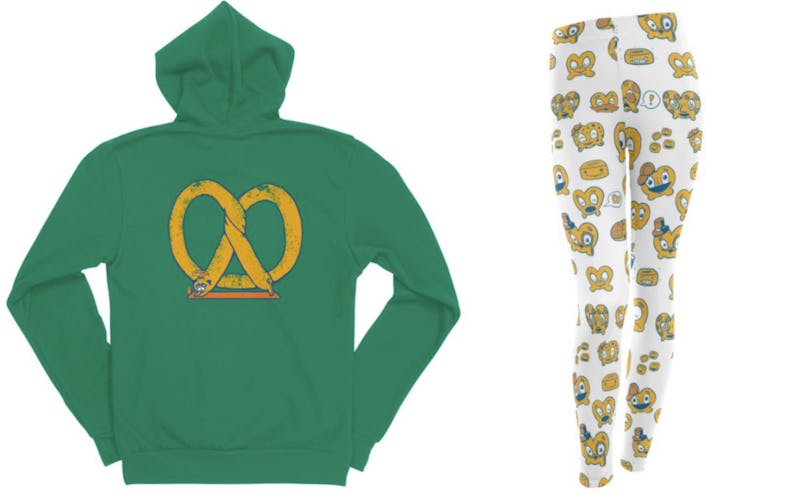 Auntie Anne's/Threadless
And continuing the trend of brands totally getting what their fans want out of branded merch, we have this: Auntie Anne's just added new items to their For The Love Of Pretzels collection — perfectly timed for any holiday shopping you still have left to get done this season. Nothing says "happy holidays" like a sweatshirt with a pug doing such intense yoga that the pup has literally tied himself up like a pretzel, am I right?
Originally launched in April to coincide with National Pretzel Day 2018, the For The Love Of Pretzels collection pays homage to Auntie Anne's signature treat, the mighty pretzel, in a playful and creative fashion. Featuring five different designs, each created by a different artist, the collection is "eclectic, bold, and authentic," as Auntie Anne president Heather Neary told Bustle at the time of its launch. "Each piece is a conversation starter," she said. "We encouraged the artists to create designs that they would want to wear, not designs that they thought we'd want to see."
And now, new items have hit the shop, which is hosted via Threadless, just in time for the holidays. The designs themselves aren't new; they were all included in the original lineup of themes for the collection. In case you need a refresher, "A Twisted Day" was designed by Daniel Stevens; credit for "A Pretzel For Everyone!" goes to Shawn "Shawnimals" Smith; "Pretzels Forever" is the work of Luis Romero; Chalermphol Harnchakkham, known as Huebucket, gave us "Pretzel Pug Yoga"'; and Rick Crane made "Pretzel Heaven."
The first four of these designs made it onto the new items (apologies to anyone for whom "Pretzel Heaven" is a personal favorite; there's nothing new for you here) — and even though the images are familiar, the picks themselves are still exciting. For example, for the first time ever, there are leggings!
Available in both the "A Twisted Day" and "A Pretzel For Everyone!" designs, the leggings are made of a combination of polyester and spandex using cut and sew technology. Described as "a heavenly combination of super soft and stretchy that makes for the ultimate comfort," they're… well, exactly the kind of thing I wear pretty much every day. (Working from home is great.)
Then there are the zip-up hoodies. Pullover hoodies have been available in the For The Love Of Pretzels collection since day one, but zippers beat pullovers every time for me, so naturally, I am thrilled about this development. Plus, the zip-up hoodies, which come in red, blue, and green, are made of fleece. I love fleece. This is a good thing. You can get these snuggly delights in both the "Pretzel Pug Yoga" and "Pretzels Forever" designs.
One thing to note: The zip-up hoody is only listed in the men's category — but, as the fine print for the item notes, the sizing is gender neutral. (And, TBH, pretty much all sizing should be gender neutral; if you like the way something fits you, wear it, regardless as to what the label says. It's that simple.) So, if you're having trouble finding it, that might be why — just a heads up about that.
And lastly, there are the shoes. Featuring the "A Twisted Day" design, they've actually been around for some time; previously, however, you could only get them from Bucketfeet. Now, though, they're available right from the Auntie Anne Threadless store for the very first time. The slip-on, rubber-soled sneakers are available in men's and women's sizes.
What's more, there are a couple of promos going on right now, both from the Auntie Anne's store specifically and from Threadless more generally. Using the code PRETZELS18 when checking out will give you 15 percent off any item in the Auntie Anne's store; or, you can use the code FREESHIP110d0051 on any Threadless order of $45 or higher will grant you free shipping (although note that wall art and shoes are excluded from this deal). The PRETZELS18 code is good until the end of the year, while the FREESHIP110d0051 code ends on Dec. 12, 2018.
Auntie Anne's is far from the only brand out there right now that's killing it on the merch front. Cinnabon's new gear brought us the cinnamon roll-covered fleece PJ pants we didn't know we needed; Captain Morgan's body pillows and ugly holiday sweaters provided some excellent laughs over Cyber Monday; and Taco Bell's holiday sweaters and onesies have proved so popular that the collection sold out in about a week.
Is it a little weird that we're so into the idea of basically being walking advertisements for our favorite brands? Perhaps — but at the same time, a lot of the things sold by those brands give us a lot of joy. A pretzel may not seem like a lot, but sometimes, it's exactly what you need. And hey, if the merch continues to be this hilarious, I'm kind of OK with that. More pretzel pugs, please. Because who doesn't like pretzel pugs?