Taco Bell Just Launched A Holiday Collection & Took Care Of All Your Gift Shopping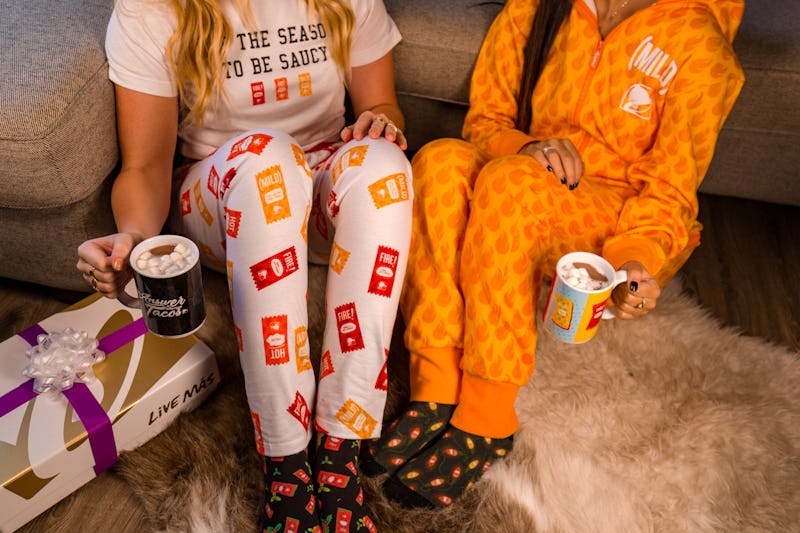 Taco Bell
Everyone already knows that Taco Bell and the holidays go hand in hand; there is no truer hero than the friend who brings a Taco Bell Party Pack to the holiday bonanza (particularly if they roll in when you're already several eggnogs deep). If you already Live Mas during the holidays, here's your chance to Live EXTRA Mas: the Taco Bell Holiday Collection just launched, full of festive treasures that you can buy online right the heck now. Now you can eat your dreams, and wear them, too.
Like a lot of things that Taco Bell does, this holiday collection is truly a go big or go home situation; rather than just launching holiday sweaters like a lot of brands do around this time of year, the chain also has onesies, a pajama set, socks, mugs, and pillows, so you can essentially surround yourself with Taco Bell paraphernalia 24 hours a day. The sweaters, which come in three fetching Taco Bell-inspired designs in purple, red, and blue, and the onesies, which are designed based on Taco Bell's sauces, are the result of a collab with Tipsy Elves, the brand made famous for championing the holiday sweater market. By virtue of that alone, they are Extremely Cozy. But even if that weren't the case, could anyone resist the siren call of purchasing matching Taco Bell sweaters for the family holiday card this year?
Then, once you're finished posing for the Instagram, you can cozy up next to the fire in your Taco Bell onesies drinking hot cocoa out of Taco Bell mugs, then pointedly glare at the loved one of your choosing until they agree to make the trip out to the cold to bring back Rolled Chicken Tacos back to your hearth. Does a taco-loving human being dare ask for more from this world?
And even if this isn't your holiday brand (first of all, how dare), this is the prime opportunity to shop for all your hip, Taco Bell-consuming friends. I am hard-pressed to think of a single person in my life who would not be thrilled to un-ironically pose in a saucy onesie. And truly, the pillows and the mugs are more practical than anything else. If you want your outside space to reflect what is in your innermost heart, then this is, arguably, the only authentic way to decorate and live your taco truth.
It would be irresponsible of me not to mention that, in addition to the new holiday merch, Taco Bell still has plenty of other things available for purchase in its shop, including all of its iconic Taco Bell wedding gear. (Everyone knows a marriage is not technically valid in the eyes of the law until someone has ripped another person's Taco Bell bow tie off with their teeth.) In the meantime, fingers crossed that when Santa arrives this year, he leaves you plenty of Taco Bell merch under the tree; just in case, though, you can shop the collection for yourself here.