You Can Buy A Captain Morgan Body Pillow If You're Feeling Lonely This Holiday Season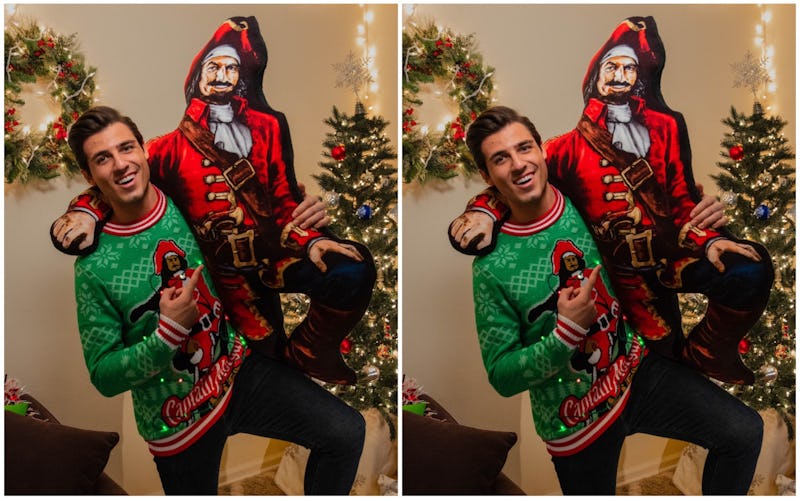 Courtesy of Captain Morgan
Most people who put words on the internet for a living are used to finding hilarious pitch emails in our inboxes. But lest you think that eventually, we all just get so accustomed to these kinds of emails that we cease to be surprised by them anymore… that is very much not the case. Take, for example, what happened when I found an email about a Captain Morgan body pillow in my inbox the other day. "Captain Morgan body pillow?" I thought. "What, like… an oversized pillow decorated with the Captain Morgan logo? A pillow that looks like a giant bottle of rum? Maybe?"
But no. When I finally saw the pictures of said item, I found that it is not an oversized pillow decorated with the Captain Morgan logo. It isn't a pillow that looked like a bottle of rum, either.
It is a body pillow that actually looks like Captain Morgan.
It is ridiculous, and I love it. And hey, guess what? If you, too, find it ridiculous and love it, it can be yours. They'll be available for purchase at Captain Morgan's online store starting on Nov. 26, also known as Cyber Monday (for 2018, at least).
In the immortal words of Peregrin Took:
Originally coined in 2005, the phase "Cyber Monday" has held less and less meaning with each passing year; these days, post-Thanksgiving deals and sales often hit online stores well in advance of Black Friday, let alone waiting until Cyber Monday to launch. But sometimes, magical things happen on Cyber Monday — and this year, one of those magical things is the arrival of a human-sized pillow shaped like a rum-swilling, rum-shilling pirate.
The Captain Morgan body pillow stands five feet tall, which means that it is literally me-sized; it's also 26 inches wide, in case that is a thing that matters for you. It will hit the Captain Morgan online store via a flash sale on Nov. 26 priced at $20.18 (get it?); then, after the flash sale ends, it will continue to be available for its regular price of $34.99 until stock runs out.
Although something like this would probably best be suited for, say, White Elephant exchanges and the like, I can also think of a wide variety of ways one might benefit from having a Captain Morgan-shaped pillow in their home. He's perfect to snuggle with on cold nights. He's always ready to lend an ear if you need someone to just listen. He does not judge. He'll even dance with you, if you ask nicely.
What a guy, am I right?
If you've never explored the Captain Morgan store before, by the way, I highly suggest doing so, even if all you're doing is the online version of window shopping. It is full of hilarious items, like this "Captain's party kit":
A costume replica of Captain Morgan's uniform:
And this spectacularly tacky onesie:
The onesie is a holiday item, by the way, so it might not be around for long. Just, y'know, in case you know someone who would appreciate having such a garment in their wardrobe.
Also, if you're looking for even more rum-soaked, tacky holiday apparel, Captain Morgan has partnered with Tipsy Elves, an e-retailer whose main goal is to "make the most outrageous clothes known to mankind in order to make you life more fun," to bring things like ugly Captain Morgan holiday sweaters and Captain Morgan holiday leggings to the masses. There's even a two-person Captain Morgan holiday sweater, which, uh… well, it's not exactly practical, but just think how showstopping your entrance will be when you arrive at your Aunt Mildred's annual ugly holiday sweater party literally attached at the hip to your bestie.
That's dedication.
The Captain Morgan body pillow will hit the online Captain Morgan store starting on Monday, Nov. 26. My holiday wish for you is that your life always be full of the kind of hilarity that makes pirate-shaped body pillows a possibility. Season's greetings, friends.