Ava DuVernay Is Directing A Prince Documentary For Netflix That Already Sounds Amazing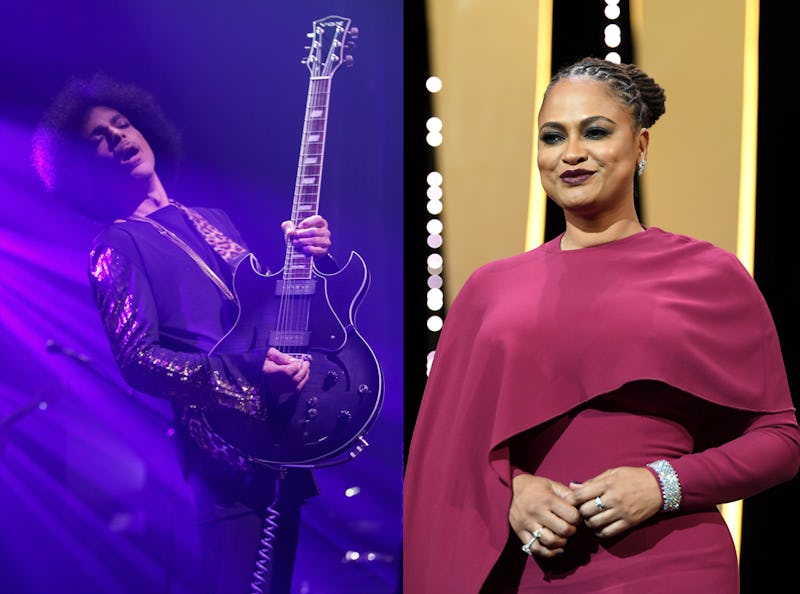 Chelsea Lauren/Getty Images Entertainment/Getty Images; Pascal Le Segretain/Getty Images Entertainment/Getty Images
It's been about two and-a-half years since Prince passed away, and the musical icon could not be missed more. The eight-time Grammy winning artist left an everlasting mark on music history, and now Ava DuVernay is set to direct a documentary about Prince for Netflix that will further cement the "Purple Rain" singer's memory for generations to come. On Oct. 29, Deadline reported that DuVernay had received full access to Prince's archives for the film, which contains thousands of unreleased songs and videos, setting this up to be a special film indeed.
DuVernay will direct the documentary for Netflix, her second following her Oscar-nominated documentary, 13th, which was released in 2016. "Prince was a genius and a joy and a jolt to the senses," DuVernay said in a statement released to Deadline, adding "He was like no other." The Selma director continued, saying,
"He shattered every preconceived notion, smashed every boundary, shared everything in his heart through his music. The only way I know how to make this film is with love. And with great care. I'm honored to do so and grateful for the opportunity entrusted to me by the estate."
Not only did Prince's estate choose DuVernay to direct a documentary commemorating the artist, but His Royal Badness himself had sought out DuVernay to collaborate on a project before his untimely death, Deadline reports.
While DuVernay's Netflix documentary about Prince doesn't yet have a release date, it sounds like the project is well under way as Deadline reports that the director and her crew have visited Prince's Paisley Park home in Chanhassen, Minnesota multiple times over the past few months.
Considering that Prince left so much un-released music and film footage, it could take years to get through all of that material, though. As The Guardian reported before Prince's death, the musician has "enough unreleased material to put out an album a year until sometime in the 22nd century." Last month, the first album of previously unreleased Prince music Piano & a Microphone 1983 was released, but it's unclear how many more posthumous albums of new music Prince's estate intends to put out.
While it sounds like DuVernay's project might take a broad look at the funk musician's legendary career, a more specific documentary about the late artist is also in the works. Variety reported that Apple Music will release a documentary about Prince and the Revolution's concert at Minneapolis' First Avenue in August of 1983. According to the outlet, that concert served as the debut performance with guitarist Wendy Melvoin of Revolution. The concert also marked the first time that "Purple Rain" was recorded live, per The Guardian, though it's not the same version of the song that Prince released on the 1984 eponymous album.
For Prince fans, the news that DuVernay is directing a Netflix documentary about the beloved artist — and that another concert documentary is also in the works — might make them "Go Crazy." But it seems like that's exactly what Prince would want.