Bachelor Contestants React To News of 'Bachelor In…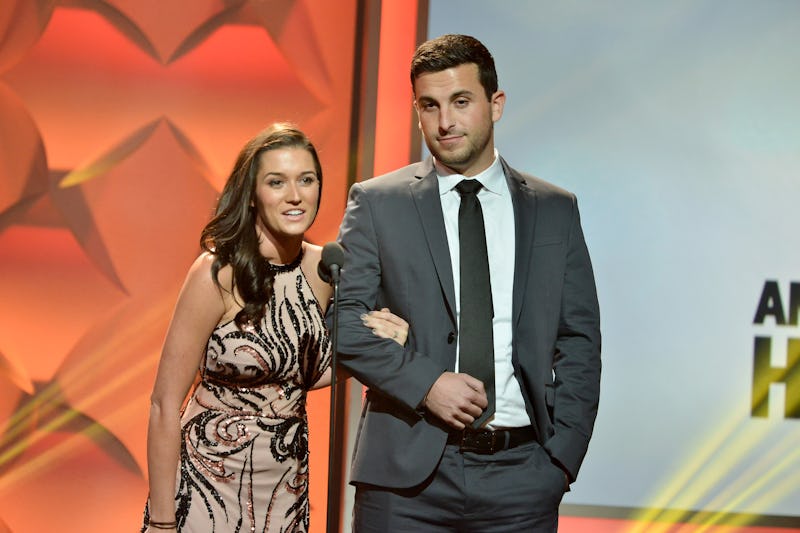 Araya Diaz/Getty Images Entertainment/Getty Images
While Bachelor in Paradise is known for booze-fueled nights, hook-ups, and questionable contestants, it has never reached the point of being totally shut down. But on June 11, Warner Brothers confirmed that Bachelor in Paradise Season 4 shut down production very early on in its filming. Warner Brothers released a statement to The Hollywood Reporter, which reads,
"We have become aware of allegations of misconduct on the set of Bachelor in Paradise in Mexico. We have suspended production and we are conducting a thorough investigation of these allegations. Once the investigation is complete, we will take appropriate responsive action."
Update: On June 20, an ABC spokesperson provided the following statement to Bustle:
"We appreciate the swift and complete investigation by Warner Bros. into allegations of misconduct on the set of 'Bachelor in Paradise.' Given their results, the series will resume production, and will air this summer on ABC."
Warner Bros.' statement to Bustle read,
"As we previously stated, we recently became aware of allegations regarding an incident on the set of Bachelor in Paradise in Mexico. We take all such allegations seriously. The safety, security and well-being of the cast and crew is our number one concern, and we suspended filming so that the allegations could be investigated immediately and thoroughly. Our internal investigation, conducted with the assistance of an outside law firm, has now been completed. Out of respect for the privacy interests of those involved, we do not intend to release the videotape of the incident. We can say, however, that the tape does not support any charge of misconduct by a cast member. Nor does the tape show, contrary to many press reports, that the safety of any cast member was ever in jeopardy. Production on this season of Bachelor in Paradise will be resuming, and we plan to implement certain changes to the show's policies and procedures to enhance and further ensure the safety and security of all participants."
Update #2: On Tuesday, Corinne Olympios' lawyer Martin Singer released a statement to Bustle that read,
"It needs to be made crystal clear that production of 'Bachelor in Paradise' was shut down because of multiple complaints received from 'BIP' producers and crew members on the set. It was not shut down due to any complaint filed by Corinne against anyone. It comes as no surprise that Warner Bros., as a result of its own internal Investigation, would state that no wrong doing had occurred. Our own investigation will continue based on multiple new witnesses coming forward revealing what they saw and heard."
Earlier: In the wake of this shocking news, past cast members of all the Bachelor shows have been weighing in on social media. It should be noted that the contestants all commented at different times, which means that some of their responses may be colored by how much information was available at the time.
It has always seemed like many of the cast members are very close, and this news seems to have affected many of them. While it is still unclear what exactly happened, these Bachelor alums have shown concern, confusion, and shock, just like most of us watching from home. (And in true Bachelor fashion, a couple of these contestants should probably have kept their mouths shut.)
Caila Quinn
Quinn posted a very sweet and sympathetic message...
Chad Johnson
...while Johnson acted very much like himself.
Tanner Tolbert
Tolbert was sad that the contestants didn't get to enjoy the experience.
Marcus Grodd
Grodd, a BiP alum, sent his well wishes.
Raven Gates
Raven kept it short.
Robby Hayes
This one seems a little unnecessary.
Clare Crawley
As someone who's been on the show before, Clare hopes everything is OK.
Let's hope that that everyone from the current cast is home, safe, and well.