Bekah's 'Bachelor' Castmates Are Reacting To Her Pregnancy News With So Much Support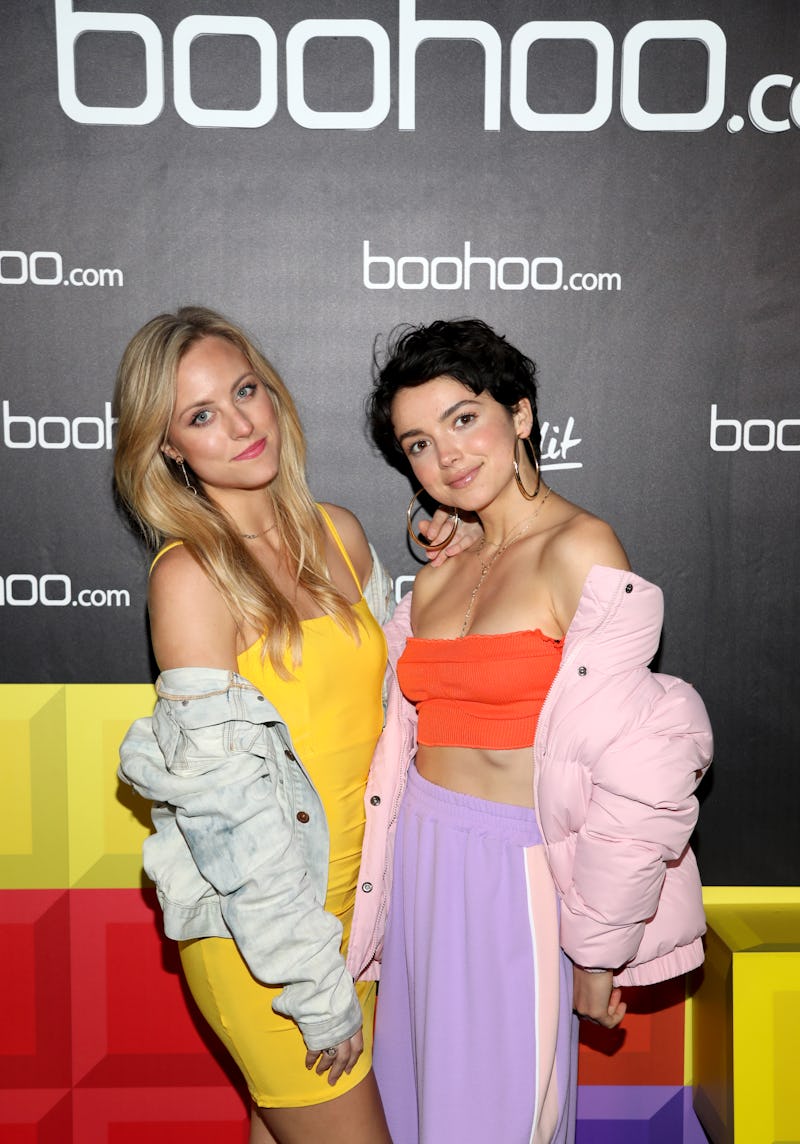 Jerritt Clark/Getty Images Entertainment/Getty Images
The fans were shocked when Bekah Martinez didn't join Bachelor in Paradise for Season 5, but she had every reason not to. She was in a relationship and she was pregnant with her first child. Now that she's revealed the big news, Bachelor Nation is reacting to Bekah's pregnancy announcement with nothing but support. Cast members couldn't be more excited for their friend to become a mother.
On Wednesday morning, Bekah announced her pregnancy in an article on PureWow. The Bachelor Season 22 contestant also shared a statement with Bustle via email:
"What started out with so much fear has blossomed into something so exciting and beautiful! I never would have guessed the 'journey' this year would take me on. Life is crazy!"
She even threw in some Bachelor-style lingo with the word "journey" in her statement. Bachelor fans have been rooting for Bekah to find love and happiness from the second she first appeared on Arie Luyendyk Jr.'s season of the Bachelor and now she has it, sans the roses.
The nanny also discussed her pregnancy in a YouTube video. She shared,
"Everyone, you know, was wondering, am I gonna, was I gonna do Bachelor in Paradise. And I had already said 'no.' But it was still kind of crazy that I had this secret of, like, oh no, not only do I have a boyfriend, I also now have a kid on the way."
In the PureWow interview, Bekah explained, "It's the one thing that I've known with certainty for so long. I've gone back and forth on the idea of marriage and relationships, but I've always felt sure that I want to be a mom." Bekah is not the only one who feels that way. Her Bachelor friends shared very similar sentiments on social media.
Kendall
Kendall Long shared a photo of the two of them sitting in a lifeguard stand, holding long stem roses, and smiling hard with Bekah's baby bump on display. Along with the photo, Kendall wrote, "Congratulations to my little mama and papa Gray!! Can't wait to meet your beautiful bundle of joy. I couldn't think of a more nurturing, strong spirit."
Bekah made it clear that Kendall would be a major part of her child's life, referring to her as "Auntie Ken" in a comment on the post. Kendall even replied, "Gotta plan that baby shower!" Awww.
Christen
Fellow Bachelor alum Christen Whitney commented, "She looks amazing." Kendall agreed and responded with, "Glowing!!!" She really is, though.
Becca
The Bachelorette lead Becca Kufrin, and Bekah's fellow suitor on The Bachelor, shared her excitement for her namesake via Instagram. Becca posted a photo of them cuddling and wrote, "My baby is having a baby."
Bekah commented back, "I love how I have my hand on YOUR belly in this." How ironic.
Seinne
Seinne Fleming couldn't help sharing her excitement for the pregnancy news with an Instagram post. Seinne shared a photo holding Bekah's belly and wrote, "I'm gonna be an auntie again!!! #babyBekahishavingababy." This baby is blessed already with all of these Bachelor Nation aunts.
After a whole Bachelor season of people referring to Bekah as "baby Bekah," it's appropriate (and adorable) that Bekah commented, "baby with a baby now :) I LOVE YOU!!!" Seinne told Bekah, "love you and your cute belly!"
Maquel
Bachelor alum Maquel Cooper shared a selfie with Bekah and wrote "CONGRATULATIONS to Bekah on her recent announcement. So friggin happy for her and Grayston on their sweet new addition. You're gonna be the best mama!!"
Bekah commented, "LMAO I LOVE YOU" on the post.
Bekah's Own IG Post
Of course, the mom-to-be shared her own post about the pregnancy and this means that she got even more love from her fellow Bachelor alums in response. Not only did she post her own photo, but Kendall commented on Bekah's post: "Love you and can't wait to meet your bundle of joy!!"
Becca also chimed in again, joking, "Can I take your place as nanny?! so happy for you, my love!"
Jade
Jade Tolbert, a mom herself, left a heartfelt comment:
"Oh my gosh, ok, so your video made me bawl. Congrats, beautiful. I'm so happy for you, your world is going to change in the most divine way. If you have any questions or need any type of support, I'm an open book and open ear."
It's so nice to see Bekah receiving that support from someone who had been there in her position.
Kristina
Bachelor alum Kristina Schulman wrote, "Yayyyyy! Show your bundle of joy that this world can be a beautiful place. soooo happy for you."
Bibiana
Bibiana Julian commented, "woooooooooooo," along with some purple heart emojis. Bekah confirmed that Bibi would be another Bachelor Nation aunt when she responded with "tía bibi." (By the way, "tía" is the Spanish word for "aunt.")
Caila
Bachelor Season 20 alum Caila Quinn commented, "Congrats girl! So exciting."
Bekah's "journey" took some unexpected turns, for sure, but she and her fellow Bachelor alums could not be any more excited for what's to come.