'Bach' Star Corinne Addresses Relationship Rumors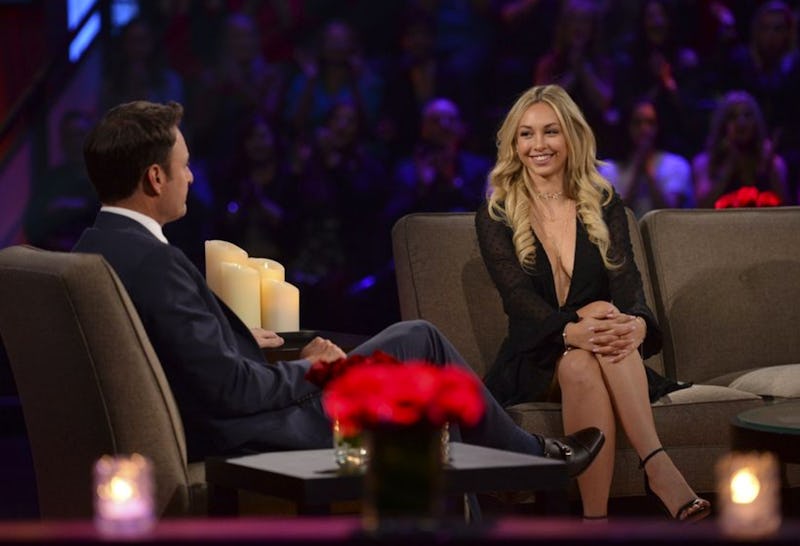 Michael Yada/ABC
Her time on Nick Viall's season of The Bachelor is a thing of the past, but her spotlight continues to shine like chip on a credit card. Thanks to her acquaintance Keith Berman, nap artist and Bachelor legend Corinne Olympios has some major relationship rumors to put to rest. According to Us Weekly, Berman said Olympios (a) has secretly been with the same person for three years and (b) is affianced. But don't go sending an engagement gift to Olympios just yet: Corn told E! News that Berman's story is complete bunk. She said,
"There is no secret love life. He is out of his mind. I don't know why he is trying to get so much attention by using my name. He is a struggling actor and you know what, if he's going to play these games, you know what, I have to put an end to it."
She added, "My lawyer is going to get involved and it's going to end bad for him." You hear that? Corn is not here to play.
"Look, I'm not engaged," Olympios told E! News. "I'm talking to someone new period. It's really early but I really like the guy." She added that they are "not exclusive yet," but has a feeling their relationship could veer into more serious territory.
Wait, wait, wait. She's dating someone? Now, I have little to no insight into Olympios and the mystery dude's relationship, but if they do become exclusive, that could rule out Olympios on Bachelor in Paradise. Don't get me wrong, I'm happy for Corn, I wish her only the best, I know she said she isn't exactly gung-ho about the show, etc., but she's so perfect for Paradise. Don't make me give up on this dream. Not yet.
And if she ultimately doesn't go to Paradise? I will spend all of Season 4 imagining what could've been. The cheese pasta-bilities are endless.