Baltimore Is Finally Honoring Harriet Tubman (After 70 Years Of Confederate Memorials)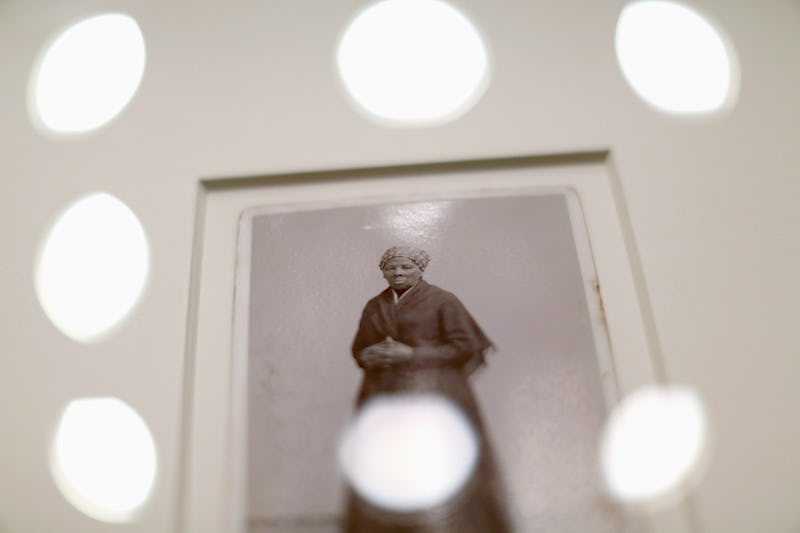 Chip Somodevilla/Getty Images News/Getty Images
In 2017, following the violent white supremacist rally in Charlottesville, Virginia, a lot of institutions reconsidered having Confederate monuments on their premises. As this issue weighed on leaders nationwide, the city of Baltimore made a bold move and quietly removed all of its Confederate statues overnight last summer, and now, one section where the statues stood in the Baltimore park will be renamed "Harriet Tubman Grove" after the anti-slavery activist.
On Harriet Tubman Day — and the 105th anniversary of the Maryland native's death — Baltimore residents gathered at Wyman Park Dell for the formal rededication. The portion of the park that has been renamed in Tubman's honor is the same section that housed the statues of Confederate generals Robert E. Lee and Stonewall Jackson for nearly 70 years. Mayor Catherine Pugh ordered that they be removed last summer.
"We officially asked the mayor of the City of Baltimore to take down the two Confederate statues, and at the time we were asked what did we want in its place and without a doubt, everyone there said this needs to be Harriet Tubman," community activist Marvin Cheatham told Baltimore's CBS affiliate WJZ. The city council voted on the rededication in February of this year.
Dozens of community members, city leaders, and Tubman's own family members were present at the rededication, according to WJZ. "It helps bring the community values to important places and help to weave together the community," City Council member Mary Pat Clarke said. "This place is really interesting. Since the statues were removed, it has become a gathering place."
When the monuments were first dismantled, Pugh told the Baltimore Sun what she'd like to see in their place.
What should go in their place is a plaque of sorts that tells what was there and why it was removed. You can remove a statue, but it is a part of the history of this nation. I don't know why they were put there — I wasn't here at the time — but I do know they're offensive to many people in this nation.
When discussing why Confederate statues and references are so offensive to people of color in America, CNN's Don Lemon compared it to Jewish people in Germany attending Hitler High School.
"Can you imagine having to go to a school that has the name of your oppressor on it?" Lemon said. "That would be completely offensive to you on the deepest level, and that's how people of color feel in this country when we have to deal with figures like Robert E. Lee, like Confederate flags. It's no different from flying a swastika."
The day after the United the Right rally in Charlottesville, which left one protester, Heather Heyer, dead, more than 1,000 people marched in the streets of Baltimore to protest the gathering of neo-Nazis.
In front of a Lee-Jackson monument, which has since been removed, the demonstrators placed a papier-mâché statue of a pregnant black woman with a fist raised and a child on her back. It was later vandalized, with people painting "white power" on it.
Now, not only will the area of the park where Lee and Jackson once stood be named after Tubman, but the Friends of Wyman Park Dell group started a Harriet Tubman Grove Tree Fund. It's a way for community members to maintain the trees in Tubman's portion of the park.
While there are still three other remaining sites in Baltimore where Confederate statues were removed, the city has made no announcements as to whether or not those locations will be rededicated as well.