Barbra Streisand's 1977 Grammys Dress Was So 2017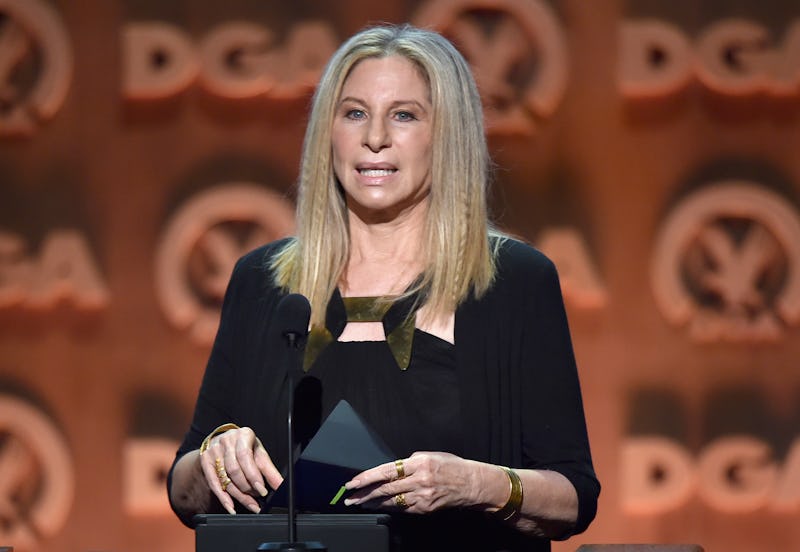 Alberto E. Rodriguez/Getty Images Entertainment/Getty Images
Fashion, like history, has a way of repeating itself. What was "in" during one decade will one day come back in style again, and that's my excuse for never, ever getting rid of clothing — despite how full my closet may become. Barbra Streisand's 1977 Grammys dress actually predicted super on-trend look for 2017, so honestly, I hope she still has it in her closet somewhere.
Chokers are back on the fashion scene in a major way. So much so, in fact, that you can also shop the choker trend and a top, for example, all in one garment. While her choker and dress may or may not actually be attached (it's hard to tell in the photos) this look certainly has the feel of the super popular all-in-one pieces we see nowadays.
According to her IMDb page, Streisand was nominated for a Grammy for an original score in A Star Is Born when she attended the 19th annual Grammy Awards in 1977. By the looks of it, the '70s trends are in full swing again because Streisand's ensemble could totally be worn in 2017. She rocked a metallic slip dress with a matching metallic choker in the same print as her dress and she looked absolutely amazing. To be honest, she'd look just as incredible if she wore that on the red carpet to this year's award ceremony, too, because choker necklaces and shiny fabric are definitely having a major moment.
The metallic fabric and the addition of the choker really couldn't be more modern if it tried!
Metallic Choker Detail Midi Dress, $18, Missguided
See any similarities? You can shop this dress right now, so Streisand was really onto something here.
Of course, this isn't the first time Streisand's killed it with her red carpet fashion. Each and every year she attends the Grammys, her outfits seem to get better. So, as far as trendsetting goes, you can count her as one of the originals!
These '90s circular glasses could be worn as an accessory today and still have a very modern feel.
And this metallic trench? I mean, seriously. Can she see into the future?
OK, so you know how the whole bustier as a top thing is super wearable at the moment? Well, Streisand did it first!
It'd be great if I could get ahold of that fashion-specific crystal ball she has.