Barry & Iris' Wedding Went Down A Lot Differently In 'The Flash' Comics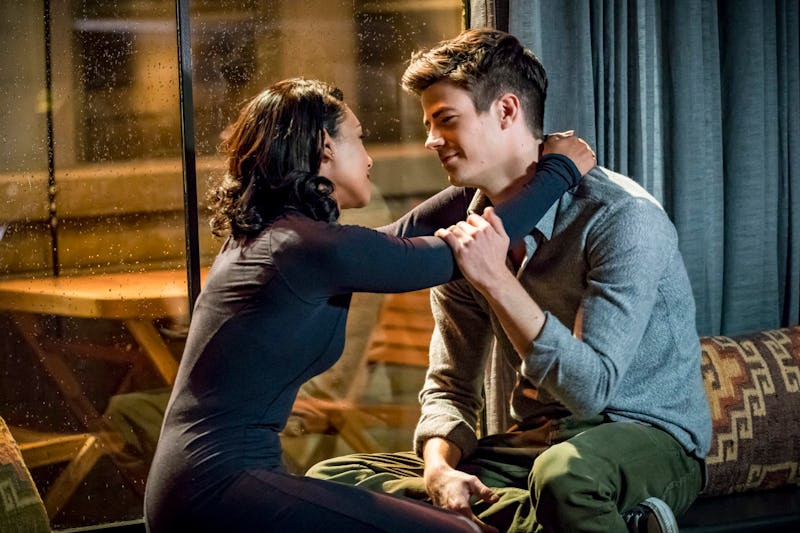 Dan Power/The CW
Barry Allen and Iris West have been in love with each other since they were kids, and are getting closer and closer to finally tying the knot as part of this year's massive CW/DC crossover. The Flash wedding has been in the works for multiple seasons now, though fans suspected it was coming from the first episode. Like many stories on the show, the wedding is an event that happened in the comics as well. While the show tends to borrow from the comics, it doesn't follow them frame by frame. In The Flash comics, Barry and Iris' wedding was almost derailed because of a switcheroo.
Because this is The Flash, their wedding can't just happen without any hiccups. And it definitely didn't in the comics. In the source material, Iris almost marries the wrong person disguised as Barry. Professor Zoom switches bodies with Barry and gets very close to marrying Iris and getting away with it. The Flash runs into the wedding at at the last minute stops this from happening. Finally, all proceeds as planned. Different villains are the focus this season and The Flash series has already dealt with Zoom. They'll be a different issue this time around. Earth-X is going to come calling.
But the happy couple are meant to be, according to the comics. Iris West first appeared in Showcase #4, which came out October 1956. While comics Iris lives a very different life from TV Iris, there are some overlapping elements. Both Iris in the comics and Iris on TV fell in love, got engaged and then married Barry (though TV Iris isn't married yet, of course). Both versions begin as journalists who grow into brave fighters against evil, alongside the Flash.
Candice Patton, who plays Iris on the show, was asked by Entertainment Tonight at San Diego Comic-Con what a Barry and Iris wedding might look like. She said:
"Someone joked earlier about a Speed Force, little destination wedding, inviting all of our friends across the multiverse to just meet us in the Speed Force. We'll speed you in, speed you out, don't worry about airfare. Nothing like that, we got you."
While a Speed Force wedding would definitely be one to remember, Barry and Iris' TV nuptials aren't going to be too far off from the comics. A body switch isn't a certainty, the wedding of the century is going to be crashed by AU versions of the friendly heroes. The four-part crossover between The Flash, Arrow, Legends Of Tomorrow and Supergirl , 'Crisis On Earth-X', introduces Nazis from the 53rd earth, who threaten the entire planet and force the superheroes to again reform as a super team to save the world. At the very least, they've got to save the wedding.
Even their Earth-X selves won't be a match for all the love and commitment going around on these four shows. Arrow executive producer Wendy Mericle told TV Guide that the crossover won't just deal with Barry and Iris' happily ever after, but will also remind the rest of the gang what "true love" really means. It'll be an especially relevant topic for Oliver Queen. She said:
"It really explores the question of true love, and what does that look like? It's emotionally really compelling, and you're going to be surprised by what Oliver learns and how he learns it and who he learns it from. It's pretty crazy stuff, I'm not going to lie."
So though the show seems to be mostly doing its own thing as far as the actual wedding snafus are concerned, The Flash is adapting a major theme from the comics: that love can conquer all. Iris and Barry are canon in any universe, and eventually, they'll probably even get to say their vows.