Why 'Parks & Rec' Fans Will Freak Out Over Tom Cruise's New Action Movie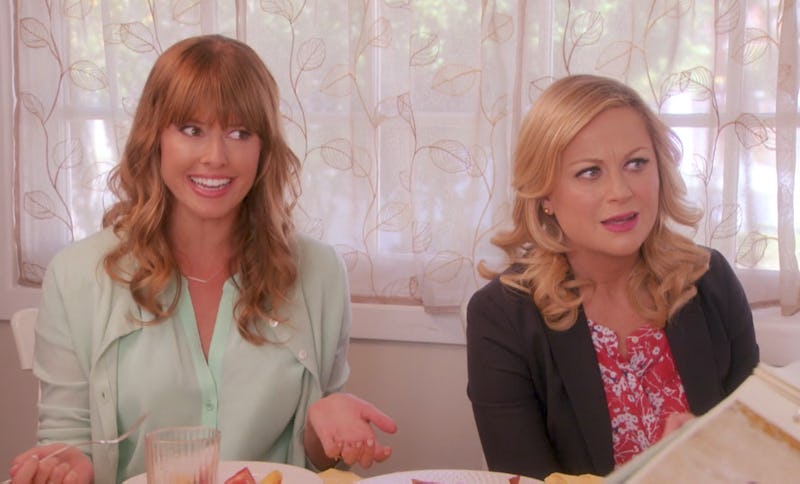 NBC
Sitting in the theater watching American Made, audiences will immediately recognize the leading actor playing protagonist Barry Seal as Tom Cruise. But it might take them a bit longer to place the actor who plays Barry's wife, Lucy. And if you were scratching your head trying to remember where you know Lucy from, I've got your answer: Barry's wife in American Made is actually a Parks and Recreation favorite recurring guest-star. Sarah Wright Olsen plays Lucy Seal in American Made, but we first fell in love with her as Millicent Gergich on Parks and Rec.
Years before she played Cruise's wife on the big screen, Wright Olsen appeared in five episodes of NBC's Parks and Recreation as Millicent, one of Parks and Rec employee Jerry Gergich's beautiful daughters. Though she only appeared in a handful of episodes, Wright Olsen's appearances spanned a few seasons of the series — she made her first appearance in the show in 2011 and her last in 2013. As Jerry's daughter Millicent, Wright Olsen was key to one of the long-running jokes of the series (that Jerry had a beautiful wife and three beautiful daughters at home) and shared scenes with most of the main cast members, including Amy Poehler, Adam Scott, and, of course, Jim O'Heir who played Jerry (aka Gerry, aka Larry, aka Terry). "Jim O'Heir is the nicest guy and on set, you'll hear everyone being like, 'Oh, no, we have to be mean to him again today!'" Wright Olsen said in an interview with Glamour.
On the show, Wright Olsen's Millicent also had a brief, but intense relationship with Rob Lowe's Chris Traeger. In fact, it was his breakup with Millicent that sent Chris into a depression (and straight into the arms of his beloved therapist Dr. Richard Nygard). "Rob is so great. He's really goofy, and he's very open and kind of game for anything," Wright Olsen said in an interview with The University Daily Kansan. The actor may have only worked on five episodes of Parks and Recreation, but it's clear she considers it a career highlight. "I felt very lucky to be a part of it. Amy Poehler is one of my idols," she told Glamour.
It seems Wright Olsen might have a knack for playing opposite major Hollywood heartthrobs. First Lowe, then Cruise? Looks like the men in Hollywood may have found their match. And the actor, who has spent most of her career on television with roles in The Loop, 7th Heaven, and Marry Me, has no problem going toe to toe with Hollywood legends. In fact, part of what made American Made an appealing project was the opportunity to boss Cruise around, at least on camera. "I'm [from] the south originally and I wanted to kinda harness that strong mama bear, southern woman quality, and that's sort of the drive that we went with in these scenes with Tom," she told ScreenRant. "And to be able to boss him around and to sort of push him and drive some of those scenes, it felt great."
Wright Olsen is still figuring out what she's going to tackle next on screen. In the meantime, she's keeping busy being a mom to her two children, Wyatt Oliver Olsen and Esmé Olivia Olsen, and working to maintain the online parenting community Your Zen Mama. Wright Olsen co-founded the website alongside fellow celebrity mom, Teresa Palmer, and frequently blogs about her experiences with motherhood. But, if after seeing American Made, you're in the mood for more Sarah Wright Olsen, you can always turn to Netflix, which has the entire Parks and Rec series currently available for streaming.