Baskin-Robbins' New Gigantic "Freak Shakes" Come In 3 Flavors & One Of Them Is UNICORN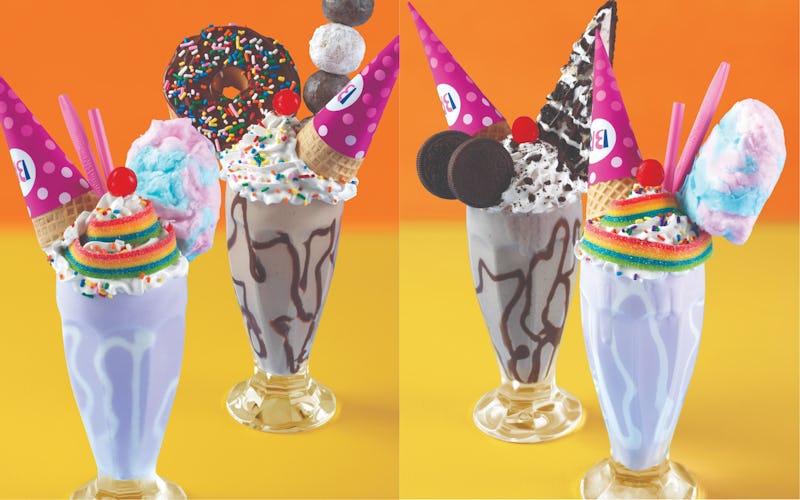 Courtesy of Baskin-Robbins/Remixed by Bustle
Baskin-Robbins is going all out for National Ice Cream Day this year — it's July 15 — with some really extreme milkshakes. For a limited time, Baskin-Robbins will offer Freak Shakes, which are perfect for anyone who wanted one of those giant candy-covered milkshakes that went viral, but were previously unable to get their hands on one. Plan your Instagram posts accordingly, the time has come.
According to a press release from Baskin-Robbins, the shakes will be available from July 15 until July 31, and there will be three options to choose from.
First up, the Unicorn Freak Shake, which is a brilliant choice since it really speaks to the unicorn obsession that has taken over the nation — nay, the world. The Unicorn Freak Shake has a lot going on. Baskin-Robbins, you can take it from here:
A Cotton Candy milkshake topped with a scoop of Cotton Candy ice cream and decorated with Charms Fluffy Stuff Cotton Candy, Airheads® Xtreme Rainbow Berry Sweetly Sour Candy strips, a sugar cone and finished with a cherry, rainbow sprinkles, marshmallow garnish and whipped topping.
To anyone who thinks their sweet tooth is impressive enough to conquer this majestic beast, I salute you.
Next, there is the Oreo 'n Cookies Freak Shake, which will be available at participating Baskin-Robbins standalone restaurants. Now I know what you're thinking: How can it be Oreo 'n Cookies if Oreos themselves are cookies? Well, the answer seems to be that there are just a heck of a lot of Oreos involved. The Freak Shake is:
An OREO® Cookies 'n Cream milkshake with a scoop of OREO® Cookies 'n Cream ice cream topped with a hot fudge cup drizzle, whipped topping, a slice of OREO® Cookies 'n Cream Polar Pizza® and finished with a sugar cone, cherry and OREO® cookie pieces.
If you're wondering what Oreo Polar Pizza is, it's a brownie crust topped with ice cream and a whole bunch of other stuff, including crushed Oreo pieces. So, the Oreo 'n Cookies Freak Shake is topped with something that itself is topped with Oreos. This thing is like an Oreo fractal and, quite frankly, it's intimidating.
Lastly, is the Donut Shop Freak Shake and this one is a little more exclusive, so pay attention. The Donut Shop Freak Shake will only be available at participating Baskin-Robbins/Dunkin' Donuts combination shops. The Donut Shop Freak Shake is:
A Jamoca® Almond Fudge milkshake with a scoop of Jamoca® Almond Fudge ice cream decorated with hot fudge, whipped topping, both Dunkin' Donuts Powdered and Chocolate MUNCHKINS® donut hole treats, a Dunkin' Donuts Chocolate Frosted Sprinkle Donut and finished with a sugar cone, cherry and rainbow sprinkles.
It's topped with doughnut holes and an entire doughnut. How does it not tip over? How many people can you reasonably share it with? Should you even attempt to leave Baskin-Robbins with it, or is it best to move it as little as possible? All these questions and more can be answered on July 15.
The Freak Shakes aren't the only thing Baskin-Robbins planned for National Ice Cream Month (yes, National Ice Cream Day is merely one special day of National Ice Cream Month). On July 1, the store gave away free samples of Chocolate Chip Cookie Dough Polar Pizza. On the 15th, in addition to the Freak Shake being released, those who have downloaded the Baskin-Robbins app can get exclusive offers like, buy one, get one free cones, buy one, get one 99 cent sundaes, and $2 off medium milkshakes. Then, on July 31, the Celebrate 31 deal will be going on, where customers can get regular and kid-sized scoops for $1.50 in honor of the Baskin-Robbins 31.
There's a lot to look into if you're an ice cream fan this month... or doughnut fan... or candy fan. Basically, if you like very sweet things, you're all set.