Here Are 3 Easy Ways You Can Save Big On Bath & Body Works' Fall Candles This Week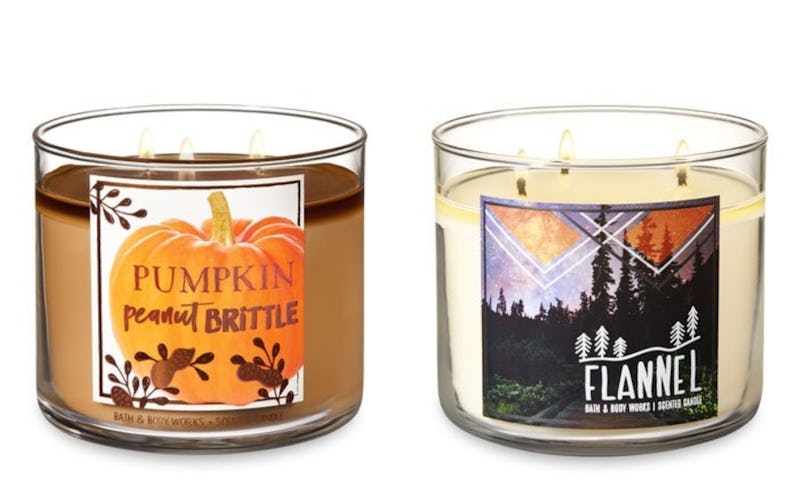 Bath & Body Works
No, it wasn't a collective ABBA-induced fever dream: Bath & Body Works' fall 2018 candle lineup was released, meaning it is officially acceptable for your entire apartment to smell like that apple orchard you once Instagrammed when you were ambitious enough to initiate a group text to go to one. And yes, it may seem a tad early for the autumnal shenanigans — even the infamous Pumpkin Spice Latte Twitter has not yet risen from its slumber — but these deals on Bath & Body Works' fall candle line are all the permission you need to buy up this year's stock, and buy it fast.
The first deal is admittedly more of a pro-tip than a deal: you don't necessarily have to go all in on the $24.50 three-wick candle. If we're being honest with ourselves, unless you work from home, you probably won't have enough time to burn through all the scents you want to experience by the time Frosty the Snowman kicks your Jack-O-Lantern to the curb (each of these babies burns for 25-45 hours, yo). So it's important to note that Bath & Body Works has released some of its most popular scents in a smaller candle form, meaning you can sample more of the majesty of autumn without, like, taking out a second mortgage.
Take, for instance, "Leaves," a familiar fave that blends "Crisp Red Apple, Golden Nectar, and Warm Clove Spice with Essential Oils" that is one of the fall-scented candles that comes in wee form.
But if you have no interest in living that single-wick life, there are other options at your disposal — most notably, that Bath & Body Works is running a promotion through July 29 where customers will get $10 back for every $30 they spend using the promo code HELLOFALL online, or 414021000 in stores. That means you could buy two three-wick candles to knock the $10 off, or buy a three-wick candle and a single-wick one that basically gets knocked down to $4.50 once the discount goes through. Dreams on dreams on dreams.
If you go for option two, feel free to plagiarize my life, because this is the one I'm getting as soon as I get my act together this week — a scent combo of "Spiced Pumpkin, Toasted Coconut, Creamy Vanilla, and Sea Salted Caramel" that is objectively the most beautiful combination of words I've ever seen in one sentence.
And if you really want to take advantage of Bath & Body Works' deals this week, it's also running yet another promotion where you can buy two, get two for free — the "free" two items being of equal or lesser value than the two you pay for. Basically, the universe has spoken, and it wants you to buy four fall-themed three-wick candles in the bathroom at work today.
It's worth noting that there are all kinds of other mix and match deals available online right now (like a five for $23 on soaps!), so it's worth perusing at your leisure. Your hands could smell like a lake upstate!!
But if you're overwhelmed by the number of options, check out Bustle's roundup of Bath & Body Works' fall candles here — and be sure to subscribe to Bath & Body Works' email list so you never miss a flash sale. There are too many scents at stake.