Bathleisure Is The Newest Instagram Fashion Trend & It's Rihanna Approved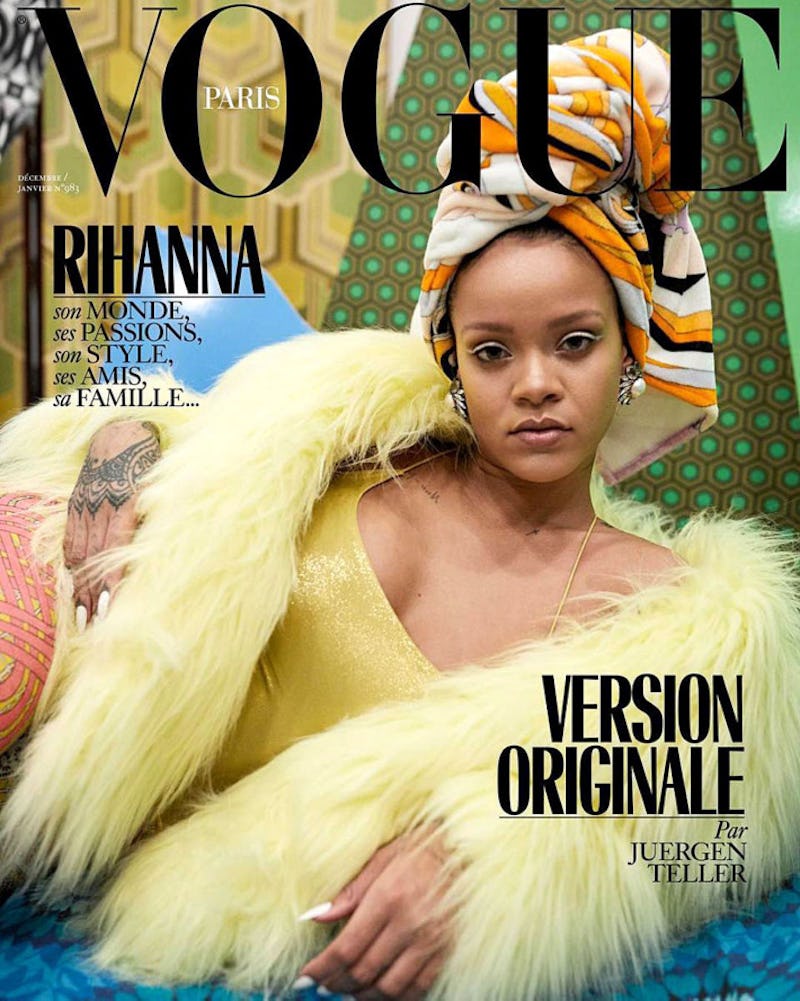 Paris Vogue
There's something about exiting a shower in your bathrobe that makes it nearly impossible to change right away. So many of us have been guilty of wandering into our rooms, grabbing our phones, and then still sitting pants-less and with a towel around our heads seven years later. In honor of that phenomenon, Instagram has created a bathleisure trend, filling up news feeds with fabulous people decked out in statement earrings and show-stopping outfits, with their hair thrown into a bath towel.
The trend started with the reigning queen supreme, Rihanna, specifically when she appeared on the cover of Paris Vogue in November decked out in a canary yellow fur coat, pearls at her ears, silver glinting off her eyelids, and an orange and black striped towel on her head. She looked fabulous, and the juxtaposition of couture clothes and diamonds with the messiness of just-got-out-of-the-shower attire inspired The Cut to coin it "bathleisure." Just like how athleisure takes your workout clothes and upgrades them so that they're chic to wear to brunch dates and happy hour cocktails, bathleisure takes your bathroom gear and makes them work with diamond chokers and red lipstick.
And it's exactly as fabulous and over-the-top as it sounds. People are taking the trend out for a spin on their own IG accounts, filling up feeds with street style-like fashion and Martha Stewart line towels. It might not be practical, but it's really creative and lets you play with the artistic side of fashion. Just check out some of these examples to get you thinking of how your own photo submission will look.
Leandra Medine from Man Repeller is an absolute pro at it, layering on baubles and charms and bangles to maximalist proportions to really make her towel pop.
Here you can see her rocking a green, white, and blue striped towel with bold gold accent jewelry. Layering on a choker with thick chains would have been statement enough, but when paired with starburst earrings and layered gold plated bangles, it's a look worthy of an editorial spread.
Sunglasses are also key to the look, as you can see below.
If you have quirky or retro sunnies, now is the time to throw them on. They do wonders when it comes to your towel sets. Especially when you pair the bold sunglasses with a hodge-podge of eclectic and colorful jewelry, you start feeling like you're playing dress-up with your accessories and fashion becomes more about fun than function.
In comparison, here was Rihanna's Vogue cover look, giving you an idea just how far you should push the envelope.
Sparkle top? Check. Wildly patterned pants? Check. Statement making fur. Double check. Why wouldn't a towel make it into the mix — we've been missing so many sartorial opportunities for so long!
Rita Ora also tried out the trend, performing in a floor-sweeping terrycloth bathrobe, white hair towel, and an impressive string of diamonds. It looks like she walked out of a penthouse hotel room and right onto a red carpet, giving off some major luxurious vibes.
Before you scratch your head and wonder why anyone would do this, it's not meant to be a practical look. No one is actually going out and running errands with their wet hair in a pretty towel. It's just a fun exercise that lets you experiment and play.
And people across social media are loving it. One person on Twitter wondered if this was the millennials' version of going out in pajama pants, much like we were prone to do during the early Noughties.
Others are embracing the fact that we now have a legitimate excuse to sit in a towel for hours.
People are definitely on board.
So now it's your turn. Grab your favorite towel, and get to accessorizing. The Insta likes will come in no time.