Battersea's Unluckiest Dog Is Looking For His Forever Home & It'll Break Your Heart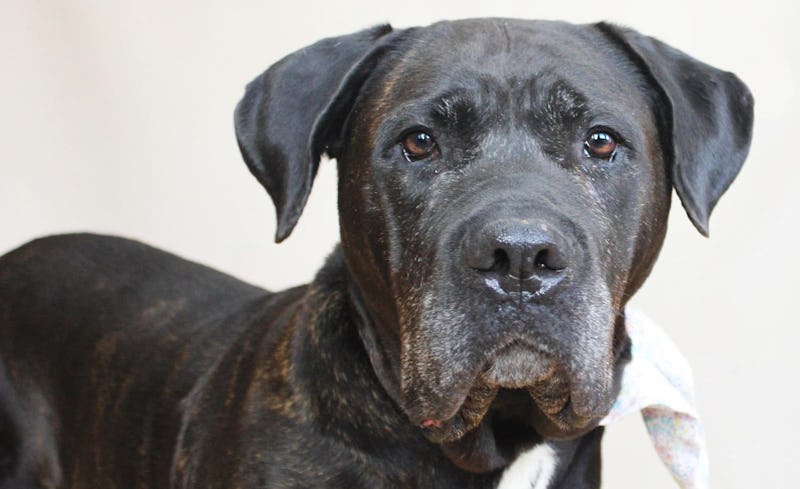 Battersea/Twitter
Any dog that ends up in a kennel deserves another chance at having a family. This is especially true for 9-year-old Daisy who has just been named Battersea's unluckiest dog. Why? Because she has spent over 100 days in the dogs and cats home's main London location. And that isn't her first time in the kennels.
Daisy is a lovable mastiff cross that first ended up at Battersea when she was just a puppy. Her first kennel experience only lasted for 15 days after which she was taken to a new home. Now, eight years later, the rescue centre is urging canine lovers to give Daisy a second chance at happiness.
According to Battersea Cats & Dogs Home, not one person has registered any interest in Daisy since she was bought in over three months ago. Centre manager Steve Craddock thinks this is because of Daisy's age, so is trying to highlight the advantages of rescuing an older dog.
"Sadly, large breeds like Daisy don't have as longer life spans as smaller dogs do, living for an average of around 10 to 12 years," he told the Daily Mail. "While Daisy is in the twilight years of her life, she still acts like a big baby. She loves to bounce around and play with her favourite people, curl up for cuddles, and is always most comfortable carrying around one of her soft toys."
Craddock pointed out that dogs of Daisy's age don't need to be house-trained and also require much less exercise than more boisterous and energetic puppies.
"Older dogs are often much more relaxed than younger dogs, and in a lot of cases they would rather just have a cuddle on the sofa and some human affection than be running around chasing tennis balls all day. Older dogs have a lifetime of love to give and will cherish every moment spent with their favourite people," he added to the paper. How could you say no to that?
Daisy is specifically looking for a home where she would be the only dog. She would prefer to live in a quiet adults-only home and cannot live with cats. If the right person comes forward, she could be in a new home by Christmas.
If Daisy's size means she isn't appropriate for your lifestyle, there are still plenty of other animals that need help. You can see each and every one of them on Battersea's website and can arrange an appointment to meet them in person if you see an adorable face that you just can't resist.
The average time spent at Battersea for a dog seven years and over is 40 days while younger dogs spend around 31 days at the centre. And if you're more of a feline fan, Battersea also rehomes cats.
No animal should have to live out the rest of its days behind bars. Although the team at Battersea does a great job in keeping dogs and cats occupied, nothing beats a house to live in and a family of people to love. So if you have the time available to dedicate to a pet, consider welcoming one that has found itself alone through no fault of its own.