Becca & Garrett Gave An Update About Starting Their Post-'Bachelorette' Life Together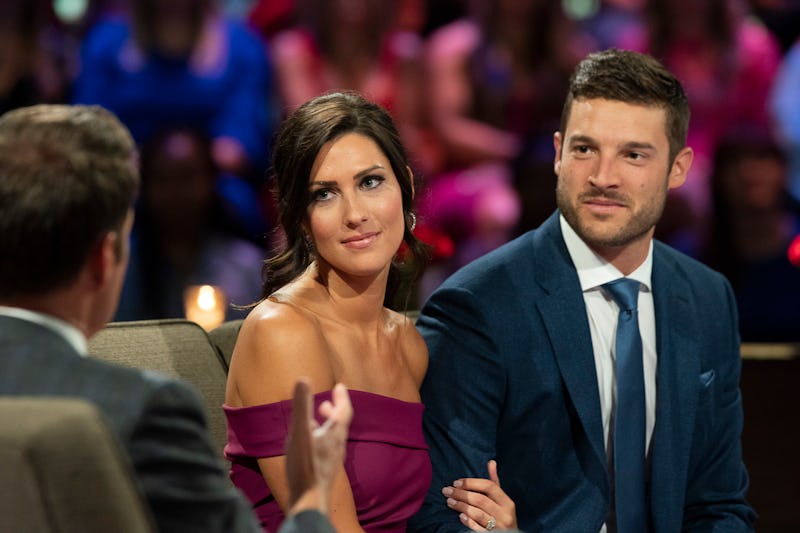 ABC/Paul Hebert
Sounds like the latest Bachelorette couple is well on their way to happily ever after. In a new interview with Us Weekly, Becca Kufrin's update about her relationship with Garrett Yrigoyen revealed where the couple is thinking about settling down. Garrett is from Reno, Nevada, but he and Becca have been staying in her native Minnesota together post-show. That may change in the very near future, but not before they spend some time in Garrett's hometown, too.
Garrett has been having a blast spending time with his bride-to-be and her loved ones. "Her friends are a lot of fun," he told Us Weekly. According to the happily-engaged reality star, they've gone to the state fair, attended a Minnesota Twins game, and had a pretty successful fishing trip on the Mississippi River. "I caught my first walleye and smallmouth bass," Garrett said. "It was fun."
It seems like the couple's been enjoying regular, everyday activities in Minnesota, too, though. Earlier this month, they made one of Becca's dreams come true by documenting their shopping trip to Costco. Fans may remember that during the Bachelorette finale, Becca told Garrett, "There's so much that I want to do with you," according to ABC News. "I want to get a Costco membership with you, and I want to have your kids... everything!"
So, does that mean having kids in Minnesota is next on their to-do list? Well, not exactly.
Becca told Us Weekly that while her hometown has embraced Garrett "with open arms," she wants to check out his native Nevada, too. They'll head there together for the first time in October, as they "don't want to make a [permanent relocation] decision without exploring our options," she added.
Los Angeles is another city the couple's been considering, but don't expect kids or a wedding to happen immediately after they're settled. "I'm hoping by November or December we'll have nailed down a place [to live]," Becca said. "We really are still getting to know each other."
This Bach couple has decided to take things slow in the wake of the show, which is exactly what Becca wanted. While speaking to Chris Harrison on After the Final Rose, Becca told the host, "We don't have any wedding plans yet. We just want to be able to be normal and in public. We're just so excited."
This article was originally published on