Becca K Tweeted About Ross & Is Still So Glad She Told Him To Scram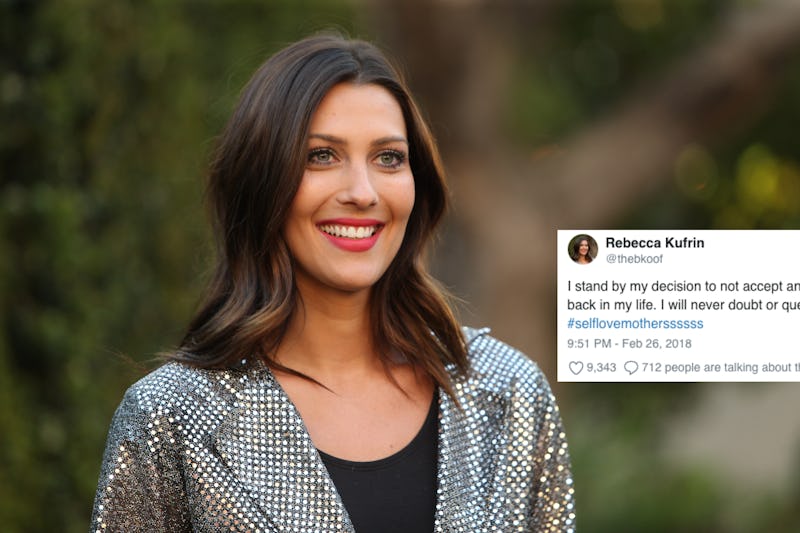 ABC/Paul Hebert
Becca from The Bachelor (producer: Lindsay Liles) has something to say about her recent decision to reject her ex-boyfriend, Ross, who miraculously ended up on the reality series in the Feb. 26 episode. On Twitter, Becca stood by her decision about Ross on The Bachelor and gave an amazing reason for why she didn't let her ex back into her life.
The contestant had no regrets about her decision to turn her ex away on the ABC staple. She tweeted:
I stand by my decision to not accept an unhealthy relationship back in my life. I will never doubt or question that. #selflovemothersssss
Good for Becca. Ross showing up might have been a grand gesture on his part, but that gesture doesn't negate the couple's relationship past. If Becca considered it to be an "unhealthy relationship," there's no reason for her to just head back into the arms of her ex because he brought her flowers in Peru.
The contestant's decision actually showed that she's putting her own happiness first in her search of a life with Arie. And that's obviously a choice that should be respected.
Becca had another A+ response in regards to all of the ex-boyfriend drama, with a little help from Gossip Girl (developed by: Stephanie Savage). It's safe to say that, based on her funny tweet, she wasn't into her ex's Bachelor crashing.
You might be wondering what exactly went wrong in Becca and Ross' previous relationship. Well, on the show, she gave a little insight into why the two parted ways. She said,
"After putting up with a lot of stuff in past relationships, I know what I want and I know what I don't want. My most serious relationship, we were on and off for about seven years. And I'm just ready to move on in my life and find that person again ... Especially initially, he got me through the hardest time I had ever lived through at that point when my dad passed away."
It isn't entirely clear what led to her and Ross' breakup. Her recent tweet does indicate that she felt as though the relationship was "unhealthy" in some way. Whatever it was, though, she related that she was ready to move on and put the past firmly behind her. So, that doesn't exactly mean trudging up the past and getting back with her ex during her Bachelor journey.
It's possible that Becca felt the need to reiterate why she turned Ross down because he was pretty well-received by many in the Twitterverse. He was so well-received, in fact, that some users even (jokingly?) said that the contestant had an easy choice when faced with her ex or Arie. But... just because Ross isn't Arie, doesn't mean that Becca should choose her ex, guys.
In case you missed the ex-boyfriend drama, you missed the first semi-interesting thing that happened during Arie's season. Jokes aside, the whole thing started when Ross traveled down to Peru to try and win back Becca, who had just exchanged "I love you's" with Arie. Her ex first had a tense conversation with the Bachelor, who hilariously thought Ross was hotel management when he arrived at his doorstep.
Ross then went to Becca where he told her that he still had feelings for her. Only Becca was not having it. She was as confused as anyone (except maybe the Bachelor producers) as to why he was even there in the first place. Ross ended up leaving Peru feeling embarrassed that he had come at all. Basically, the whole thing was an epic mess.
But, Becca handled the situation as well as she possibly could. She knows her worth and wasn't going to let her ex's drama get in the way of her happiness. Sorry, Ross (and those surprising Ross and Becca shippers out there), but Becca's not down to rehash the past.