Bed Bath & Beyond Is Testing A New Rewards Program & You're Going To Want To Join ASAP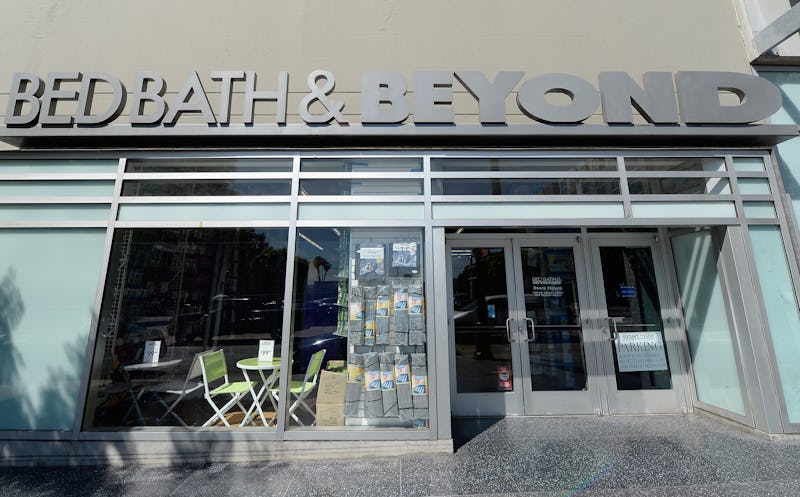 Kevork Djansezian/Getty Images News/Getty Images
Get ready for some good news, Bed Bath & Beyond fans, because your ability to snag new décor for your pad is getting a serious upgrade. Bed Bath & Beyond just launched its new rewards program, Beyond+, and it comes with two big-time benefits that will save you so much. Even better, those benefits are only going to run you $29 per year.
Business Insider called Beyond+, which is currently in beta, "Amazon Prime-like," and it's not hard to see why. Though some exclusions apply, of course, Beyond+ membership perks will allow Bed Bath & Beyond members to get free standard shipping on many products, along with "20% off your ENTIRE purchase for every purchase made at Bed Bath & Beyond stores and online" throughout the year of your membership, according to the program's launch page.
Folks who have been part of shipping-included membership programs like Amazon Prime can save a legit chunk of change. Android Central reporter Brent Zaniewski found that if he ordered one item per week on Amazon without Prime, it'd cost him nearly $500 per year in two-day shipping, but with Prime, those shipping costs were covered. Beyond+ offers standard shipping, not two-day shipping, but that's still an opportunity for significant savings — especially since that's after your 20 percent discount comes off your order.
Bed Bath & Beyond is known for its 20 percent off coupons, but Beyond+ amps up the savings customers could get with their usual 20 percent coupons by taking 20 percent off members' entire orders, rather than 20 percent off one item, CookingLight reported. So if you're looking to redecorate your home, give your office a makeover, or you just want to nab a statement piece or two, literally everything will be discounted, so long as you're not buying excluded products.
As for which products may be excluded, Bed Bath & Beyond gave a statement to CookingLight, saying that "some items in store and online may be excluded from the Beyond Plus discount as of right now — but it'll be made clear when items are not eligible for the 20 percent off promotion." The membership program's launch page says that all currently excluded items are listed in the Beyond+ terms and conditions, and Business Insider noted that some products currently not available for discount include "[i]tems from popular home brands like Le Creuset, Staub, Dyson, and Kenneth Cole."
Beyond+ benefits also don't apply at any of Bed Bath & Beyond's affiliated companies, including BuyBuy Baby, Harmon Face Values, Christmas Tree Shops And That!, Cost Plus World Market, One Kings Lane, Personalization Mall, Decorist, Chef Central, and Of A Kind, according to the Beyond+ launch page.
But even with exclusions, and even with what may seem like a small number of perks, Beyond+ packs a pretty hefty handful of benefits for members. And they're easy to use. According to the launch page, if you join, your 20 percent discount will always be available in the My Offers section of the Bed Bath & Beyond app, and in your account on the Bed Bath & Beyond website. To use your perks online, you'll enter your email address during checkout, which will auto-apply your 20 percent off and your free standard shipping.
For use in-store, you can take your phone, or you can print out a coupon from the My Offers section of your account. The coupon will be for 20 percent off your order, and it will be one use only, but according to the Beyond+ launch page, the coupon will always be available in your My Offers section, and "you simply print a new one each time you want to shop in-store."
No matter what your décor plans are, it sounds like the Bed Bath & Beyond rewards program will have a little something for everyone — and if you're looking for a reason to treat yourself, consider that just one purchase of around $150 will cover the $29 annual cost.
Did you know that you can find Bed Bath & Beyond coupons at the Bustle Coupons page? Bustle Coupons is a service provided by Groupon in collaboration with BDG Media, Inc. Each time you use a coupon or promo code from Bustle Coupons to make a purchase, Groupon and BDG Media, Inc. earn a small commission. This article was created independently from Bustle's sales department.