The Women's Strike Presents A Privilege Problem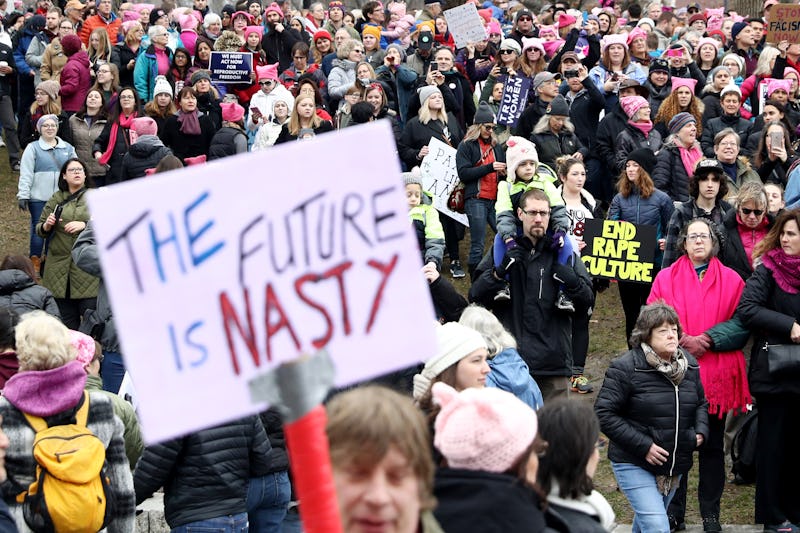 Maddie Meyer/Getty Images News/Getty Images
Last week, the organizers of the historic Women's March that garnered support from millions of women worldwide announced their next plan for peaceful protest: "A Day Without A Woman," now more colloquially known as the "women's strike" and officially scheduled for March 8. In the meantime, in the Instagram post announcing the strike, the organizers write, "In the spirit of women and their allies coming together for love and liberation, we offer A Day Without A Woman. We ask: do businesses support our communities, or do they drain our communities? Do they strive for gender equity or do they support the policies and leaders that perpetuate oppression? Do they align with a sustainable environment or do they profit off destruction and steal the futures of our children?"
While the details of what the so-called "general strike" will involve are not yet clear (the organizers write that details are forthcoming; Bustle has reached out to clarify, and will update upon response), it presumably will involve what a normal "strike" would — in this case, women abandoning their posts for the day, be it at work or at home or any number of the other countless roles that women play. And while that is certainly a powerful statement to make in theory, the reality is this: many women — in fact, the women who are most affected by the very issues women are protesting for — will not be able to participate.
The effectiveness of strikes has always hinged on the attention they get, and the more "inconvenient" a strike is for the side it is opposing, the more people will notice. By that logic, it makes sense that the women's strike is scheduled for a Wednesday rather than a Saturday, like the Women's March was. But it is not lost on many in the organization's audience today that both the concept and scheduling of this strike will lead to the exclusion of voices that are not able to take the day off, be it for financial or family reasons; that in fact, most women who are able to take a day off are coming from a place of privilege, and that this event, with its best intentions, might be at risk of further silencing marginalized voices of those who cannot attend.
The organizers have not elaborated exactly what the Day Without A Woman will entail, but notes at the end of the announcement post, "Over the next few weeks we will be sharing more information on what actions on that day can look like for you." Bustle has reached out to the organizers of Day Without A Woman about addressing women who cannot attend the strike, and will update upon response; in the meantime, though, many are looking at this strike and wondering where they fit in.
Because while there is no doubt that equal pay, access to childcare, and workers' rights — hallmarks of what the organizers are fighting for, and also inextricably tied to this kind of protest — are women's issues, they are far more nuanced and divided than that. While we often hear the statistic that women make 78 cents to a man's dollar, that gap is much wider for women of color, with black women making 63 cents and Latinas making 56 cents to that dollar. That makes access to childcare all the more difficult, particularly in two-parent working or single-family homes, which will also struggle to meet the demands of a traditional "strike". And more to the point, many women simply do not have the kinds of jobs that allow them to take personal days, and are living paycheck to paycheck in minimum wage positions where they may not be financially able to take a day off if they could.
That being said, the organizers of the Women's March include activists who are well aware of the issues at play, and the importance of making events like this inclusive. Hopefully their next step will be to address exactly what "A Day Without A Woman" will look like — not just for women in theory, but for all women, regardless of their ability to pick up and leave the reality of their everyday lives.