'The Bachelor' Shouldn't Make Bekah's Age Such A Big Deal, Because It's Just Not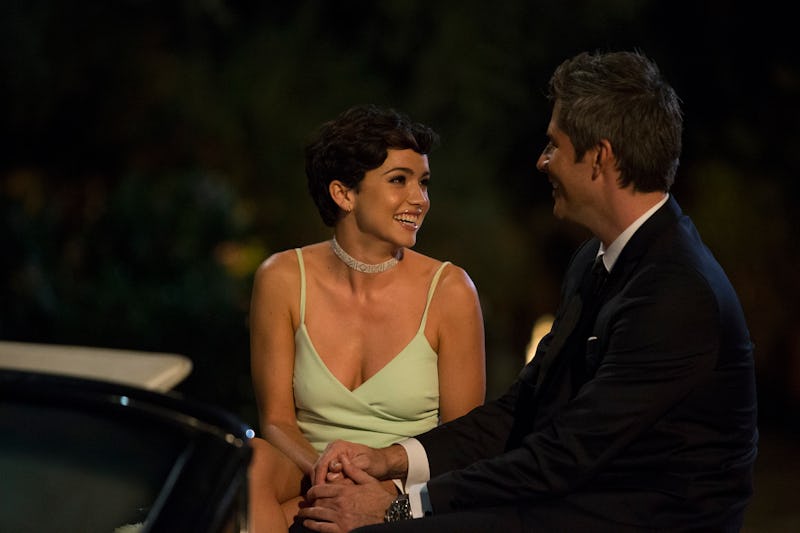 ABC/Paul Hebert
Dozens of ladies aiming to steal Arie's heart on this season of The Bachelor (senior producer: Lindsay Liles) made their dramatic entrance during last week's premiere, and, in doing so, introduced themselves to America. Viewers learned, even if it was briefly, the basics of who each of these women were. But, one nugget of information was missing from one of their introductions. The spunky, pixie-cut donning Bachelor contestant Bekah M. declined to share her age, as all of the other girls did — and it's already raised some eyebrows — mainly because of the age difference between Bekah and Arie.
What's more interesting is that, Bekah didn't hesitate to share her age (22) in the advance press screener of the episode, given to media. But, in the version that ultimately aired on ABC, that moment was cut out. This smells of (at least semi-) manufactured drama (ABC declined to comment on leaving Bekah's name out of the episodes). Or, perhaps Bekah shared her age with the camera when she was alone, but didn't let on to the other girls. In promos for the upcoming episode, it seems clear that some of the other women are curious about how old she actually is.
A dive into Bekah's Instagram feed shows photos from early 2016 in which she appears to be celebrating her 21st birthday — photos are captioned with the hashtag #21, and comments like "thought 21 would be more glamorous yet here I am drinking coors light in a stranger's bathroom."
I mean, first of all, talk about relatable. Bekah is all of us (or maybe just me. Don't judge). But, the reason her age is seemingly even in question is because at 22, she is 14 years younger than Arie. In fact, when Arie was featured on The Bachelorette in 2012, Bekah might not have even been 18 yet. But, she isn't even the youngest woman who's appeared on the reality show. According to E! News, Cassandra from Juan Pablo's 2014 season of The Bachelor was 21 when she appeared on the show.
According to Bachelor eligibility rules outlined on its casting site, 21 is the minimum age for all applicants, making Bekah well within her rights here. And, some other contestants this season, like Maquel and Olivia, are 23 — but the same outrage doesn't seem to exist for them. In the scheme of things, how are the whopping few months that these women have on Bekah going to magically transform them into someone who is "old enough" while Bekah is being mocked for her age?
Bekah's age is also missing from her official ABC Bachelor bio. Obviously the producers have to know how old she is, so this makes it seem even more that the show is trying to make sure that this aspect is a point of contention between the women, and a point of intrigue for audiences.
Some viewers, though, aren't biting. After a Reddit post from last week pointed out that Bekah's age hasn't been revealed within the show or any of its promotional materials, some of them dismissed it as a non-issue. "She's 22 and it's a gimmick," wrote one user, DreamsAllFail. "The age req for the show is 21 and she's 22, [they're] just hyping it up for a stupid storyline," another user, starridazed, posted. "The twins were 22 when they were on the show also," user tl414 wrote, referring to Emily and Hailey from Season 20. "Cassandra from Juan Pablo's season was 21. It's just so stupid that they're hiding her age."
There were plenty more who agreed. "I don't get why they are making a huge deal if she's 22," Bachyfan 774 wrote. "Plenty of contestants were young in their seasons." Granted, some users did point out that Arie is older than some of the Bachelors who have dealt with. "I think it's stupid to hide her age but I also think she's waaaaayy too young for him," Cherssssss wrote.
It seems that Arie himself has weighed in on the topic of age this season on The Bachelor. In an interview with The Hollywood Reporter, he said he didn't concern himself too much with the issue, though he didn't appear to single out Bekah specifically. "I think it's more about the person and if they're ready for marriage and how mature they are," Luyendyk told the outlet. "Some women are far beyond their years and some women are very immature in their thirties — I've dated younger, older."
Arie admitted, though, that the age of contestants "definitely plays a theme throughout the season," adding, "It's more about being ready. I was open to a variety, and that's something that the producers knew." Whatever happens, viewers will have a front row seat to the drama unfolding, even if the mystery of Bekah's age is a little helped along by some strategic show business staging.