Bekah M. Is Already Getting Attention From 'Bachelor' Nation For More Reasons Than One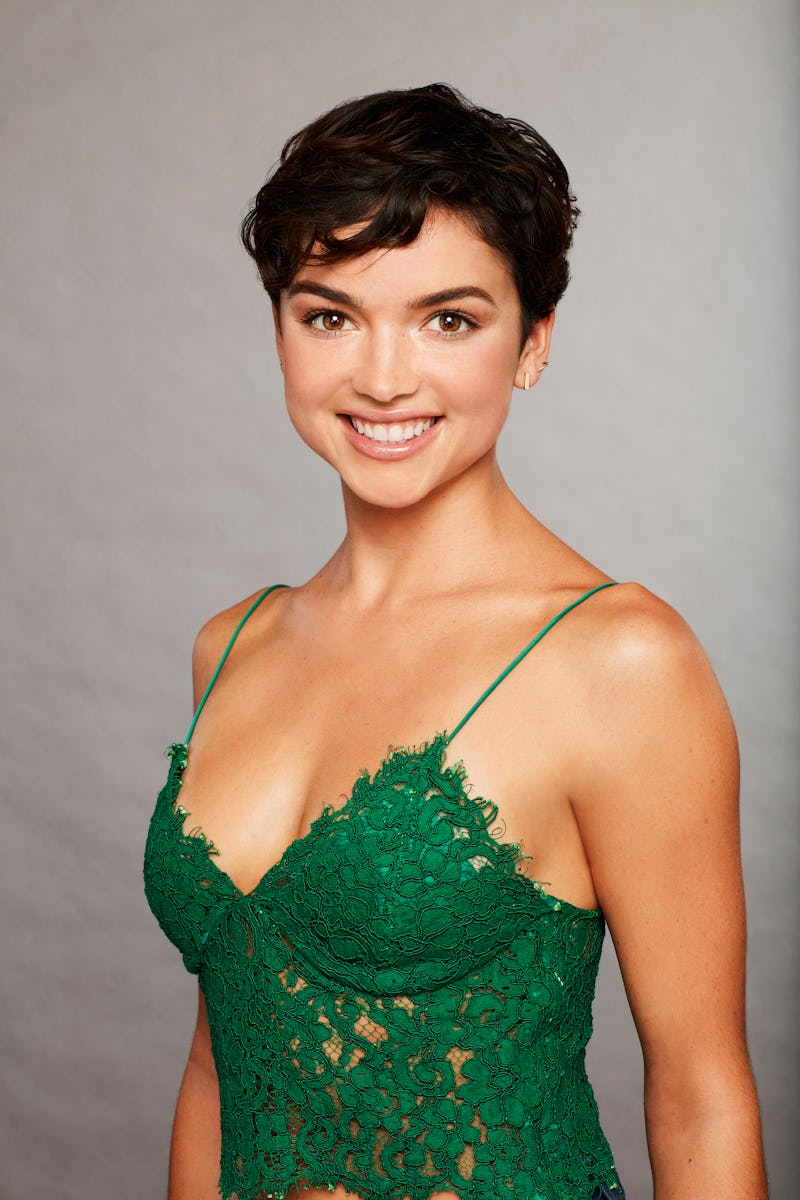 ABC/Craig Sjodin
Ring in the new year with the latest season of The Bachelor starring Arie Luyendyk Jr. and the 29 women who are looking to get his final rose. But before any flowers are passed out, it would be good to get to know the contestants. So, who is Bekah M. from Arie's Bachelor season? She's a contestant who is already getting a lot of attention from Bachelor Nation and the reasons why may surprise you.
One of the reasons Rebekah "Bekah" Martinez — a nanny who's originally from Fresno, CA and now lives in Los Angeles — might have already shown up in your social feeds is that her Bachelor profile doesn't include her age. It's unclear why, being that every other contestant has their age listed right at the top of their show profiles. It's even more confusing being that in the press screener of The Bachelor Season 22 premiere Bekah is more than happy to say she's 22. But, in the final version that aired for fans, that was taken out.
If that sounds fairly young to you, you're not wrong. In fact, according to Reality Steve, Bekah isn't just the youngest contestant this season, but one of the youngest contestant in Bachelor history. Cassandra, who competed for Juan Pablo's heart on Season 18, was 21 when the show first started and celebrated a birthday during the season, making her the youngest contestant thus far.
In 2015, The Huffington Post looked at the ages of the Bachelor and the women that compete for his heart. The website found that the median age of the women on The Bachelor is 26 years old, while the median age of the Bachelor is 31. Arie is 36 years old — he's the third oldest Bachelor — and the median age of the women on his season is 27. The oldest contestant being 33 years old.
While no explanation has been given as to why Bekah's age was missing, it's may be because of the wide age gap between her and Arie. Or it's possible that it could've been just an accidental omission. Though, the fact that it was removed from the final version of the episode makes the case that it is very much on purpose and very much something the show wants to make a plot point this season. Another clue is that in the season teaser other women are caught on camera talking about her age, with one saying, "I think she is reluctant to tell Arie how old she is."
It probably should be noted that Bekah was only 17 years old when Arie first appeared on The Bachelorette five years ago, which might make more than a few Bach fans feel a little uncomfortable.
But, her age isn't the only reason Bachelor Nation has been talking about Bekah, whose guilty pleasures include "binge-watching reality TV and eating bags of popcorn in place of meals." People can't stop talking about her hair and there's a good reason why. According to Refinery29, Bekah is first female Bachelor contestant to rock a pixie cut. The lack of diversity on the series — the show only cast its first African-American Bachelorette, Rachel Lindsay, last year — apparently expands to hair, too.
Before Bekah it was Nick Viall's season that had the show's shortest cuts and those hit slightly above the shoulders. Brittany, Jasmine B., Michelle, Sarah, and Danielle M. came to the show with lobs, very on trend. While Jaimi's curly hair was shoulder length. So here's to Bekah starting a short hair, don't care trend on this reality show that could certainly use a hair transformation.
But, her hair and her age aren't the reasons why Bekah's fellow contestants are talking about her during the season premiere. The nanny, who is an aspiring artist — in five years, she'd like to be "teaching art or owning an art studio for children" — shows up to meet Arie in a cherry red '68 Mustang that makes some of the other women green with jealously. Mostly, because they can't believe they didn't come up with the idea themselves. After all, Arie is a race car driver.
Bekah — who Reality Steve has dubbed the "Corinne," of this season in honor of everyone's favorite wild child from last season of The Bachelor — was definitely happy with her own creativity, telling the camera that she "blew away the competition" with her entrance. (Spoiler: Another woman actually bests Bekah's entrance, but you'll have to watch and see how she does it.)
Of course, it takes more than a red sports car to win that final red rose. But, Bekah thinks she has what it takes, saying she's "very adventurous" and "spontaneous." She makes this clear by showing off her rock climbing skills during her Bachelor introduction. In her Bachelor bio, she wrote that she was invited to the nationals for rock climbing and "placed third on the west coast in my division."
So, while Bekah's already grabbing headlines for a few things, it's clear she's one to watch. Who knows, she might even climb her way into Arie's heart.