Bella Hadid Responded To Reports She Kissed The Weeknd At Coachella — With Help From Some Emoji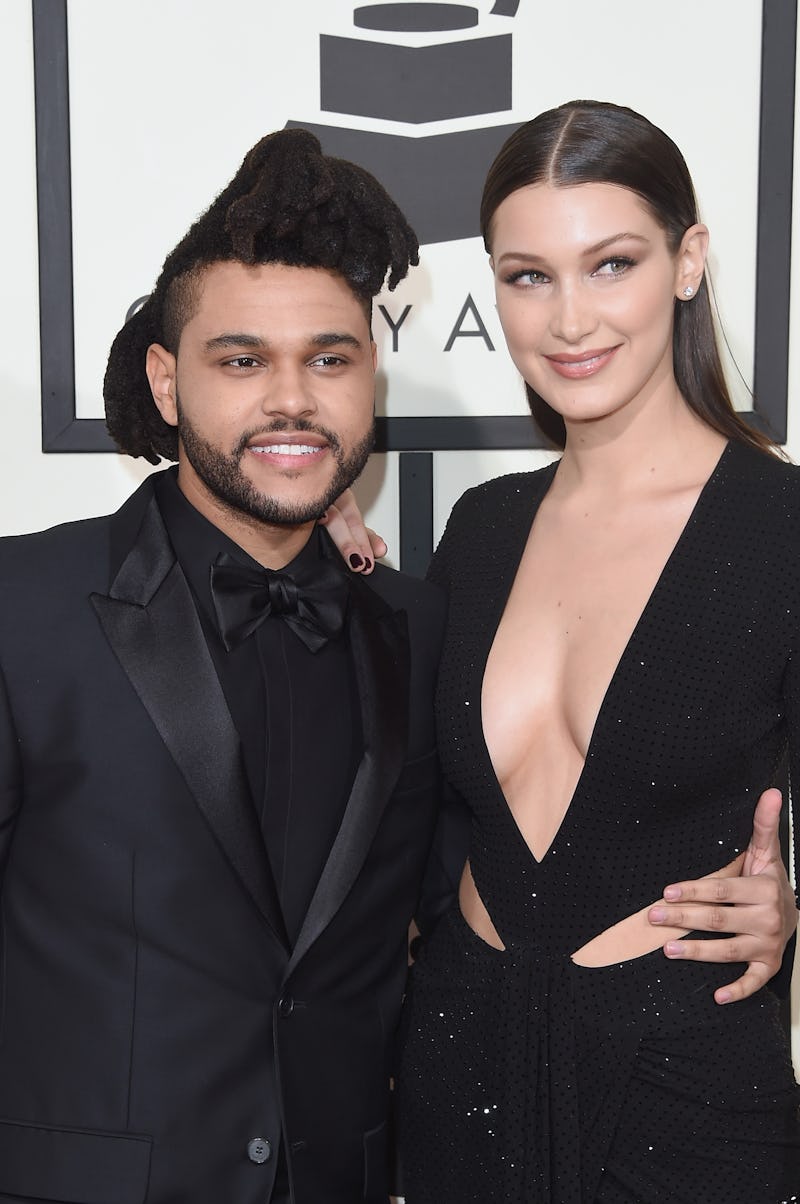 Jason Merritt/Getty Images Entertainment/Getty Images
Sorry to any shippers of Bella Hadid and The Weeknd out there, but it looks like maybe these two didn't rekindle their relationship at Coachella, after all. Bella Hadid denied kissing The Weeknd at Coachella with a simple Instagram comment, as USA Today noted. On April 16, E! News posted a photo of Hadid and The Weeknd (who's birth name is Abel Tesfaye) on Instagram and said in their caption that the two were seen "kissing all night" after the singer's Coachella set at Poppy nightclub. However, the model had a little something to say about that.
On E! News' Instagram post, she wrote a simple, "It wasn't me." She also included a shrugging emoji and a detective emoji. It looks like the case is closed with this one. Although... it was a little bit of a cheeky response, especially considering the emoji in question. Maybe she was just joking about E! News' report? If she was messing around, it would certainly be good news for those wishing for a romantic reunion for Hadid and The Weeknd.
This romance rumor followed a previous report that said that the model was at the singer's April 13 Coachella set. According to a Twitter user who posted a video of the event, Hadid was seen attending her ex-boyfriend's performance. Hadid's sister, Gigi Hadid, and friends Kylie and Kendall Jenner also attended the Coachella party, per Us Weekly. So, it sounds like the model was simply at Coachella (and this event in question) to support her friend's music and to hang out with her sister and besties.
Some originally thought that things were back on with the young couple after they were spotted together at the music festival. In E! News' original report, "multiple sources" related that The Weeknd and Hadid were kissing at the Coachella after-party. People reported similarly and said that the two were "all over each other" at the party. A source at the publication even said that the pair looked "fully back together."
This isn't the first time that the pair have been linked together following their breakup. Shortly after The Weeknd split from his girlfriend Selena Gomez in October 2017, it was reported in November that Hadid and the "Starboy" singer were "hanging out," per E! News. Although, it was not reported that things were officially back on with them just yet. An E! News source said, "Bella and Abel have been in contact since Abel and Selena split, but they are not back together."
The publication also related that the pair were dedicated to being good friends, even if they didn't go down the dating route again. Yet, they went on to report that there is still a lot of love there with these two.
As previously stated, the pair originally broke up in November 2016 after 18 months of dating, according to People. But, it didn't sound as though there were any hard feelings with the split. The publication reported the two parted ways because of their busy schedules. While they did break up at the time, it seemed as though they weren't ready to break off their entire bond just yet. A source told People, "They still have a great deal of love for one another and will remain friends."
Given that Hadid's response to the E! News Instagram post reads a little jokey, it's unclear what exactly is actually going on between these two. There's another weekend of Coachella coming up. Maybe we'll get some more answers or another Instagram comment to really see where things stand.