Bella Hadid Wore A $29 ASOS Crop Top Because Literally No One Can Resist A Bargain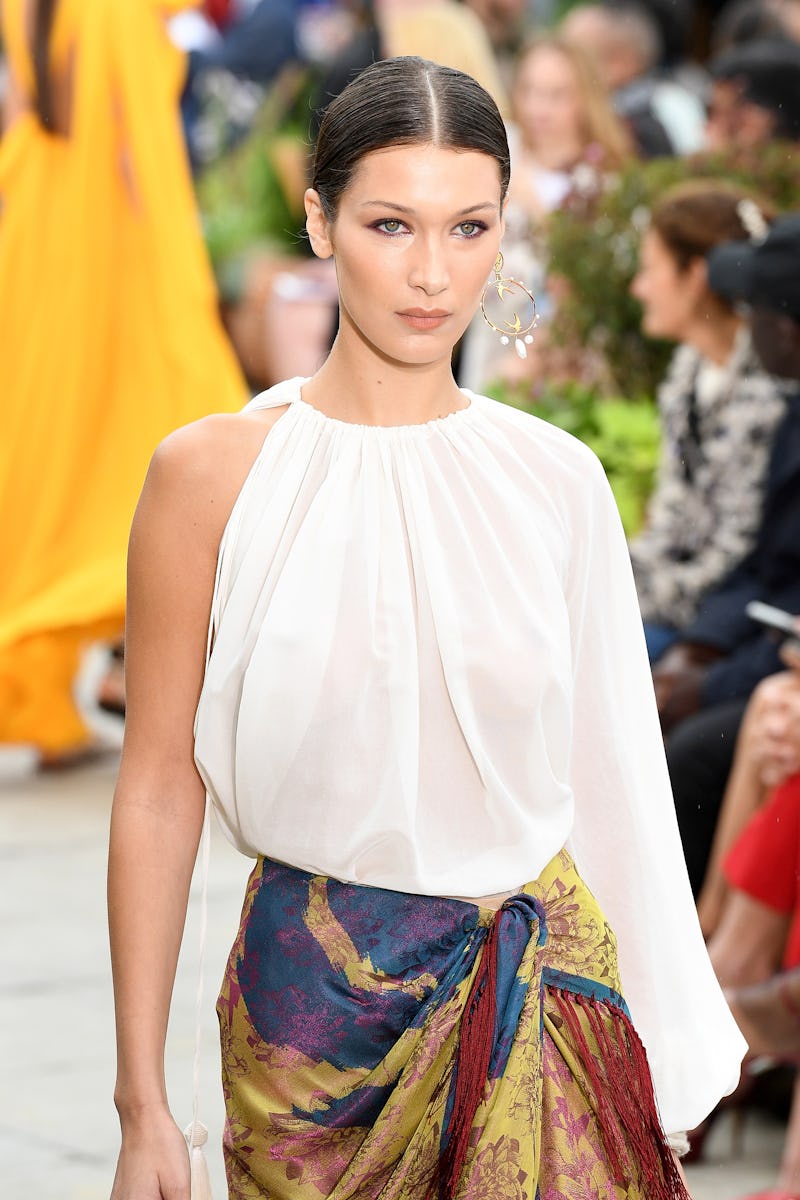 Slaven Vlasic/Getty Images Entertainment/Getty Images
Even though fashion's top supermodels are paid bucko bucks, that doesn't mean that they exclusively wear out-of-reach designer items around the clock. Case in point: Bella Hadid just wore a $29 ASOS top, showing that literally no one can resist a bargain. Affordable online retailers like ASOS and Topshop make it easy to stay on top of trends without breaking the bank, but it's fun to see someone who is a regular staple on the catwalk wear the same styles we do. You can just imagine Hadid stretched out on the couch, watching Netflix, and scrolling through the site on her phone, trying to find just the right top for an outfit she recently bought. Celebs: they're just like us.
Hadid wrapped up New York Fashion Week with a two piece mini skirt outfit that would have Cher Horowitz swooning, matching a thigh length, powderpuff-pink blazer with an equally short mini. To make it feel less 9 to 5 and more 2018, she paired the look with chunky, blush-pink dad sneakers, square wire rimmed glasses, and a Working Girl claw clip that scraped back gel-wet hair, which created a casual-chic office look that is very much in style. Put the pièce de résistance was what she popped underneath the suit: a fuzzy white crop top straight out of the '90s, and which is still available at ASOS.
Hadid looked either like she nabbed the outfit from Rachel from the first season of Friends, or like she stepped out of a '90s ad from a glossy magazine — either way, it had major throwback vibes. And while it might be hard to copy the designer suit if you're on a budget, the fuzzy crop top is a whole other story.
The top in question is going for a whopping $29 on ASOS right now, making it a total steal. It has a crew neck in the front and a scoop back in the back, and comes with short sleeves. It's a knit top made from fluffy yarn, so the fuzzy texture isn't mohair that you're seeing. In fact, starting January 2019, ASOS is going to go cruelty-free, and has pledged to stop selling mohair, silk, cashmere, and feathers, thanks in part to PETA, who made waves in the fashion industry when it exposed the cruel techniques used in mohair farms in South Africa in May. This started a domino effect of brands and designers pledging to not touch the stuff.
The piece in question comes from the ASOS Design label, which tries to bring its customers that most in-demand new trends at a reasonable price. "Giving you the confidence to express your individuality, ASOS DESIGN interprets major trends, adding a unique ASOS spin from our London design team," the brand explained on the product page.
The top used to sell in sizes 0 to 14, but since having Hadid wear it, it's now down to sizes 8 to 12. If you want to snap up your own '90s, Barbie-esque crop top, you have to act fast before it all disappears!