'Below Deck Med' Will Return Just In Time For Summer 2020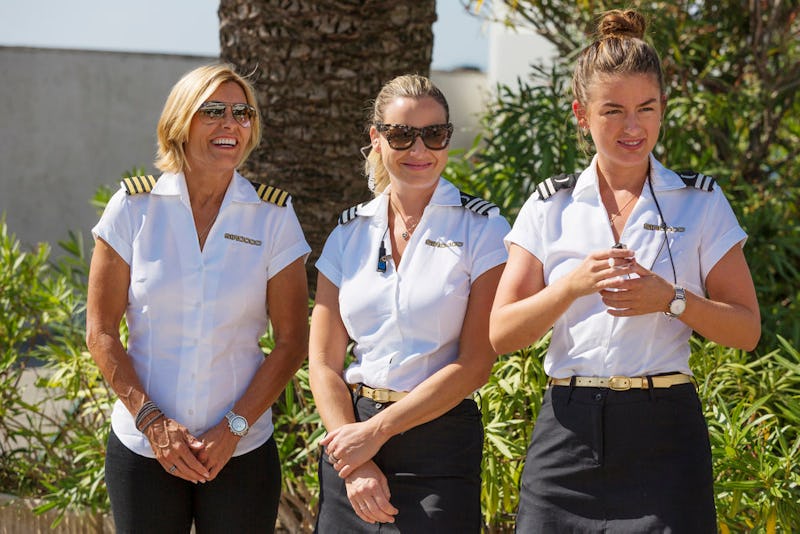 Greg Endries/Bravo
Sadly Below Deck Mediterranean Season 4 comes to a close on Sept. 29 and fans are likely already wondering when, if at all, Below Deck Mediterranean will return for Season 5. Unfortunately, there has not been an official confirmation of another season, but it does seem very likely since Captain Sandy Yawn told fans that Below Deck Med is already casting for next season. So if you've always wanted to share a cabin with the likes of Hannah and Ben, it's time to shoot your shot.
Sandy tweeted that casting was in progress for "yachties, crew, yacht chefs" and directed interested fans to Diana Wallace Casting for additional information.It was back in June that the Diana Wallace Casting Instagram page also posted a casting announcement — although it wasn't clear if it was for Below Deck Med or the original series. Either way, though, the casting call means that the series is likely running on a similar production schedule as it always has. Given that previous Below Deck seasons have premiered in May or June, it's likely that a Season 5 would follow suit and premiere in May or June 2020.
That's a long wait for new episodes, but there might be even more content for Below Deck lovers sooner than that. The network has historically announced those early summer premieres in April or March. — complete with a super tease for the upcoming season, so fans can at least familiarize themselves with the cast and crew ahead of the premiere.
While Below Deck Med's status is still in limbo, the Below Deck franchise is still going strong. Anyone who will miss charter guest demands and crew member drama after the Season 4 finale is in luck, since the OG series, Below Deck, will return for Season 7 on Oct. 7, 2019. And the only person more brutal about turnovers than Hannah is the one and only Kate Chastain.
Chastain and Lee will be joined this season by returning crew member Ashton Pienaar, who will be the bosun, along with deckhands Tanner Sterback, Abbi Murphy, and Brian de St. Pern, who according to Kate "looks like Wolverine with his shirt off. "Even Captain Lee one night was like, 'Did you see Brian with his shirt off?'" she said on PEOPLE TV's Reality Check in early September. Along with the new deckhands, Simone Mashike and Courtney Skippon will be taking on stew duties with Kate, and Kevin Dobson will be cooking.
The new season will make a worthy replacement for Below Deck Med, too, if you listen to Captain Lee (and you must always listen to Captain Lee). He posted on Instagram, "We are back peeps and it's shaping up to be one for the record books" Given that he threatens to fire seemingly multiple people in the trailer for the upcoming season, it's definitely going to get messy.
It's a bummer that fans have to say goodbye to faves such as Aesha, Jack, and Sandy for now. But at least we can watch a new chef and some good looking deckhands face off on the OG Below Deck until the next season's announcement and trailer are released.