Captain Sandy Names Her 'Below Deck Med' MVP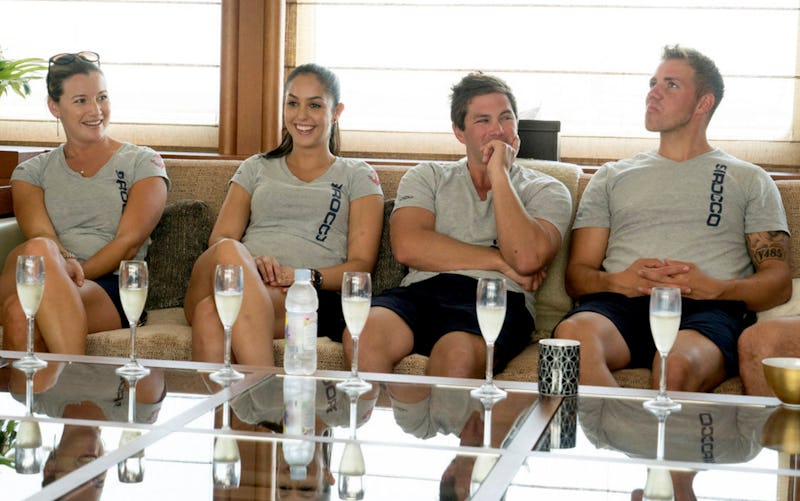 Virginia Sherwood/Bravo
If Below Deck Mediterranean Season 2 star Captain Sandy Yawn could pick only one co-star to work with in the future, who would it be? Fans may wonder no more. When Yawn appeared on Tuesday's Watch What Happens Live with Andy Cohen After Show, the devoted sleep advocate answered that very question. No, Yawn did not name Adam "Onions or Bust" Glick. (I know, I know. That is the shock of the century. It's right up there with the anchors getting tangled up like wet hair in a windstorm shortly after Mr. Skin said it felt like the yacht was spinning. Who saw that one coming? Oh, wait. Every last one of us did.) Without a moment's hesitation, Captain Sandy said Wes Walton would be the first crew member she'd rehire. No offense to the other crew members, but duh.
As much as I adore most of the other Below Deck Med yachties, Walton has proven time and time again this season that he is an angel of a bosun. Who wouldn't want to work with him?
"He knows how to handle lines, he actually has experience," Yawn explained. "I have comfort knowing he's on board." Same here, Captain Sandy. You can watch Yawn talk about why Walton is her MVP below.
Knotted up anchors? Walton will chip away at the chains until the clump comes undone, never once losing his cool. Need someone to dock the yacht? Walton will not only give it his best try, but he will be grateful for the opportunity. The dreaded yacht slide has to be assembled? He will be thrilled to—
... OK, Walton's a peach and all, but I doubt even he can get through rolling out that inflatable monstrosity without politely grumbling about it. And that only makes him all the more endearing.