This Is How Much Money Ben Carson Spent Decorating His Office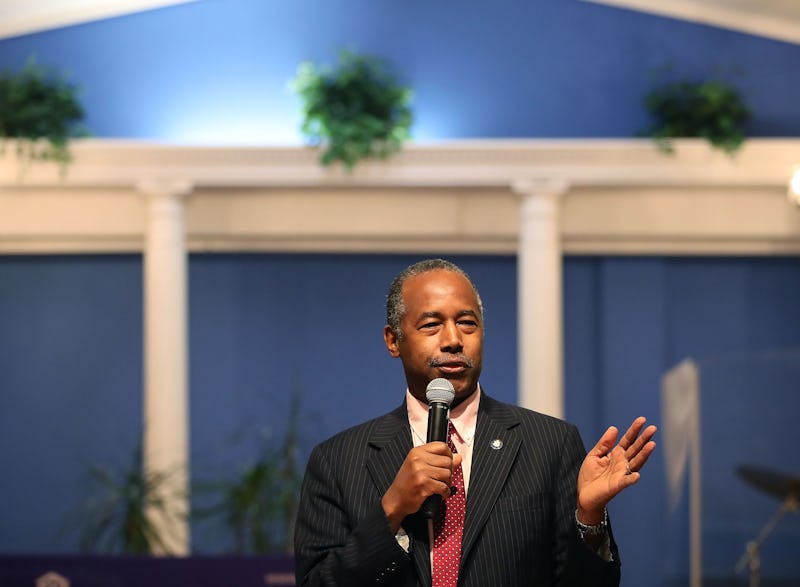 Mark Wilson/Getty Images News/Getty Images
Housing and Urban Development Secretary Ben Carson spent $31,000 on a dining room set for his office in 2017, according to federal documents reviewed by the New York Times. The purchase, which went toward a custom hardwood table, chairs and hutch, came shortly before the White House released plans to cut HUD's budget for programs serving the elderly, homeless, and poor. Bustle has reached out to HUD for comment.
Raffi Williams, a spokesperson for HUD, initially denied that such a purchase had been made. In an email to the Guardian, Williams said that reports of a new dining room table being bought for Carson's office were "inaccurate." He added that "when it comes to the secretary's office, the only money HUD spent was $3,200 to put up new blinds in his office and the deputy secretary's office."
On Tuesday, however, Williams confirmed to the Times that $31,000 of taxpayer money was indeed spent on furnishing Carson's office with a new dining room set, which included a hardwood table. In follow-up comments to the Guardian, he said that his earlier comments had been in reference only to the the department's "decorating budget," and that the decorating budget wasn't used to buy the table.
Williams said that Carson himself "didn't know the table had been purchased," but nevertheless doesn't plan to return it.
In a related report, CNN obtained documents showing that Helen Foster, the former chief administrative officer for HUD, filed a complaint in November 2017 alleging that she was demoted for refusing to authorize more money to redecorate Carson's office than is legally allowed. The Times reported that according to federal law, expenditures "to furnish or redecorate the office of a department head" require congressional approval if they exceed $5,000. Foster, however, says she was told that "$5,000 will not even buy a decent chair."
Williams told the Times that the agency didn't seek Congress's approval because the dining room set fulfilled a "building-wide need." It's unclear why this is the case, though, as the furniture is situated inside Carson's suite on the 10th floor of the building.
According to the Times, Foster filed her complaint with the Office of Special Counsel, a watchdog agency within the federal government. In it, she said that Craig Clemmensen, who was acting HUD secretary prior to Carson's confirmation, approached her with the request for more funds. According to Foster, Clemmensen said that Carson's wife Candy wanted to "help the Secretary redecorate his office suite," and that Clemmensen asked for help "getting Mrs. Carson access and funds for the project."
In her complaint, Foster said that Clemmensen asked her to do this repeatedly, even after she noted the $5,000 spending limit, and that he always framed it "in the context of, Mrs. Carson wants to do this."
"The most frustrating part of all this was spending so much time on this issue," Foster wrote, according to CNN. "Instead of focusing on HUD's mission, we were talking about furniture for the Secretary's office.
An ethics watchdog group, American Oversight, sued HUD on Tuesday in an attempt to find out exactly how much Carson's office had spent on redecorations.
"Ben Carson might think he can cover-up his expensive office makeover by removing any employees who objected, but as taxpayers we have a right to see the receipts for exactly what he bought with our money, and we're going to court to make sure the truth comes out," Austin Evers, American Oversight's Executive Director, said in a statement. "It takes a special kind of elitism for Ben Carson to argue for cutting rental assistance for American families while spending money on his own office upgrades."