'Boy Meets World' Fans Will Love How Ben Savage Congratulated Danielle Fishel On Her Engagement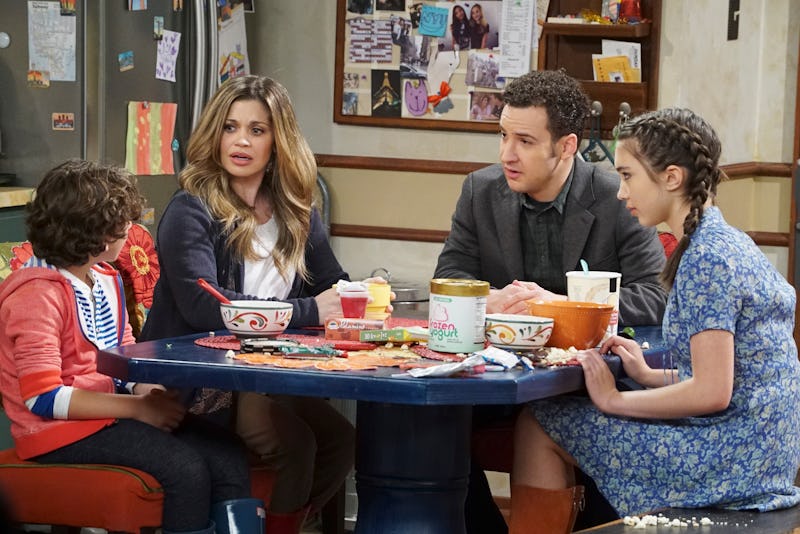 Ron Tom/Disney Channel
When the news broke that Danielle Fishel was getting married, her former on-screen husband was one of the first to send his well wishes. Ben Savage congratulated Danielle Fishel on her engagement with an Instagram post, complete with a throwback picture of the two from their time as Cory Matthews and Topanga Lawrence on Boy Meets World (and subsequently Girl Meets World). "Congratulations to my favorite TV wife on her engagement," Savage wrote on Instagram. "So happy for you Danielle."
The lovely sentiment and picture might have left some fans with a bittersweet feeling. Savage and Fishel played a couple on TV for a big chunk of their lives, first as the childhood friends turned the on-again-off again teenaged lovebirds turned married couple in Boy Meets World (1993–2000) and then again in the Disney reboot that centered around their daughter in Girl Meets World (2014-2017). Though their relationship had plenty of ups and downs on screen, for a lot of viewers who grew up watching them they embodied #relationshipgoals. The two were always able to talk through their problems, support each other through tough times, and they grew and changed together — a dream partnership even most of us grown-ups can aspire to. While we know Boy Meets World was a work of fiction (how the else could you explain all of the Sean's disappearing siblings), its still weird to think about Topanga with somebody else.
Still, the picture is a great reminder that the two actors worked together since they were middle school-age — and that's a very long time.
Fishel was previously married to Tim Belusko, a man she met while she was a math tutor and student at California State University, Fullerton. The two divorced in 2016. Now the actor is engaged to Drop the Mic executive producer Jensen Karp. She announced her pending nuptials on Instagram with a picture of her with Karp and the details of the day he proposed:
"I woke up thinking it would be a normal day and it was anything but normal. I put on my Genghis Cohen t-shirt and went to see @jensenclan88 at work where I proceeded to screw up a very romantic marriage proposal by being too efficient (this is very on brand for me). The future Mr. and Mrs. Karp are now engaged and no one is more excited than I am."
And the photo was taken by her Girl Meets World co-star Sabrina Carpenter.
Karp also wrote his own Instagram post announcing the news, where he also revealed that he met Fishell in high school (not as young as Topanga and Cory, but still young). "We got engaged today," he wrote. "I don't have anything witty or funny to say to accompany this picture. She is just the greatest person in the world and to imagine someone I went to high school with was always my person, is remarkable. You never know"
Fans also showed their love and support for the happy couple on social media, though a few did mention that they were disappointed that they weren't going to see an IRL version of Topanga and Cory's wedding. The love of their relationship runs strong.
As US Weekly points out, Fishel previously revealed in her memoir, Normally, This Would be Cause for Concern, that Savage was her first kiss. However when the two tried to go on a date once as teenagers the romantic chemistry wasn't there and it was pretty awkward. Still, their friendship was deep enough the Savage got an invite to her first wedding.
While seeing Savage in the crowd at Fischell's wedding might not be as good as him standing at the altar, we'll always have the Boy Meets World Season 7 wedding. The episodes are on Hulu right now, so you can go ahead and celebrate Fishel's happy news with a repeat viewing.