Benedict Cumberbatch Wants To Close The Gender Pay Gap & Hollywood Needs To Listen Up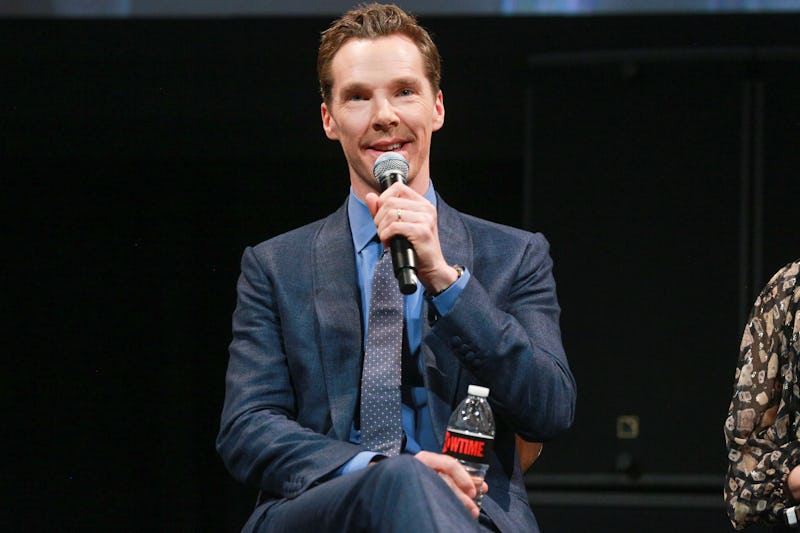 Rich Fury/Getty Images Entertainment/Getty Images
This year, many actors are taking action to fix pay inequity and gender discrimination in Hollywood, and Benedict Cumberbatch is one of them. Benedict Cumberbatch is taking a stand for pay equity, and, in the process, he's setting an example for other actors in the industry. During a recent interview with Deadline, the Patrick Melrose actor delved deeper into his decision to only take on roles in projects where people of all genders are paid equally and fairly.
Cumberbatch explained his reasoning to Deadline. The actor said,
"It's important for us to acknowledge the pay gap and to do something about deliberately making a stance to correct that. It will take a great deal of effort, not just from women trying to break through but also men offering parity. I just think people need to know that men are supportive of this. I can only speak for myself, so I'm not speaking for mankind, but just to say that I think it's incumbent on me and my position to seek and understanding, and what has to start with all this is transparency about such issues."
Previously, the actor told Radio Times magazine that he would turn down roles on projects where his female co-stars aren't paid equally. "Equal pay and a place at the table are the central tenets of feminism," he told the publication. "Look at your quotas. Ask what women are being paid, and say: 'If she's not paid the same as the men, I'm not doing it.'" The actor is walking the walk when it comes to advocating for pay equity, and it's a stance that other actors should also take on.
Cumberbatch is already doing his part to ensure women are given equal opportunity — his personal production company, SunnyMarch is largely run by women, and it has a proven commitment to telling women's stories. The actor is not only speaking up about the pay gap, but actively working to change the industry, and it's setting a strong example for other men who are actors.
The Sherlock star is also optimistic about the future, and according to Deadline, argued that the shift toward equity is already happening in Hollywood. He explained,
"Look, it's just a taboo subject. So, if it's to change, we all need to sit around a table and act like grownups and go, "This is the pie and this is how the pie came to the table. This is how much of the pie you're contributing, so there's how much you should eat and it's got nothing to do with gender and everything to do with parenting the workplace."
While small steps toward equality may be happening behind the scenes, pay inequity remains a major issue in Hollywood. In March, the producers of The Crown revealed that Claire Foy, who played the show's title character, was paid less than her male co-star, Matt Smith. The revelation infuriated fans and drew major criticism, including from her co-stars. Jared Harris, who played King George VI, called the gender pay gap "a huge embarrassment" and urged the production company to retroactively bring her up to parity, according to Digital Spy. Foy's Golden Globe-winning performance is in part responsible for the show's success, so the pay discrepancy was especially offensive. The production company ultimately apologized and promised to ensure salary parity moving forward, proving the power of accountability.
Cumberbatch and Foy aren't the only actors speaking up about the issue, either. In January, Octavia Spencer talked about the pay gap at the Hollywood Foreign Press Association's "Women Breaking Barriers" panel at Sundance, according to CNN. Spencer said she was discussing pay inequity with Jessica Chastain, and pointed out that the disparity is even greater for women of color. "I said, 'But here's the thing, women of color on that spectrum, we make far less than white women,'" Spencer said, according to the news outlet. "So, if we're gonna have that conversation about pay equity, we gotta bring the women of color to the table."
Chastain pledged in the future to negotiate her salary alongside co-stars to ensure all women are paid equally. Spencer revealed that Chastain helped negotiate her salary up to five times the original offer on a recent unnamed project. The actors' story shows that having an open conversation and solidarity are key to ensuring gender pay parity.
If actors are open about salary, it makes it easier to advocate for equality. It's important for men and women in entertainment to continue having these discussions about pay equity. Cumberbatch is setting the standard for other actors, showing his commitment to gender equity by not accepting projects with a pay gap, being open in discussions about pay, and giving women equal opportunity through his production house. Now it's time for more actors to follow his lead.