Bernie Sanders Is Suspicious Of James Comey's Firing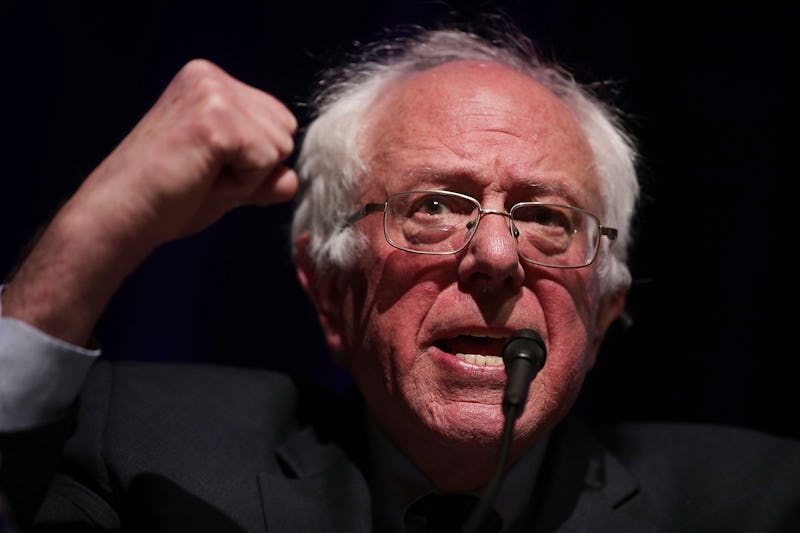 Alex Wong/Getty Images News/Getty Images
On Tuesday, Vermont Sen. Bernie Sanders responded to the news of FBI Director James Comey's termination with concern. In a statement released by his press office, Sanders said that Donald Trump's decision to fire Comey "raises serious questions about what his administration is hiding." The senator was referring specifically to Comey's investigation into the Trump campaign's ties to Russia — an investigation that's future is now unclear. On Wednesday, Sanders renewed his concern about Comey's firing, calling for a special counsel to look into what the Trump administration might be hiding and why it may have wanted to stop Comey's investigation.
"What is Trump afraid of?" Sanders tweeted early Wednesday. "Why did he want to stop Comey's investigation? We need an independently appointed special counsel to tell us that."
In a Facebook post on Wednesday afternoon, Sanders made yet another case for a special counsel. He explicitly discussed the Russia probe as well as the fact that Comey had asked the Department of Justice to provide the investigation with more resources just days before he was fired. One day prior, Sanders referenced former acting attorney general Sally Yates' "damning testimony" as evidence that Trump's subsequent decision to fire Comey was "deeply troubling."
Sanders is not alone in calling for a special counsel in light of Comey's termination. A number of other Democrats, including New Jersey Sen. Cory Booker and his fellow Vermont Sen. Patrick Leahy, joined him in urging Deputy Attorney General Rod Rosenstein to appoint a special counsel. Booker even tweeted out a video in which he passionately called for an independent special counsel.
"The Russians attacked this country," Booker insisted in the video. "They worked to undermine our elections."
New York Sen. Chuck Schumer has also been outspoken in his calls for a special prosecutor to be appointed in the Russia investigation, following Comey's departure. Furthermore, Schumer called for Rosenstein and Attorney General Jeff Sessions to appear before the Senate in a classified briefing, if necessary, given that they had both filed official letters to the president recommending Comey's termination.
"I remind [Kentucky Sen. Mitch McConnell] and my Republican friends that nothing less is at stake than the American people's faith in our criminal justice system and the integrity of the executive branch of our government," Schumer said on Wednesday, according to The Boston Globe.
Sanders, Booker, Schumer, and other elected officials are right to push for a special counsel. Trump has reportedly been growing frustrated for some time due to his inability to control the narrative around the Russia investigation. In his letter to Comey, he told the FBI director that new leadership was "essential" to the restoration of "public trust and confidence" in the FBI. However, unless the person Trump nominates as Comey's replacement intends to continue the investigation, a special counsel is the most basic thing that Trump could do to prevent any further loss of trust in his governance — that is, if any remains at the end of this latest controversy.