Bernie Sanders Will Encourage You To Keep Fighting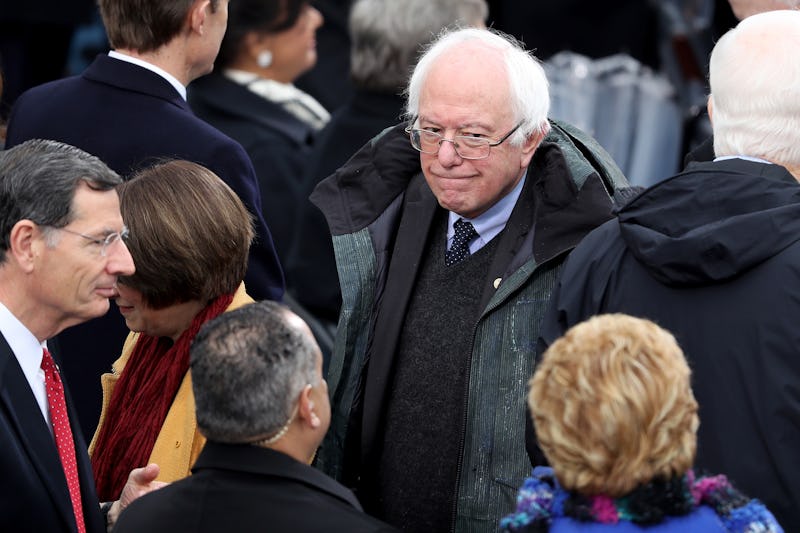 Joe Raedle/Getty Images News/Getty Images
It's official: Donald Trump is the 45th president of the United States. Sworn in at precisely 12 p.m. ET on Friday, Jan. 20, President Trump has taken over the reins of power from former President Barack Obama, and he now sits atop a completely Republican-controlled government. Needless to say, this is a grim moment for Democrats and progressives, one which poses a big challenge for the future. But one former Democratic candidate has a message of encouragement on the big day ― Bernie Sanders' response to the inauguration will encourage you to keep fighting the good fight in the age of Trump.
Sanders, the junior senator from Vermont, posted a short video to his Twitter on Friday morning, just a couple of hours before Trump ascended to the presidency. In it, he acknowledges that this is a "tough day" for progressives and the people who'll be harmed by Trump's policy proposals, but attempts to rally the American left to prepare for the political battle ahead.
Specifically, Sanders cites the need to keep fighting "for a government that represents all of us, not just the one percent," and assures progressive Americans that "we're going to go forward in the fight for economic, social, environmental, and racial justice."
Sanders is currently one of the most prominent, popular, and well-positioned figures in the Democratic party to oppose Trump, and he's recently been holding the fledgling president's feet to the fire on his plans for Obamacare, social security, and Medicare. It's not as though his opposition has been as vociferous and all-encompassing as some Democrats have pursued ― he's acknowledged that he could conceivably cooperate with Trump on areas of shared agreement, and he showed up to the inauguration, as did former Democratic nominee Hillary Clinton, a fact while may rankle progressives who felt the event should've been boycotted.
But he's undeniably going to be a key figure in the left-wing pushback against Trump and the congressional GOP's agenda, and it's very important to the party that he be given the space to play that role. Regardless of all the arguments over whether Sanders would've defeated Trump if he'd been the Democratic nomination ― there was probably a good chance, but general election scrutiny and primary scrutiny are very different animals ― he was one of the most personally popular candidates of 2016, according to favorability polls, and he has a unique rhetorical power on some of the same issues that helped propel Trump to the White House. In other words, when he puts out the call, you can be sure that a lot of people are listening.