Unique 'Game Of Thrones' Halloween Costume Ideas That Aren't Just A Fur Cape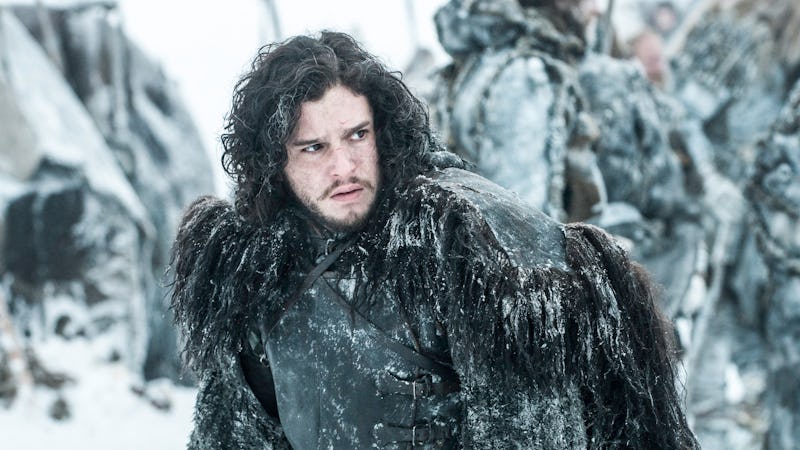 HBO
They say patience is a virtue, but let's be real: waiting has already been a challenge after Game of Thrones' Season 7 finale. I mean, we might have over a year to wait for the HBO series to return! Yikes! But, to soften the blow of that faraway air date, we put together the best Halloween 2017 Game of Thrones costume ideas. That way, you'll have something else to do besides tapping your foot in front of your television.
One of the best ways to feel closer to your favorite TV show in the interim it must take to film it and edit it... and tease it... is by dressing up as your favorite character. Cosplay can sometimes feel like a form of therapy. And thankfully it's Halloween, which means hitting the streets in a gown and regal cape won't cause traffic jams or double takes. I'm sure if you find yourself circling the Halloween party circuit this year you'll find comfort in a crowd of Game of Thrones fans also tormented by the year long wait. And after Halloween ends? What then? Well, you'll have a few new friends to be impatient with. Here are some of the best ways to ease your Game of Thrones hiatus woe this Halloween.
Halloween is coming.
Ygritte
Patterned Faux Fur Coat, $35, Miss Selfridge | Beston FROST-01 Women's Stitching Lace Up Mid-Calf Snow Boots, $40, Groupon | Men Canvas Casual Business Outdoor Sport Shoulder Bags Leisure Crossbody Bags, $26, New Chic | Sunkissed Metalic Bronzing Blush, $5, Pretty Little Thing
Jon Snow encountered Ygritte beyond the wall and then true love blossomed on and off screen. If you don't yield a bow and arrow on the regular and don't have the time to fetch one from a Halloween costume store, throw a messenger bag across your body. An added bonus to donning Ygritte's faux fur wardrobe? You'll certainly stay warm on a cold October night.
A Dragon
Angel's Wings Cami Dress, $50, Chic Wish | Dragon Tights, $24, Etsy | Cubic Zirconia Earrings, $20, Etsy | Glitter Gat Wings Headband, $14, Francesca's
It's possible to be a dragon in this world beyond Westeros. And that's basically because dragon tights exist. Use a bat ear headband as wings. Bats are basically mini versions or distant relatives of dragons, so anything "bat wing" will certainly work! Don't forget red and orange flame earrings.
Daenerys Targaryen, Mother Of Dragons
Woody A Cape, $35, Zalando | Regna X BOHO Women's Sleeveless Solid and Flower Pattern Long Maxi Chiffon Dress, $20, Amazon | Carolina Glamour Collection Sterling Silver Winged Sea Serpent Dragon Necklace, $40, Overstock | Number One Mom Set, $27, Bling Jewelry | Kalyss Women's wig Long Curly Wavy Premium Heat Friendly Synthetic Hair wig, $21, Amazon
If you want to be Khaleesi every day of your life I can't blame you and I won't stop you. But on Halloween you're licensed to go ~all out~. Throw on a long blonde wig and your best blue gown. Cover yourself in a cape and accompany your outfit with pendants of dragons.
Arya Stark
Coffee Mock Neck Drop Shoulder Dip Hem Sweater, $20, Romwe | Carmel Crepe Sleeveless Waistcoat, $19, Wearall | Talbot's Casual Pants, $10, ThredUp | Floral Perforated Belt, $34, Belk | Excalibur Grey FOAM Sword With Black Handle, $26, Amazon
You don't have to watch the show to know the name Arya Stark. She's an independent badass feminist icon who refuses to accept the fate of becoming a lady and instead chooses to hold her sword close. Whether you're a 'Games of Throne' fan or not, a Arya Stark costume is sure to be a hit.
Sansa Stark
Lace Sleeves High Waist Maxi Evening Dress, $22, Rosegal | V by Very Faux Fur Fleece Cap, $26, Very | Lauren Ralph Lauren Mesh Round Pendant Necklace, $44, Bloomingdales
If you're BFF is going out as Arya, why not go as Sansa? Playing sisters on the show, actresses Maisie Williams and Sophie Turner are real life besties. Just think about it. And if you do go as Sansa, don't forget to throw your locks into a beautiful, almost fairy-tale like braid.
Missandei
Dobby Mess Cold Shoulder Maxi Dress, $34, River Island | Giana Headband, $28, Revolve
Missandei might have been one of the most talked about characters on this season of Game of Thrones. And her wardrobe is also one of the most simple on the show. She does have a thing for halter dresses, making this costume easy to find already in closet.
White Walker
Distressed Chunky Sweater, $33, Zaful | Black Circle Skirt, $14, Miss Selfridge | Hue Opaque Tights, $15, Macy's | Icz Stonez Sterling Silver Cubic Zirconia Snow Flake Dangle Earrings, $22, Overstock | Polo Ralph Lauren Women's Square Foldable Glasses, $40, Nordstrom Rack
One way to still be frightening at the party without dressing up as a classic villain is to show up as a White Walker. Use white face pant to pale yourself out and wear frosted sunglasses in place of ice blue eye contacts.
Direwolf
Snap Button Pockets Faux Fur Coat, $41, Zaful | Basic Grey High Neck Jersey Dress, $8, Pretty Little Thing | Bootie Slippers, $32, Lord and Taylor | Dog Ears Headband, $5, Charlotte Russe
A direwolf is a girl's best friend, and sometimes also defense. Dress up as a furry friend in comfortable faux fur booties, a faux fur coat and of course a dog ear headband. You may look cute, but you're absolutely fierce.
Iron Throne
Button Up Puff Shoulder Dip Hem Trench Coat, $24, Gamiss | Office Chair Bonded Leather Black, $16, Target | Excalibur Grey FOAM Sword With Black Handle, $26, Amazon
If you're planning on sitting down throughout Halloween night, make a peacock esque assortment of foam swords and duct tape it all together to the back of your swivel office chair. It's a sure way to stay comfortable, still be able to be in motion and let people know that you are the boss. Throw on an intricate trench to feel regal.
Hall of Faces
Black V-Neck Bodycon Dress, $23, Miss Selfridge | Cable Knit Tights, $13, M&Co | Alloy Funny Face Mask Earrings, $3, Zaful | Halloween JabbaWockee Z Mask, $10, HomeLava
If you're going for creepy this Halloween, paste white masks to a black dress to achieve The Hall of Faces. You can either wear a mask yourself or leave your face bare.
Child Of The Forest
Fringe Crochet Halter Top, $15, Sans Souci | Lace Up Mini High Waist Skirt, $19, Rosegal | Chunky Heel Lace Up Over The Knee Boots, $48, Zaful | Frog Prince Lipstick, $29, Harvey Nichols | Rothco GI Type 5 Color Camo Face Paint, $7, Rotcho
The Children of the Forest were the first inhabitants of Westeros and have a very etheral, earthy vibe to their wardrobe. Use lots of texture in your costume to get that vibe across. And because the Children of the Forest aren't human, paint your face with non-toxic face paint a green hue similar to camouflage. Twist your hair into braids that sit at the top of your head and voila!
Check out the entire 'What's Up, Boo?' series and other videos on Facebook and the Bustle app across Apple TV, Roku, and Amazon Fire TV.