Unforgettable Labor Day Trips To Take With Your BFF That Won't Leave You Broke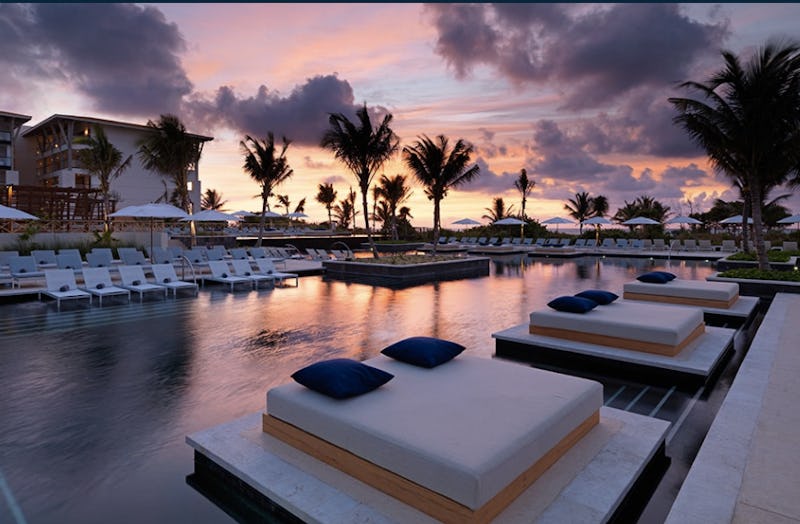 Unico
Why does everyone pack up the car and head to the beach for Labor Day weekend? The amount of time you end up spending in traffic is equivalent to the amount of time a flight somewhere more interesting might take. And the amount of money you spend on surge prices due to crowds, ends up costing you much more than a trip farther out of town. So, this year, round up your friends and really get out of town. Book a flight, and check something off your bucket list.
There are so many amazing flight deals during Labor Day that you should be taking advantage of. With a little bit of planning, you can easily manage a trip across the country, out of the country or even to the other side of the world. All you have to do is get in touch with your adventurous side — and be willing to be seriously exhausted and jet lagged for your return to the office. But a few days of yawning will be totally worth it, because the memories you'll have with your friends from the most extravagant weekend getaway will always stick with you.
Here are a few of my favorite getaways, guaranteed to give you the best flipping three day weekend you've ever had:
Riviera Maya, Mexico: UNICO 20º 87º Hotel Riviera Maya
If you live on the East Coast, a weekend trip to Mexico is so much easier than it sounds. Change the way you think about the term "all-inclusive," and head to UNICO 20˚87˚ Hotel Riviera Maya, the brand new, outrageously chic, all-inclusive hotel that's maybe the best place to Instagram in the world. Oh, and the white sand beaches with turquoise water is a nice perk, too. Head to the jungle on an excursion, hang by the hotel and take some mixology classes, or sit on the beach all weekend and literally do nothing. But good luck leaving, you'll never want to return to real life after a few days in paradise.
Martha's Vineyard, Massachusetts
While everyones clogging the beaches and streets of the Hampton and Nantucket, head to Martha's Vineyard, where it's always a tiny bit more mellow and every bit as gorgeous. Stay at the Kelley House, a quaint and artsy little haven in the middle of everything and have a super relaxing weekend with your bestie without any Labor Day chaos.
Portland, Oregon: The Ace Hotel
Portland is such an epic city, there's so much to do — and so much to eat. Have a full on foodie weekend with your bestie and eat your way though the city. Stay at The Ace Hotel and eat some Blue Star donuts around the corner. Head to Tusk for brunch, Ned Ludd for Dinner and Salt & Straw for dessert. You might not fit into any of your clothes when you return, but it will be so worth it.
Miami, Florida: The Edition Hotel/Nobu Eden Roc Hotel Miami Beach
You don't have to leave the country to see white sand and turquoise waters. Miami feels like another world, but it's just an easy domestic flight. Stay at The Edition Hotel one night, and eat and drink your way though the Market — aka, as many oysters and glasses of rose that you can handle. Then, the next night, stay at the Nobu Eden Roc Hotel Miami Beach and have eat all the sushi you want with a delicious taste of Japanese culture right in the middle of Miami.
The Berkshires, Connecticut: The Interlaken Inn
On the northern tip of Connecticut lies a small and picturesque town called Lakeville. In it are gorgeous lakes that turn pink and purple every night under the most extravagant and artful sunsets you've ever seen. Stay at The Interlaken Inn and enjoy a serious change of pace and the feeling of being totally one with nature.
Waikiki, O'ahu, Hawaii: Holiday Inn Express Waikiki
There are so many amazing places to go to in Hawaii and with Hawaiian Airlines offering so many direct flights, it's easier to go now than ever. Head to Waikiki and experience convenient comfort by staying at the Holiday Inn Express Waikiki, the largest Holiday Inn Express in the US, which just introduced their new Formula Blue design that enhances the overall experience staying at the hotel. With the new design, not only are the rooms totally swanky (those views of the Waikiki beach are unparalleled), but the hotel also offers everything from cabanas to a pool to mini golf to corn hole on their roof, as well as seriously delicious complimentary breakfast options from egg white omelettes to even freshly made pancakes (literally! It's made right in front of you with an automatic pancake machine!). Could life get any better?
Bluffton, South Carolina: Montage Palmetto Bluff
Grab your bestie and head to Bluffton where you two can get a good dose of Southern hospitality. Stay at the Montage Palmetto Bluff and go fishing, have some porch time (hell yes there's sweet tea!), spend the weekend in the spa or enjoy their Labor Day pool party. If you live in a city, this will feel like a much needed break from metropolitan vibes — literally everyone is friendly here.
Block Island, Rhode Island: The Bellevue House
This charming island is the most low-key New England vacation town there is, and it's pretty easy to get to — the ferry from New London, CT is only 45 minutes. Go there just for the fresh seafood, it's too good. Get a goodnight's sleep at The Bellevue House, which has a view of the ocean from every room, plus a really good complimentary breakfast. Explore the island by bike or moped, and take a dip in the super calm waters.
The Alps, France: The Club Med Valmorel
I know, this sounds like a really insane suggestion for a summer three day-weekend getaway, but hear me out: the ski resort area of the French Alps empties out in the summer and becomes a super affordable, Sound of Music-esque paradise. Take a cheap flight to Geneva, take a free taxi transfer to the French Alps (only about an hour away) and stay at The Club Med Valmorel — it's all inclusive, and this time of year, it's basically all yours. Go hiking, you exploring, go swimming in freshest water, and explore the little villages without any of the crowds. You'll be tired when you go back to work, but it will be so worth it.