Bethany Joy Lenz Made Her 'Grey's Anatomy' Debut In The Most Heartbreaking Way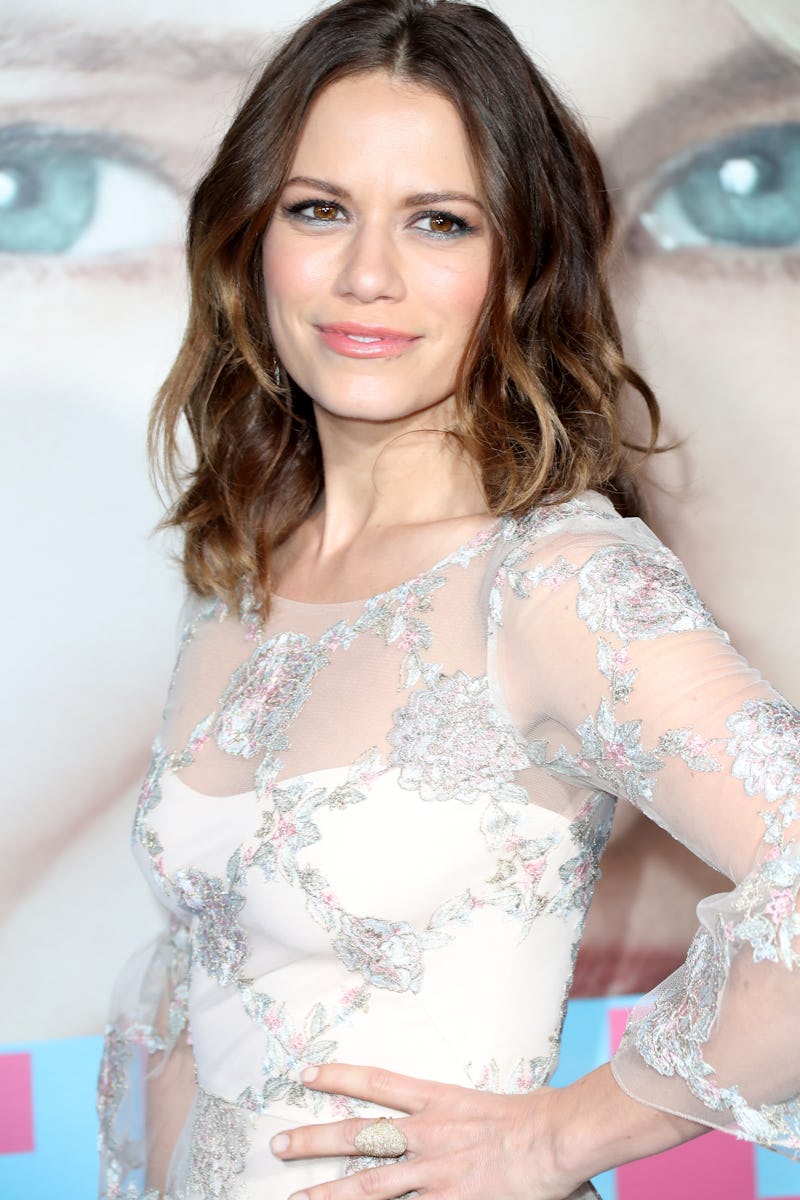 Frederick M. Brown/Getty Images Entertainment/Getty Images
Grey's Anatomy viewers have been dreading Paul Stadler's arrival since Jo Wilson first mentioned her almost-ex-husband. He was physically and mentally abusive and terrible to her, and it's so brave that Jo was able to escape him at all. Sadly, though, he's back. And, Bethany Joy Lenz made her Grey's Anatomy debut as Jenny, Paul's fiancée in one of the tensest, most heartbreaking episodes possible.
You may remember Lenz from her long-running role on One Tree Hill — she hasn't done a ton of television since One Tree Hill went off the air, and it's nice to see her on my television screen again. On Grey's, Paul brought Jenny along when he came to find Jo, aka Brooke, because Jo finally filed for divorce and he could get a line on her. In public, Paul is the charming, consummate professional surgeon that he's known to be. He's suave, and he's articulate, and he's showing off Jenny, seemingly happy that he will finally be divorced so he can marry the love of his life. Paul is a classic gaslighter, and he's told Jenny all about Jo — that is to say, he lied to her and told her that Jo was "crazy," and a drunk, and that she stole all of Paul's money and left with it, damaging his reputation and career. The only part of that that Jo has said was true is the fact that she bailed. But she only left so she wouldn't be abused anymore.
With a Grey's Anatomy (writer: Krista Vernoff) sly move by Arizona Robbins pulling Paul away to "get advice" from him on a surgery, Jo was able to sit with Jenny and tell her all of the things that happened in her relationship with Paul. Paul told Jenny not to believe anything Jo says, but Jo insists on getting her message through to Jenny. She says:
"I thought it would be the only time, I'm sure you did the first time. But he just got smarter after that. He made sure that no one could see the bruises. He would apologize and tell me it was my fault all in one breath, and he was so persuasive. He told me I was wrong so many times that I believed I was wrong. He told me I was crazy so many times that I believed I actually was crazy."
Jenny's face changes here, and it's seemingly clear that she knows what Jo is talking about. But, she's either not ready to leave her man, or she thinks that she can't. Later, Paul threatens Jo because she gave Jenny her cell phone number, and he vows to "check in" from time to time. Paul and Jenny leave, and at the end of the episode, Paul ends up the victim of a hit-and-run. Who dunnit? Alex and Jo are immediately suspects — in the preview for the following episode, Jenny even tells Jo that she didn't say anything to the police.
But let's back up here — who said that Alex and Jo would be stupid enough to hurt Paul, since they would both be the main suspects no matter what? Alex has a history of impulsive violence, but he's pretty much a changed man since Jo. He could have killed Paul that one time they met, and he didn't. If Alex didn't do it then, he's not doing it now.
No, Jenny is the one with the most to gain from Paul's death — Jo has laid out what Jenny's life could be with Paul. Jenny knows that Jo is right about Paul's abusive nature, and she could have wanted to save herself. Jenny has seen how Paul threatened Jo, and she surely knows that that could just as easily be her, that Paul will never leave them alone. If she thought the only way out of this situation was to get rid of Paul, well, maybe Jenny decided to get rid of Paul.
One episode in and the story is just starting to unfold. This is the first of Lenz's appearances on Grey's Anatomy, and the rest of her arc is sure to be a emotional one to watch.
If you or someone you know is experiencing domestic abuse, call 911 or the National Domestic Violence Hotline at 1(800) 799-SAFE (7233) or visit thehotline.org.