Betsy DeVos Failed To Condemn Schools That Discriminate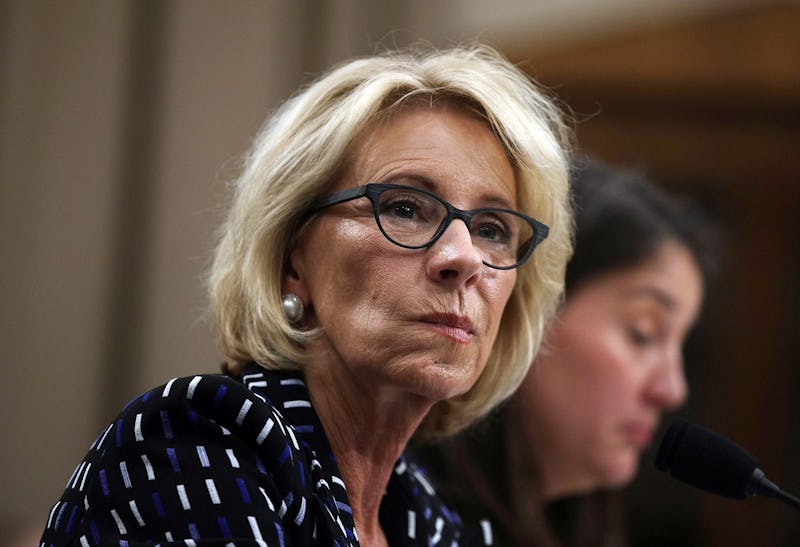 Alex Wong/Getty Images News/Getty Images
On Tuesday, the White House released the 2018 budget for all to see — and criticize. To no one's surprise, Secretary of Education Betsy DeVos praised the budget cuts, despite the alarming effects it will have on marginalized students. She demonstrated her disregard of these dangers and her ready ignorance of key education issues during the House appropriations subcommittee meeting on Wednesday.
The federal budget for the Department of Education dropped by $9.2 billion in order to return power to the states. DeVos claimed that in doing so, the budget is "refocusing" on "supporting students." In order to make the 13 percent reduction, it eliminates key programs like the 21st Century Community Learning Centers (CCLC) program due to its supposed lack of "meeting its objectives."
Such programs are actually key to closing the education gaps in poor communities. The elimination of after-school programs, like the ones that 21st CCLC provides, pushes the communities that benefit from them further into the margins. The After School Alliance showed that after-school programs are critical in impoverished communities, which are usually communities of color that already suffer from high crime, have low-performing schools, and lack of accessible, nutritious foods. Parents from these communities look to these programs to not only keep their children safe but to help them with homework, feed them, encourage physical activity, and improve school performance and attendance.
Now, the new education budget focuses on "supporting States and school districts" by placing "power in the hands of parents and families to choose school that are best for their children." What this results in is not just the closure of schools, but sometimes, removal of a student's rights. At the Center for American Progress, Anna Caudill, a Tennessee parent, told how she could receive a $6,300 voucher if she waived her son's rights under the Individual with Disabilities Education Act (IDEA), which protects children with disabilities. Exchanging lawful rights in order to find adequate education is not the way to fix the education system in this country.
The idea that increasing the "competition" between schools — which is the effect of "school choice" — will solve any education-related problems is ridiculous. There are already examples of this: Bruce Rauner ran on a similar education platform in the Illinois gubernatorial race in 2014. Since his election, Illinois has been locked in a budget stalemate, with education being a key issue. Furthermore, the National Education Alliance has explained why the voucher program is problematic, saying that it removes transparency and accountability for private schools, isolates communities, and increases discrimination.
This is especially concerning, and DeVos has proven that she will not fight on behalf of the students who need it most. During a House appropriations subcommittee meeting on Wednesday, Representative Katherine Clark (D-MA) asked point-blank about the discrimination that the voucher program inherently supports. She cited the Lighthouse Christian Academy in Bloomington, Indiana, which received over $665,000 in vouchers this year, as an example. In their handbook, they explicitly say that for children of LGBTQ+ individuals, "LCA reserves the right... to refuse admission of an applicant."
"Is there a line for you on state flexibility?" Clark asked. "Would you in this case say, 'We are going to overrule, and you cannot discriminate, whether it be on sexual orientation, race, or special needs in our voucher programs'? Will that be a guarantee from you to our students?"
As she did in her January confirmation hearing, DeVos circumvented these types of questions: "For states who have programs that allow for parents to make choices, they set up the rules around that."
"This isn't about parents making choices; it's about the use of federal dollars," interrupted Clark. "Is there any situation — would you say to Indiana, 'That school cannot discriminate against LGBT students if you want to receive federal dollars' or would you say the state has the flexibility in this situation?"
When DeVos again fumbled an answer, Clark clarified:
So if I understand your testimony — I want to make sure I get this right: There is no situation of discrimination or exclusion, that if a state approved it for its voucher program, that you would step in and say, 'That's not how we're going to use our federal dollars.' There's no situation if the state approved it that — you would put the state 'flexibility' over our students.
DeVos' response was to repeat that "States and local communities are best equipped to make these decisions," and that it was important to give choice back to parents. Rather that assuage Clark's concerns, it shows DeVos to be utterly incompetent, unable to even defend her own position adequately.
As Clark put it, DeVos "cannot come up with one example of discrimination that [she] would stand up for our students."
DeVos has made concerning statements in the past and equivocated on issues of discrimination. Educators, lawmakers, parents, students, and teachers have all shared their concerns over her appointment. DeVos has already shown herself to be unqualified, and this incident only adds to the myriad of examples. If there was a sliver of a chance that she would stand up for marginalized students, this budget — and her lack of statements — show that she and the current administration only seek to marginalize them further.