Betsy DeVos' Family Pays An Assistant To Help A Teenager "Review" Their Clothes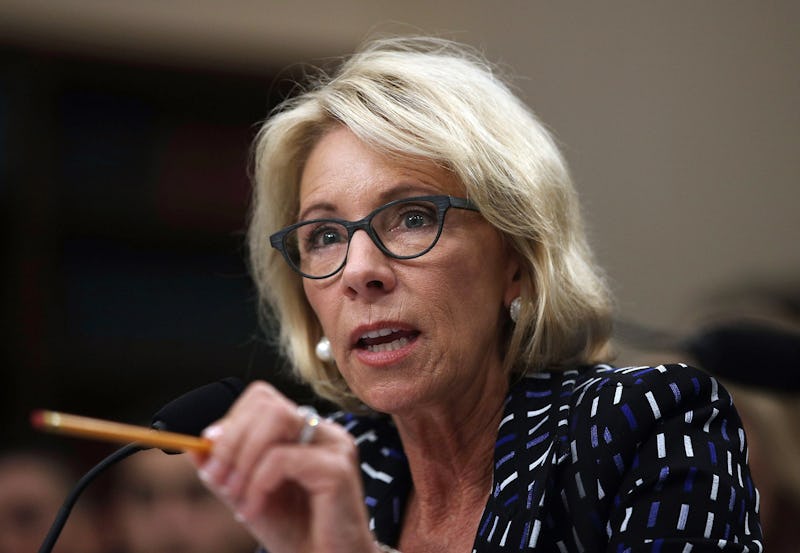 Alex Wong/Getty Images News/Getty Images
Secretary of Education Betsy DeVos is very, very rich. In fact, the DeVos family is so wealthy that it outsources mundane chores and duties to a vast network of assistants, according to a new report in The Wall Street Journal. The newspaper's investigation reveals many of the routine activities for which DeVos hires this help, including an assistant who reviews the wardrobe of a teen member of her family.
According to the Journal, DeVos listed $580 million in assets on the financial disclosure form she completed prior to joining the Trump administration. Her family owns at least 10 boats, including a 164-foot long craft they call "Seaquest," two helicopters, and four planes. Their investments include a military defense contracting firm, a brain-training company, and the Orlando Magic basketball team.
As many ultra-wealthy families do, the DeVos clan has a "family office" that employs myriad assistants to help them manage their daily lives. The Journal looked at job postings for these assistants to get a sense of what their duties entail.
They're pretty extensive. The property manager, for example, must ensure broken toys are "repaired or disposed of." A personal assistant "oversees various aspects of the Christmas season to include Christmas card list" and "suggests gift ideas to head of household for approval for family, business associates, and others." A boat maintenance assistant must "provide food and beverage service to family and guests as requested."
The most bizarre responsibilities might be those of the household administrative assistant, who is assigned to help an unidentified teen in the family with their wardrobe. The assistant must "assist teen to review clothing and remove outgrown items" and "assist teen with identifying list of clothing and personal items to pack for travel."
How did the DeVos clan build up all of this wealth in the first place? According to the Journal, it came mainly from the auto-parts company that DeVos' father founded, Prince Corp., as well as the marketing firm that her husband co-founded, Amway Corp. The article notes that her family's skill at evading tax liability has helped a lot, too.
These details about the DeVos fortune and the indulgent lifestyle it enables underscore the divide between Betsy DeVos and the majority of American citizens, whose lives her education reforms are supposed to improve. DeVos supports the "school choice" movement, which aims to allow parents to send their students to better institutions when nearby schools are all of low quality. Critics of the movement say that the expansion of school choice only helps a portion of students and weakens the country's public education system by appropriating funding that could be going to public schools.
DeVos is an advocate for charter and private schools. She attended a private school in her youth — as did her four children — and has called the U.S. public school system a "dead end" for American youths.
Criticism of DeVos' stances on education has addressed far more than her support for school choice. During her Senate confirmation hearing, DeVos argued that schools should be allowed to have guns under certain circumstances, and gave the example of an institution needing to "protect ... [students] from potential grizzlies." In September, her Department of Education rescinded Obama-era guidelines for dealing with sexual assault on college campuses. In a criminal court, sexual assault cases must be decided based on the highest standard of proof ("beyond a reasonable doubt"), whereas the federal guidelines compelled schools to use the lowest standard.
The details shared by the Journal about DeVos' extravagant habits add more color to our growing knowledge of her character and help explain why people believe she fails to understand the lived realities of the average American.