Betsy DeVos Has Officially Killed Obama's Sexual Assault Guidelines For College Campuses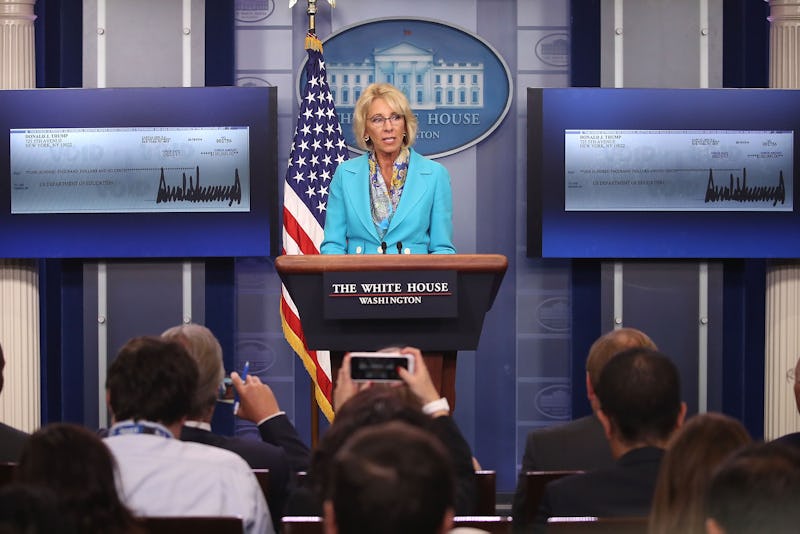 Mark Wilson/Getty Images News/Getty Images
Education Secretary Betsy DeVos made good on a promise to rescind Obama-era guidance on how campuses handle sexual assault investigations Friday. Her department released a letter outlining new campus sexual assault guidelines and argued that existing guidelines "have led to the deprivation of rights for many students—both accused students denied fair process and victims denied an adequate resolution of their complaints." Under the old guidelines, schools had been required to evaluate sexual assault cases using a "preponderance of evidence" standard, or else risk losing federal funding under Title IX. DeVos has argued that evidentiary standard is too loose, and the Department of Education is now allowing schools to apply either that standard or a higher burden of proof while a permanent policy is being crafted.
"The Department has decided to withdraw the [Obama-era guidelines] in order to develop an approach to student sexual misconduct that responds to the concerns of stakeholders and that aligns with the purpose of Title IX to achieve fair access to educational benefits," Candice Jackson, the Department of Education's Acting Assistant Secretary for Civil Rights, wrote in a "Dear Colleague" letter, which you can read here.
The letter is the first formalized move by the Department of Education under President Trump to roll back the sexual assault guidelines currently used by colleges and universities. In a speech earlier this month at George Mason University, DeVos announced she would be undoing guidance issued by the Department of Justice's Civil Rights Division in 2011 that required school officials to implement policies on sexual assault and harassment, or risk losing federal funding under Title IX. Title IX is the law that prohibits discrimination based on gender.
DeVos has argued the current process favors students who accuse others of sexual misconduct while undermining the rights of students who are accused. She called for "equal justice and equal opportunity for all" during the early September speech, which was applauded by conservative media outlets and by parts of Trump's base.
The six-year-old guidelines imposed under the Obama administration governed how universities handle sexual assault allegations between students by discouraging cross-examination of accusers, allowing accusers to appeal not-guilty findings, and by recommending a 60-day limit on adjudications. Most importantly, it required colleges to use the lowest possible standard of proof, called a preponderance of evidence, while evaluating sexual assault cases. Simply put, a preponderance of evidence means "more likely than not," and is common in civil law. But it falls short of the burden of proof required in a criminal court ("beyond a reasonable doubt") or the standard many schools had been using prior ("clear and convincing evidence").
The new "Dear Colleague" letter gives greater "due process" rights to the accused by allowing schools to adjudicate cases "by applying either a preponderance of the evidence standard or a clear and convincing evidence standard," according to a question-and-answer memo on campus sexual misconduct issued by the Department of Education in conjunction with Friday's announcement.
Advocates for the Obama-era guidance favor a "preponderance of evidence" standard, noting that victims chronically underreport instances of violence. One in five women and one in 16 men are sexually assaulted while in college, and more than 90 percent of victims do not report it, according to the National Sexual Violence Resource Center. One Bureau of Justice study from 2000 shows fewer than 5 percent of rapes attempted or perpetrated on college campuses are reported to law enforcement, and the stats are even lower regarding other instances of sexual assault. Nearly half a group of victims polled by the National Institute of Justice said they refrained from reporting their assault to the police because they did not want anyone to know.
The issue has become a political lightening rod: DeVos riled sexual assault survivors by meeting with mens' rights groups over the summer, while the head of the Education Department's Office of Civil Rights, Candice Jackson, came under fire in July for telling The New York Times that 90 percent of sexual assault allegations "fall into the category of 'we were both drunk'" and similar categories. Jackson apologized for the remark, which she called "flippant." She is the author of the Sept. 22 "Dear Colleague" letter.
Read more on Title IX
How To Argue About Title IX If Betsy DeVos' Decision Makes You Absolutely Livid
What Survivors Need To Know About Betsy DeVos' Title IX Plan
Here's Exactly How Men's Rights Groups Tried To Sway Betsy DeVos's Big Title IX Announcement
Every Time Betsy Devos Focused On Accused Rapists In Her Alarming Title IX Speech