Betty White's Meaningful Life Advice On Her 95th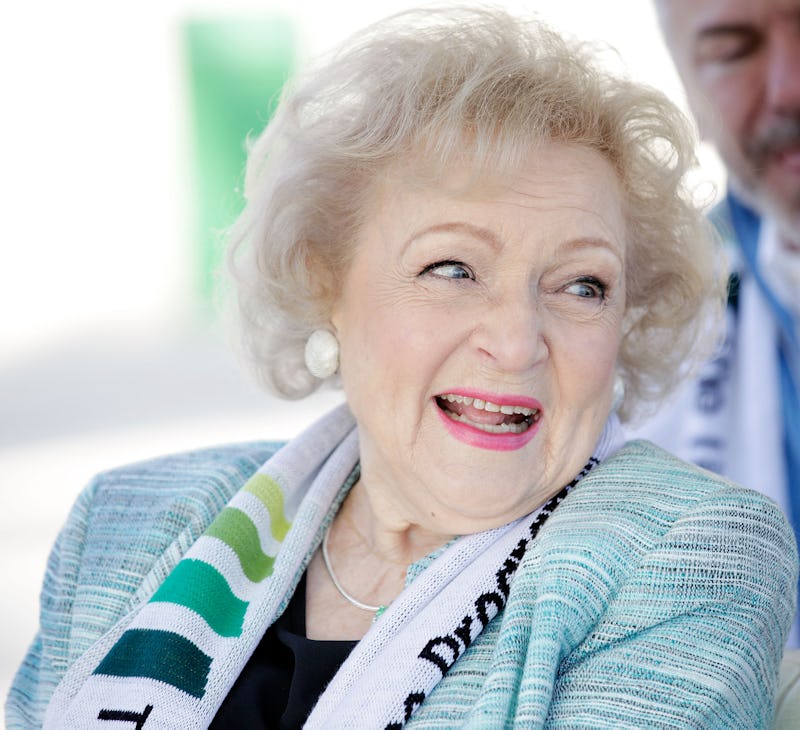 Brian To/Getty Images Entertainment/Getty Images
For 95 years, Betty White has been gracing our lives in a wonderful way. She continues to bring so much love, meaning, laughter, and happiness to the world, but especially when she offers up insight into how people should embrace their lives. While chatting with Yahoo Global News Anchor Katie Couric for her 95th birthday (which is Tuesday, Jan. 17), Betty White gave meaningful life advice that everyone needs to hear.
After Couric asked the longtime comedian what advice she has for others when it comes to "living a long, happy, productive, meaningful life," White said,
"First of all, keep busy and don't focus everything on you, that wears out pretty fast. It's not hard to find things you're interested in, but enjoy them and indulge them. And I think that keeps you on your toes."
White couldn't have spoken truer words. What kind of life are you going to live if you lead a life all about you? Of course it's OK to be selfish at times and to ensure you're living not only a happy life, but the one you want. However, life is so much more than just yourself, but about surrounding yourself with fun and loving individuals. Whether that be family, friends, or whoever, it sure seems like the former Golden Girls star gets that life can be a little boring when it's all about me, myself, and I.
There's no doubt the now 95-year-old has enjoyed her life and indulged in the things she loves. She is still kicking butt in her mid-'90s and that is amazing. It's something she recognizes, too. "I just appreciate the fact that people have been so kind to me all these years," White said. "The fact that I'm still working — that's the thing I'm most grateful for, that I still get asked for jobs." I have a feeling that will never change.
And if you need proof that her advice works, be sure to watch her interview with Couric. By living a fulfilling life and doing what she loves, White has never been more on her toes. For example, she admitted to Couric that she never wanted to remarry after her third husband, Allen Ludden, but she would rather just "fool around." Folks, that is the Betty White everyone knows and love.
The Hot in Cleveland star also realizes how lucky she is at 95 to be living the life she is. "I'm so blessed with good health and faculty, I mean, you know, I've got memories and all that," she said. "You can't really expect that at 95. I am the luckiest old broad on two feet."
Never change, Betty, and thank you for 95 inspiring years.