Therapy Solved A 'Roseanne' Family Conflict & It's Such A Progressive Step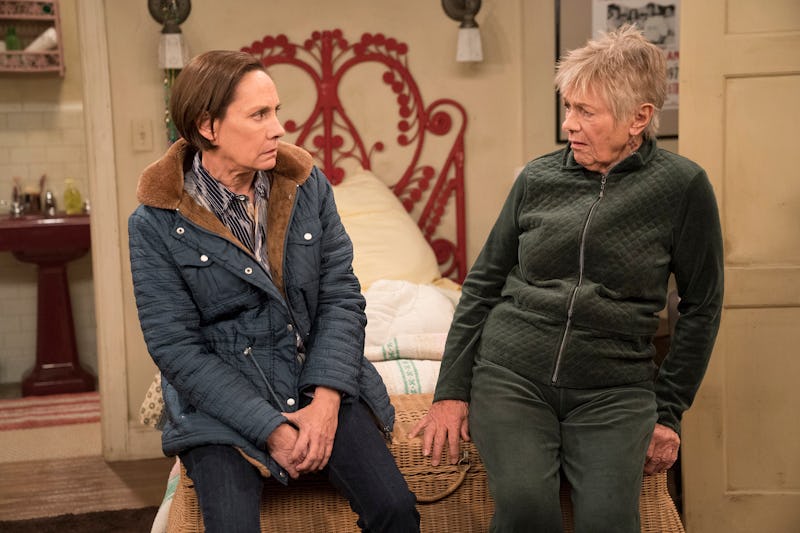 Greg Gayne/ABC
Spoilers for the May 1 episode. Almost every episode of the Roseanne revival has offered updates on what characters from the original show are up to now, and when it comes to a few people central to the Conners' lives, not much has changed. On Monday night's episode of Roseanne, Jackie and Roseanne fought about their mother and who Bev would live with, but in the end, they were able to find resolution in a way that's never been possible for them before. Bev will live with Jackie, and therapy will help them cohabitate.
The latest episode is blast from the past not just because of Beverly, but because both Crystal and Nancy, two of Roseanne's oldest friends, also made their appearances in the Conner house for the first time in the revival. But Bev is the one who took center stage, because her return presented Roseanne and Jackie with a huge problem: since she had to leave her nursing home (and their county home was terrible), who is she going to live with?
One of the major themes of the original Roseanne series was the tumultuous relationship between Jackie, Roseanne, and their mom, and even all these years later, it seems like nothing has changed. Neither of them wants to have Bev move in, because it would mean having to deal with her constant criticism. At one point, she even ends up living in Becky's apartment because neither of her daughters will take her.
But once Bev reaches her breaking point, it finally allows the show to go where it hasn't been able to before, especially not in the original series. It's hard to say if Bev really did want to jump out that window or if it's just a tactic to get Jackie's attention, but either way, it works. She stops her mom from climbing out, telling her that she loves her — something we haven't heard much (if ever) when it comes to Jackie and Bev.
This ended up leading to a pretty poignant and progressive moment, not just in their mother/daughter relationship, but also for the show as a whole. Jackie agrees to let her mom live with her, and they decide they are going to go to therapy to deal with the problems in their relationship. Like Jackie says, a life where she gets along with her mom is better than a life that her mom isn't in at all, so it's great to see that they've both committed to making that a reality.
In so many ways, Roseanne's character seems stuck in the past, so it's truly refreshing to see that at least Jackie and her mom are willing to take such a positive approach toward their relationship. Getting therapy is still stigmatized like so many other topics related to mental health, even though it's 2018, so Jackie and Bev openly agreeing to go is pleasantly surprising for a show like this one. It'll be interesting to see if this is something that happens on screen or not, but even if fans don't get to see their therapy play out, this is a huge step for them both.
It once seemed impossible that there would ever be any peace between Bev and her daughters (and where Roseanne stands on this remains to be seen), and often seeing them fight was one of the most relatable and funny parts of the older episodes of Roseanne. But it's also interesting to see the show take this where it's never been before: a world where Bev and Jackie get along.
There seems to be so much potential there, because together, these women are hilarious. Maybe in the remaining episodes of the season, fans will get to see their bond grow? This unexpected twist could lead to so many awesome scenes in Roseanne's future.