Why I Can't Stop Watching The 'Roseanne' Reboot, Even If I'm Not Proud To Admit It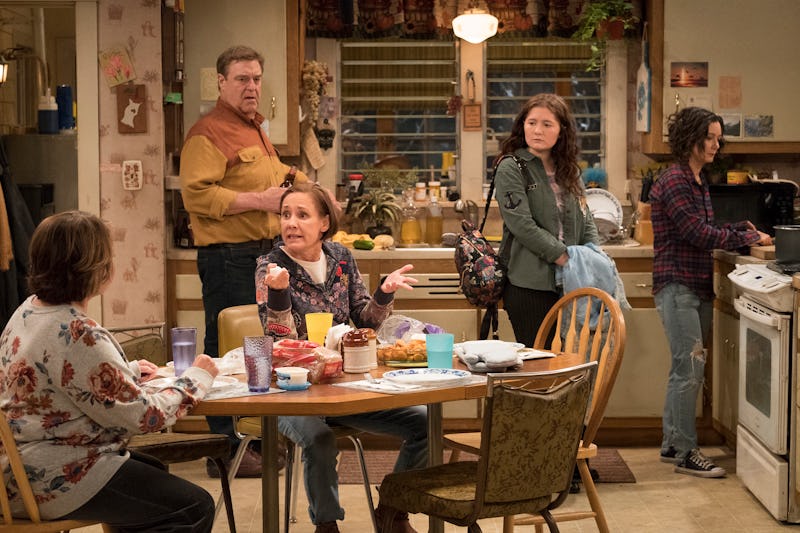 ABC/Adam Rose
UPDATE: ABC canceled Roseanne on May 29, announcing in a statement, "Roseanne's Twitter statement is abhorrent, repugnant and inconsistent with our values, and we have decided to cancel her show." This article was written prior to Roseanne Barr's most recent tweets and does not condone the messages she tweeted out.
EARLIER: After seeing thinkpiece after thinkpiece pop up on Twitter, I've reached the point where I'm almost embarrassed to admit I actually enjoy the Roseanne reboot. Or more accurately, I enjoy some parts of it. And despite the overwhelming criticism on social media, one look at the ratings, and I know I can't be alone. (Some people may be hate-watching, but the numbers are simply too staggering to be attributed to just hate-watching: According to Deadline, the Roseanne premiere drew in more than 18 million viewers.) That doesn't mean I don't feel conflicted tuning in each week. But the one thing that keeps me watching is the fact that the reboot isn't just about Roseanne — it's so much bigger than the title character or the problematic actor who plays her.
Don't get me wrong, the criticism is 100 percent valid. I even understand the people boycotting the show altogether. A recent Twitter exchange between Kumail Nanjiani of The Big Sick and comedian Sarah Silverman perfectly exemplified both sides. In late March, Silverman wrote,
"watched @RoseanneOnABC last night & loved it. That familiar feeling of the old but w comedy & content so totally of this moment like the angst w/in close families over politics. Hope y'all let go of needing art 2 reflect/express only what u yourself feel. That's not what art's 4"
That familiar feeling she describes is exactly what I get from the show — along with understanding the frustration characters like Darlene and Aunt Jackie (a self-proclaimed "Nasty Woman") exhibit as they struggle to get along with more conservative relatives like Roseanne and Dan. As Bustle's Nicole Pomarico previously pointed out, Darlene is actually the "saving grace" of the reboot. In a way, she's the beacon of hope, voicing viewers' gripes with viewpoints like Roseanne's, as well as extending an olive branch, and knowing that at the end of the day, we're stronger when we come together.
However, that's not to say an equally valid point exists on flip side. In response to Silverman's tweet supporting the show, Nanjiani wrote,
"I believe who can bring themselves to watch what art is a subjective thing. I can't bring myself to watch a person who mocks teens whose friends were murdered, who traffics in conspiracy theories that damage our world & reality."
He added, "I know that's not her character on the show. But I can't watch her playing any character." Over the years, actor Roseanne Barr has stirred up her fair share of controversy, and that's what the Silicon Valley star is likely referring to. And Nanjiani is right; that behavior shouldn't get swept under the rug either.
Back in 2009, Barr posed as Hitler in a Jewish magazine shoot. The photo recently resurfaced and sparked backlash, as did a since-deleted tweet from Barr promoting a conspiracy theory that Parkland student activist David Hogg gave a Nazi salute. (When Bustle reached out to ABC about the controversy surrounding Barr's Hitler photo shoot and other past behavior, the network declined to comment. Meanwhile, the magazine that published the aforementioned images claimed it was "satire" back in 2009.)
The show has heart — it just might not come from the character whose name is in big, bold letters.
To be clear, watching the Roseanne reboot does not mean I condone the real-life actions of its star. Just as Nanjiani pointed out, deciding to watch is subjective, and I believe Roseanne Barr is not Roseanne Conner, despite sharing the same face and first name. To make the show all about her is to dismiss the hard work of the entire team behind the series and their apparent effort to separate the two. Earlier this month, co-showrunner Bruce Helford, told The Hollywood Reporter,
"We all hoped that this would open a dialogue where people would start laughing at themselves a little bit, get a little less polarized and realize that this is a universal conversation. Lots of families find themselves divided on these issues. There's got to be a way to talk and still love each other the way that Roseanne and Jackie made their peace [in the revival's premiere]. And that's really what we want to have come out of it."
I don't agree that we should ignore her personal politics; instead, it's a situation where the loudest, most hateful voice doesn't have to be the only one we acknowledge. You could view Donald Trump's presidency from a similar standpoint. Sure, he's the one tweeting up a storm, yet he's not the only person shaping our political landscape right now. His voice may try to drown out others', but there are still people fighting his policies — like the Parkland teen activists organizing the March For Our Lives, or countless organizations like GLAAD, Planned Parenthood, and the ACLU — on behalf of LGBTQ rights, reproductive health, and immigration reform.
It's not a perfect analogy, but if paralleling it to Roseanne, there's a team of writers and cast members sharing multiple perspectives, just as there are multiple groups fighting to actually make the country great.
Deciding to skip a movie or show because you disagree with the person behind it is a personal choice, but a respectable one. It's a gray area where it's up to you to determine whether you can actually reconcile those mixed feelings. It's an ongoing moral debate whether supporting, or at least enjoying, that work is harmful in and of itself.
I don't have the definitive answer to that, nor do I think watching the show excuses Barr's beyond egregious behavior in the past. But again, she's not the sole voice of the show — nor should she be. The series is dealing with very real issues, ranging from a family torn apart by conflicting political beliefs, to a kid coming to terms with their gender identity and a woman struggling with fertility issues. Seeing Darlene and Becky talk through the latter situation is a sisterly moment that's hard not to sympathize with. The show has heart — it just might not come from the character whose name is in big, bold letters.
Did I cringe when Dan (John Goodman) made dismissive remarks about his grandson Mark's decision to wear nail polish or a dress? You bet. But do tons of people in our country still think like him? Absolutely (and unfortunately), yes. I would like to think — perhaps optimistically — that seeing the Conner family come to terms with these topics, and finding their own forms of acceptance, may actually translate to others doing that off-screen.
That doesn't mean the show's joke about Black and Asian families is OK. Viewers should be calling the show out on its B.S. That's how we grow and learn. Seeing viewpoints different than ours on screen can ideally accomplish the same end goal.
We should never normalize hateful behavior; but maybe by watching Roseanne, it'll open people's eyes on both sides to see where the other is coming from — and where we need to improve.