Beyoncé & Blue Ivy Went To The All-Star Game & Got Their Selfie On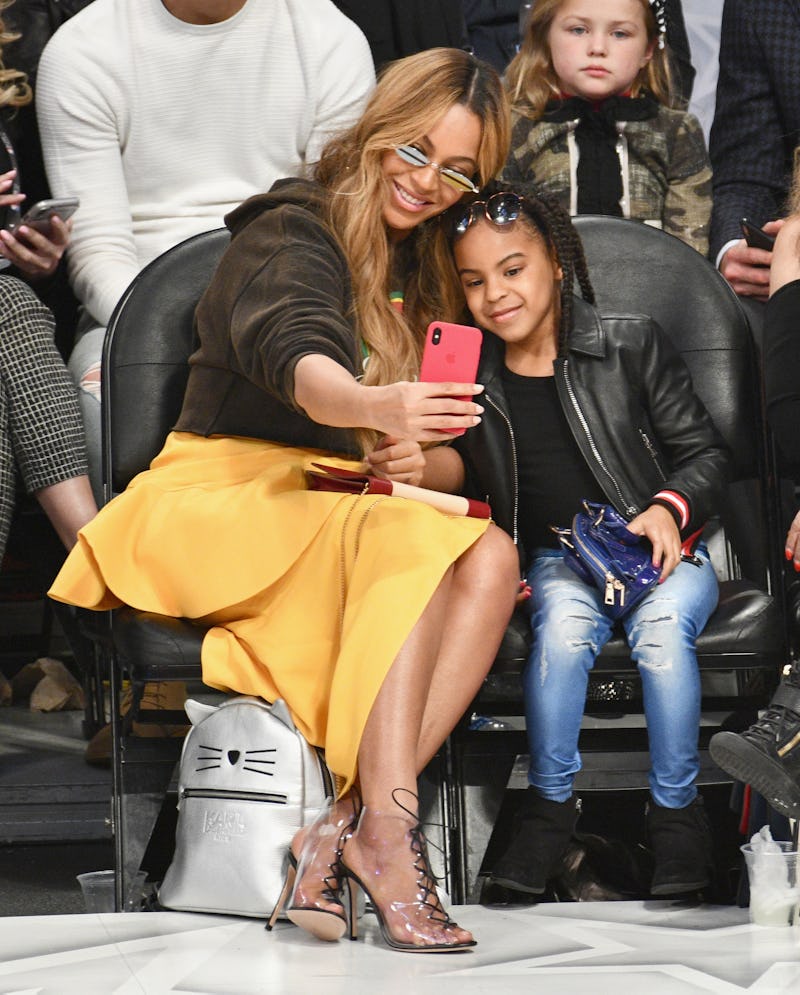 Allen Berezovsky/Getty Images Entertainment/Getty Images
When Beyoncé makes an appearance, she's always an undeniable show-stopper, and her daughter Blue Ivy is following in her footsteps. On Sunday, Beyoncé and Blue Ivy appeared at the NBA All-Star Game, and their mother-daughter night out stole the show once again. The two appeared in prime seats for the annual event, which nominates two players and allows them to draft a mix of the league's star athletes. This year, Team LeBron James faced off against Team Stephen Curry. The game featured some of the strongest players from the NBA and plenty of celeb guests, but all eyes seemed to be on Bey and Blue. Sitting courtside, they were joined by Blue's grandmother Tina Knowles and her husband, Richard Lawson.
The mother-daughter duo were caught snapping selfies in complimentary outfits, both sporting sunglasses and a mix of accessories. Beyoncé wore a a yellow dress or skirt with a black sweatshirt, transparent heels, and futuristic sunglasses. Blue wore distressed jeans and a leather jacket, and was holding a shiny Louis Vuitton bag. The two were spotted documenting the night on their phones, and Blue was super adorable as she showed off a basketball which, according to People, was signed by the players and shared snacks that Beyoncé packed in her purse.
This isn't the first time Blue Ivy stole some of the spotlight at an event. At the 2018 Grammy Awards, she became an instant meme-queen when the camera's caught her quieting down JAY-Z and Beyoncé during a speech. The moment became one of the highlights of the night, and fans offered plenty of funny commentary on Twitter. When Bey and Jay were getting too enthusiastic with their clapping, Blue Ivy put her hands up to tell them to cool down, and the clip is so funny.
The NBA game also wasn't the first time Bey brought along snack foods. The singer was spotted holding Blue's juice box and bags of chips at the Grammys, as well.
Like all the best mothers do, it seemed Beyoncé anticipated the event might run long and brought along some goodies to eat during the show. Fans noticed that the Blue was once again munching on snacks from the sidelines at the NBA event. According to Elle, she ate what appeared to be chicken and some chips. This time, grandma Tina acted as official juice box holder instead of Queen B.
While Blue Ivy and her mom have a talent for stealing the spotlight, there was no lack of celebrity at the NBA All-Star Game. The exhibition event is in itself a star-studded evening, bringing together major players from the NBA. In addition to the players, plenty of major stars come together to perform or watch from the sidelines. Kevin Hart, Queen Latifah, Jamie Foxx, and Adam Devine lead the opening performance, a variety show with singing, dancing, and comedy, and Fergie sang the national anthem. According to People, Jimmy Kimmel, Dave Chappelle, Chance the Rapper, Chris Rock, and DJ Khaled were in the audience, as well.
Beyoncé and Blue Ivy are are already known for the mother-daughter style they bring to events like the NBA game. In 2016, the two walked the VMA red carpet in matching sequin and tulle gowns. On Beyoncé's Instagram, she shares plenty of pictures from holidays and other family gatherings, where the whole fam is known to rock matching looks. Sunday night wasn't the six-year-old's first NBA All-Star Game style moment, either, and her appearance at last year's event in New Orleans, where she was seated between Beyoncé and JAY-Z, also made headlines. This year the outing was more of a mother-daughter bonding time, but the game seems to be a favorite for the whole family.
While Blue Ivy is likely to make more scene-stealing appearances in the future, it's still unclear when fans will get a glimpse of Bey and Jay's newborn twins, Rumi and Sir. It's been eight months since Beyoncé gave birth, but the star has yet to share a photo with the whole family.
Queen B hasn't revealed if her schedule for this year will features performances or new music, either, but it seems for now she's just prioritizing family. At this point, Blue Ivy is becoming such a scene-stealer, whose to say she won't drop an album first.