Beyonce & JAY-Z Dedicated Their Detroit Show To Aretha Franklin With A Heartfelt Message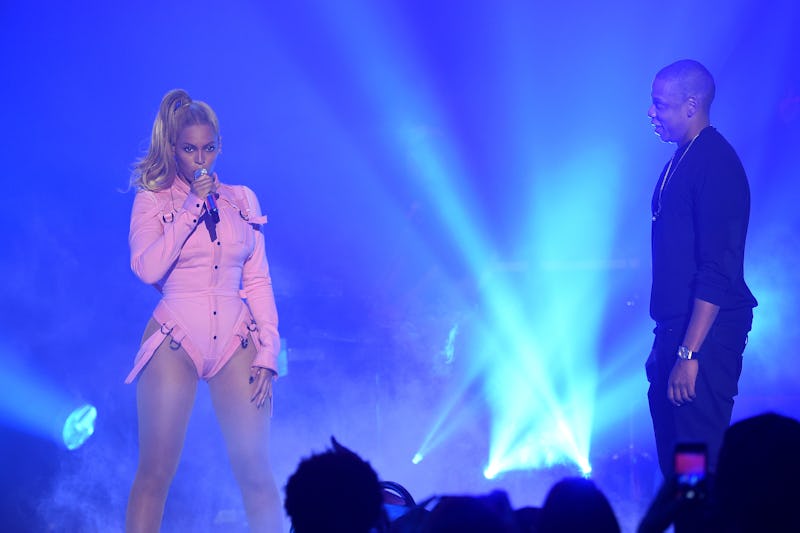 Jamie McCarthy/Getty Images Entertainment/Getty Images
On Aug. 13, the report that Aretha Franklin had entered hospice care had music-lovers everywhere sending out well-wishes to the Queen of Soul. The 18-time Grammy winner released countless classic tracks that have inspired many, and, in light of the news, Aretha's fans made it clear how the legendary singer impacted their lives. Among those were Beyoncé and JAY-Z, who dedicated their concert to Aretha Franklin on Monday night. It would have been incredibly meaningful if the Carters had dedicated their show from any city to the "Respect" singer, but the tribute's significance increased tenfold because of the location of the On The Run show: Franklin's hometown of Detroit.
The Detroit Free Press reported that early on during Beyoncé and Jay-Z's On The Run II show, Beyoncé told the crowd, "This show is dedicated to Aretha Franklin." Then, the Lemonade singer added, "We love you," and thanked Franklin for her "beautiful music." Bey and Jay's shoutout was meaningful, not just because their concert took place in the city of Detroit, but because it happened to be at the city's Ford Field, which the Free Press revealed is located around the corner from Aretha Franklin Way. Just last summer, Detroit dedicated the street to the "I Say A Little Prayer" singer. At that ceremony, Franklin, who was 75 at the time, called the street dedication a "resplendent and magnificent honor," according to the Free Press.
Clearly, the Ford Field's location held a great significance to Franklin's life, and Beyoncé and JAY-Z weren't the only performers of the night to heed that fact. DJ Khaled, who opened for Bey and JAY, reportedly played Franklin's "Respect" for the crowd earlier in the night, a moment captured and shared on Twitter by fan Graham Davis.
It sounds like the Detroit OTR II show was specifically meant to honor Franklin in light of the tragic reports regarding her allegedly ailing health. On Monday, an anchor for the news station Local 4 in Detroit, Evrod Cassimy, tweeted that Franklin was "gravely ill." He then wrote, "She is asking for your prayers at this time." Later that day, a source told CNN that Franklin was receiving hospice care at her home. Showbiz 411's Roger Friedman told CNN, "She has a great family, she's surrounded by love, and the world is sending prayers. All further announcements will be made by her family. We just want to send love and prayers."
Signs of the Queen of Soul's declining health became clear in early 2017 when Franklin announced that she planned to retire from music after recording a final album, which was released later that year. Then, in December, Franklin canceled an appearance at her annual Christmas party in Detroit due to illness, for which Franklin apologized, as reported by Click on Detroit.
Based on both Friedman and Cassimy's reports about sending love and prayers to Franklin, it sounds like the soul singer and her family are finding comfort in knowing that she's in her fans' thoughts. A dedication from Beyoncé and JAY-Z at her hometown made for the perfect opportunity to honor the Queen of Soul as she rests at home.