Beyoncé & JAY-Z's Album Just Became Streamable & Here's How You Can Hear It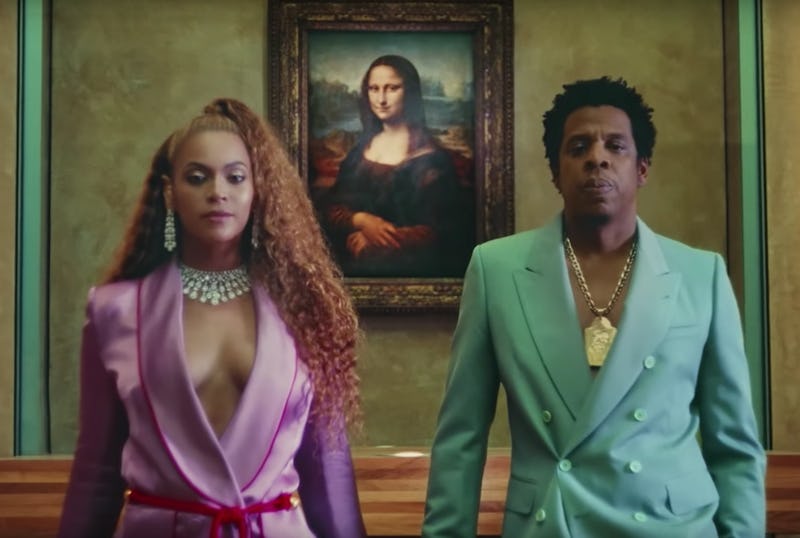 Beyoncé/YouTube
It's already been a couple of days since Beyoncé and JAY-Z dropped a surprise joint album, Everything Is Love, but if you don't have a TIDAL account (or a friend willing to share their password), you might still be dying to hear it for the first time. If that sounds like you, there's good news: The album is finally available elsewhere. Everything Is Love is now available on Spotify and Apple Music, but finding it might prove a bit of a challenge if you try to search for it using the wrong terms.
Monday morning, fans first started noticing that the album was starting to branch off from its TIDAL exclusivity, which is obviously exciting for everyone who doesn't use the service already. If you'd like to stream the album and have a Spotify premium account, you're in luck; Everything is Love has already made its way there, but you won't find it if you're searching for JAY-Z or Beyoncé. Instead, you have to search using "The Carters," because this album isn't about either of them — it's all about this legendary couple coming together.
And once you find the album on Spotify, you can stream all nine songs on the album. Pretty sweet, right? But according to The Fader, the initial deal with The Carters is that Everything Is Love will only stream for two weeks on Spotify, so if that's your streaming service of choice, make sure you get those listens in right away... and hopefully, something will change between now and then that will make it available to subscribers for a longer period of time.
It's kind of comical that Beyoncé and JAY-Z struck this deal with Spotify in the first place, since in one of their new songs, they actually mock the service. In "NICE," Beyoncé says, "Patiently waiting for my demise 'cause my success can't be quantified / If I gave two f*cks about streaming numbers would have put Lemonade up on Spotify."
But even if the streaming numbers mean nothing to Beyoncé, fans who love having the ability to listen to her music with their existing accounts are going to be pretty thrilled. Because the album isn't just on Spotify —  Everything is Love is already streaming on Apple Music. But if you'd rather own the album itself rather than subscribe to the service (which costs $9.99 every month for unlimited streaming), you can buy the album on the iTunes store for $9.99, or $1.29 per song if you'd only like to purchase a few of their tracks separately.
Bey and Jay have always been all about the exclusivity, so the fact that the album is available in places other than TIDAL so quickly after its release is pretty big news — especially where Apple Music is concerned. And if you're a true fan, downloading the Spotify app or making that iTunes purchase will be well worth it to be able to listen to this album no matter where you are.
And of course, if none of those options work for you, you can always watch the very impressive music video for "APES**T," which is available on Beyoncé's YouTube for free. If you haven't already seen it, you definitely need to; it was filmed in the Louvre and it's a gorgeous video. Yes, Beyoncé and JAY-Z really did that.
New music from Beyoncé and JAY-Z — especially with a surprise release like this one — is always really exciting, and it's good to know that fans definitely have options when it comes to how they listen to Everything Is Love. If you're streaming the album for the rest of the day (or week... or month... or year) after this good news, you're certainly not alone.